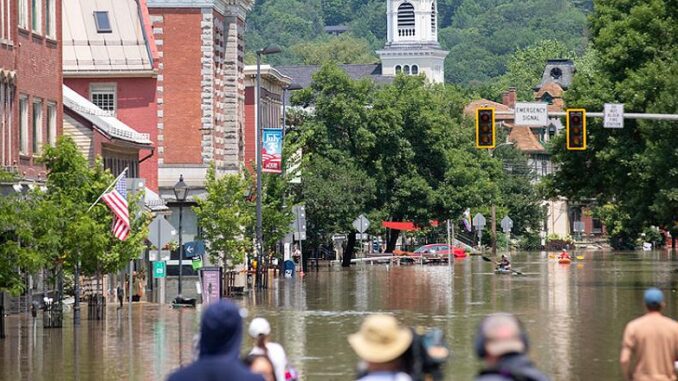 By Benjamin Seidman
MONTPELIER, Vermont, July 25, 2023 (ENS) – Following days of unprecedented rainfall in Vermont from July 9 to 11, major river arteries flooded their banks, causing some rivers in the state to measure about 20 feet above normal. "Roughly two months' worth of rain fell in less than 48 hours," the U.S. National Oceanic and Atmospheric Administration, NOAA, said.
The Winooski River, which flows through Vermont's capital city of Montpelier, was recorded by the U.S. Geological Survey, USGS, at over 21 feet on the morning of Monday, July 11. Compare that level with the more typical value of three feet recorded at the same time last year. It was also considerably higher than flooding from Hurricane Irene in 2011.
The deluge that raised the level of the Winooski prompted Governor Phil Scott, a Republican, to declare a state of emergency on July 10 and President Joe Biden to approve his request for an emergency declaration. The President took this action from the NATO summit in Lithuania July 11 to allow federal assistance to bolster the state's crisis response.
Vermont agriculture officials estimate the the state's farmers lost nearly 10,000 acres of crops. This figure translates to valleys that flooded, ruining much of Vermont's agriculture for the year.
This disaster comes at a time when food insecurity continues to plague over 10 percent of Americans, recent government figures show. Farmers who invested their time, resources, and capital into lost crops now face the grim realization that their livelihoods are on the line.
"The loss of crops is a very tangible way to measure the flood, but the loss of work is hard to measure. We're all grieving and heartbroken because of this," Vermont farmer Micah Barritt, co-owner of Diggers' Mirth Collective Farm in Burlington, told the Associated Press.
Barritt estimates the value of his farm's harvestable crop lost to inundation at around $250,000. Though many crops drowned, even those that were just exposed to the flood waters have been deemed unsafe for consumption due to contaminants from sewage and industrial waste in the flood waters, says Vermont Public Radio.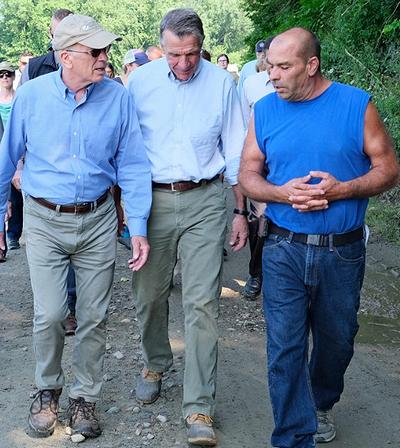 Vermont Senator Peter Welch, a Democrat, has encouraged farmers to document their losses to apply for aid and to strengthen the case for a disaster relief bill that will be introduced in the U.S. Senate.
Senator Welch, Governor Scott, Vermont Secretary of Agriculture Anson Tebbetts, and State and local agriculture stakeholders visited farmer Paul Mazza and his family at their fruit and vegetable farm in Essex Junction on Monday, to survey the extensive damage to his crops. The bipartisan group called for swift relief for Vermont farmers and a coordinated state and federal response to disaster recovery in the state.
"Our farmers are resilient, and they will recover from this flooding. They've always been there for Vermont and now we're standing together to support them," said Senator Welch. "I was proud to join Governor Scott and Secretary of Agriculture Tebbetts today to call for the relief Vermont farmers need to get back on their feet. We can't secure all the relief Vermonters need without evidence of what we've been through, which is why it's so critical we fully document damage to homes, crops, and small businesses now."
"This month's flooding impacted thousands of acres of farmland, like we saw today in Essex Junction, and it's critical we do whatever we can to help those who make their living off the land recover. I want to thank Senator Welch for his efforts on behalf of Vermont's farmers. I know he and our full congressional delegation are working hard in Washington to help those impacted. My team and I will continue to work with them as we recover," Governor Scott said.
Downtown Montpelier Flooded
Farther upstream on the Winooski River in Montpelier, flooding water wreaked havoc on the downtown area which was closed to the public for safety reasons. Even the capitol building wasn't spared damage from the floodwaters.
More than 100 Montpelier businesses were affected by the flooding. Early reports by Central Vermont Development Corporation suggest that business losses in the capital city alone amount to $20 million, though that the figure is projected to soar.
Roughly $20 million in funds will be made available to businesses and nonprofits in the 40 most impacted Vermont communities through the Business Restart Gap Assistance Program, Lindsay Kurrie, secretary of the Vermont Agency of Commerce and Community Development, announced.
Governor Scott acknowledged, "Although this $20 million commitment is significant, we know it will not meet the need. My team will continue to work to find additional resources, and we'll continue to work with our congressional delegation to get more federal assistance for Vermonters in need."
It was in the nearby city of Barre that the only documented death, that of a 63-year-old man unable to escape the fast-rising waters in his home, was reported, although first responders were bombarded by several hundred calls for rescue.
The flooding also threatened infrastructure, closing important highways. Waters even threatened to spill over the Wrightsville Dam just four miles (6.4 km) upriver from Montpelier. According to Vermont's WCAX-TV news, "Some 146 sections of state highway spanning 531 miles were washed away or heavily damaged, along with 34 bridges."
Addressing the Cause – Hello, Climate
With these immense losses come a call to action to address what is scientifically the root cause of increasingly frequent catastrophic flooding events.
"This, to me, is almost as classic a signal of climate change as warm temperatures. In a warmer world, this is what you would expect," earth and atmospheric sciences Professor Art DeGaetano, director of Undergraduate Studies for Atmospheric Sciences at Cornell University in Ithaca, New York, and NOAA's Northeast Regional Climate Center director, told the "Washington Post."
In this pivotal moment, when the effects of environmental degradation and climate change are increasingly felt by the general public, politicians have stepped up to seek change.
"It's a reminder of the extreme nature of the weather events that are happening more and more often and the human impact," U.S. Transportation Secretary Pete Buttigeig said on July 17. "We can't go into the future requiring communities to put everything back the way it was if a 100-year flood is going to become an annual event."
Activism in the cause of wetland conservation in Vermont has been galvanized by the recent flooding.
Wetland ecosystems serve as carbon sinks, sequestering carbon at a higher rate than nearly any other ecosystem, storing 13.5 billion metric tons of carbon in the United States alone, explains the Minnesota Board of Water and Soil Resources. This characteristic could prove vital to curbing the rate of climate change.
In addition, wetlands can absorb high waters in streams, reducing the effects of flooding.
In recognition of these properties as well as their importance to biodiversity in Vermont, Jon Groveman, the policy and water program director for the Vermont Natural Resources Council, along with environmental activists, has called for state lawmakers to pass bill H.30, which seeks to revise Vermont's wetland rules to pursue a "net gain policy."
The bill was read for the first time in January and now languishes in the Vermont House Committee on Environment and Energy.
Wetlands are important in Vermont, a state which has lost a substantial portion of its wetlands since European colonization. As a whole, the United States has lost over half of its wetlands since colonization in the early 1600s, and Vermont has lost as much as 35 percent of its wetlands, says the Vermont Department of Environmental Conservation.
"As storms get more frequent, we're going to see major costs associated with flood damage," Groveman told reporters. "There is serious need to better protect wetlands and the land along rivers and streams."
The Vermont Natural Resources Council has assembled an extensive list of resources for Vermonters who want to help the state to recover. Click here to view the list.
Vermont farmers impacted by the July 2023 storm are encouraged to document all damage to their homes by submitting time-stamped photos and a detailed report of damage on the Vermont 2-1-1 website or by calling 2-1-1.
Farmers should report estimated crop and infrastructure losses to their county's U.S. Department of Agriculture Farm Service Agency office. For more information on USDA FSA, please click here.  
Featured image: Flooding on the main street in Montpelier, Vermont, July 11, 2023. The Vermont National Guard was activated to assist in flood disaster relief and search and rescue operations. (Photo by Sgt. Denis Nunez courtesy U.S. Army National Guard)
© 2023, News Editor. All rights reserved.