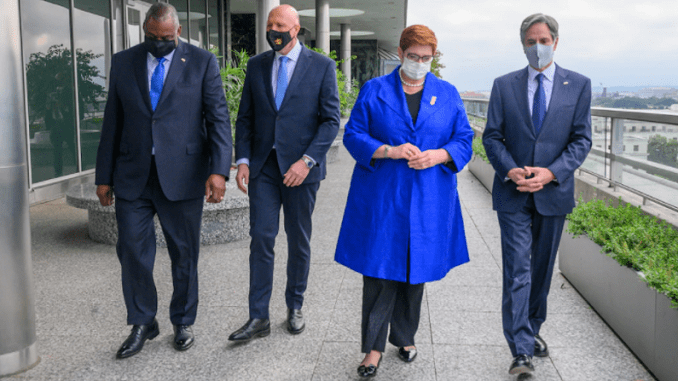 WASHINGTON, DC, September 16, 2021 (ENS) – Climate, clean energy, and the environment were front and center today in US-Australia ministerial consultations, setting policy on the 70th anniversary of a formal alliance between the two democracies.
US Secretary of State Antony Blinken and Secretary of Defense Lloyd Austin hosted Australian Minister for Foreign Affairs and Minister for Women Marise Payne and Minister for Defence Peter Dutton in Washington.
After their talks, the four called the United States-Australia Alliance "an anchor of stability," and reaffirmed that the Indo-Pacific is the focus of the Alliance.
Celebrating what they termed "peace and prosperity" in the region, they then enumerated the challenges we all face – the COVID-19 pandemic, climate change, and growing threats to security and stability – before concluding "our friendship stands steadfast and resolute."
"Our shared values and experiences pave a path forward to meet these challenges," they said, "delivering solutions that are grounded in democratic values, promote respect for human rights, and strengthen the rules-based international order."
Human rights warnings were issued to match their joint concerns and there will be some action, too. Austin, Blinken, Dutton and Payne decided "to strengthen international collaboration to eliminate forced labor from global supply chains, and to protect human rights and safety for all people everywhere."
"The Secretaries and Ministers expressed grave concerns about the PRC's campaign of repression against Uyghurs and other religious and ethnic minority groups in Xinjiang," they said, adding an expression of "deep concern about the human rights situation in Tibet."
They identified issues of forced labor, arbitrary detention, pervasive surveillance, restrictions on freedom of religion or belief, and forced birth control, among other human rights abuses, as high priorities for both countries.
Ministers renewed their call for China to grant urgent, meaningful, and unfettered access to Xinjiang for independent international observers, including the UN High Commissioner for Human Rights.
The American and Australian officials expressed support for humanitarian assistance to those who have been forcibly displaced or live in protracted displacement situations, as well as for the communities that host them. The principals also called on the global community to provide protection and refuge for those who have escaped persecution, and support for countries of first asylum.
Defending Against the Changing Climate
Acknowledging "the global security threat posed by climate change," the Secretaries and Ministers committed to continuing cooperation on disaster response and resilience measures in defense planning, noting the threats to human security across the region: pandemics, growing water and food scarcity, compounded by population growth, urbanization, and extreme weather events, in which climate change plays a part.
The U.S. Department of Defense has agreed to share its Defense Climate Assessment Tool (DCAT) with Australia.
The United States and Australia will pursue opportunities to take enhanced actions during the 2020s with the aim of achieving net-zero emissions as early as possible, the officials said.
Both countries share an ambition to drive clean solutions, including new and emerging technologies, in support of an effective global response to reducing greenhouse gas emissions while ensuring economic growth and job creation.
"Our joint ambition is to make low-emissions technologies globally scalable and commercially viable to rapidly accelerate global emissions reductions, enable clean growth, and make achievement of net-zero emissions by 2050 possible," the Secretaries and Ministers said.
They noted "with serious concern" the findings of the 6th Assessment Report of the Intergovernmental Panel on Climate Change, emphasized the urgency of addressing the climate challenge, and pledged continued efforts to reduce greenhouse gas emissions.
They discussed the need to take action through mitigation, adaptation, and finance during the critical decade of the 2020s to limit temperature rises, and address the impacts of climate change, recognizing that the impacts of climate change at 1.5°C are much lower than at 2°C.
They pledged to work together to strengthen the global commitment to climate action ahead of COP26 in Glasgow, Scotland in November through "ambitious nationally determined contributions, NDCs, with 2030 targets and to continue to strengthen efforts throughout this critical decade to keep a limit of 1.5 degrees temperature rise within reach."
The United States and Australia both stress the importance of all G20 countries having communicated ambitious 2030 NDCs by the crucial COP 26, held after cancelation of last year's conference due to the pandemic.
"We have committed to increasing our climate financing including for climate change adaptation and responding to the needs and priorities of small island developing states that are the most vulnerable to the future impacts of climate change," all four stated.
Natural Disaster Protection Takes Climate-Resilient Infrastructure
The Secretaries and Ministers decided the two countries should strengthen climate-resilient infrastructure in the Indo-Pacific, including through the Coalition for Disaster Resilient Infrastructure Initiative, an annual international conference and capacity-building platform.
They agreed to work together to develop early-warning systems that protect vulnerable communities against natural disasters such as storms and sea-level rise.
Australia and the United States recognize that "rising sea levels are a very real threat" and commit to work together with the intergovernmental Pacific Islands Forum and others "to preserve maritime zones and the rights and entitlements that flow from them and secure livelihoods for future generations in a manner that is consistent with international law."
"We will work together to share the latest climate science and technologies and ensure countries and communities are better prepared to deal with the impacts of climate change," they said.
The Secretaries and Ministers commended the Quad Climate Working Group as an effective platform of collaboration to help advance practical efforts to achieve their climate goals and support ambitious climate action across the Indo-Pacific region.
The Secretaries and Ministers plan to work closely together on issues that impact the ocean's health and to support nature-based solutions to address climate change.
Indo-Pacific Cooperation Is the Key
The United States and Australia are committed to taking greater action to protect the oceans and biodiversity and have committed to the global ambition of "conserving 30 percent of our land and of our oceans and the successful development of the post-2020 global biodiversity framework."
The principals announced plans to collaborate to fight marine plastic pollution in the Indo-Pacific. Plastic is estimated to account for 80 percent of all marine debris in the oceans. In six of the 10 ASEAN Member States alone, over 31 million tons of plastic waste was generated in a year.
The World Bank says, "Countries in East Asia and the Pacific are at the center of the marine plastics crisis – with some countries in the region representing the biggest contributors and others disproportionately affected by the impacts of marine plastic debris on their shores."
The U.S. and Australian officials also discussed avenues to invigorate existing ocean related partnerships, such as Australia-led International Partnership for Blue Carbon, https://en.unesco.org/news/australia-acts-create-international-partnership-blue-carbon-fight-climate-change-0 announced at the 2015 COP21 where the Paris Agreement was forged.
The International Partnership for Blue Carbon is intended bring together governments, nonprofit organizations, UN intergovernmental agencies, and scientists to increase understanding of, and accelerate action on the role of coastal blue carbon ecosystems in climate change action.
The Secretaries and Ministers agreed to work closely together on issues that impact the ocean's health, including "sharing expertise on robust accounting and guidance to ensure the integrity of incorporating blue carbon in national greenhouse gas inventories."
The two countries pledged to advance the International Coral Reef Initiative, ICRI, recognizing the United States and Australia are founding members, and that the ICRI Secretariat role will transition from Australia, Indonesia and Monaco to the United States in October.
And in an umbrella policy statement, they said, "The United States and Australia will continue to advance peace, security, and prosperity to ensure an open, inclusive, and resilient Indo-Pacific region. Our allies and partners are our greatest strategic asset and central to achieving our collective goals in the region. We will pursue closer cooperation in priority areas including regional security, infrastructure, economic growth technology, democratic resilience, human rights, addressing the climate challenge, and pandemic response."
Featured image: From left: U.S. Secretary of Defense Lloyd J. Austin III, Australian Defense Minister Peter Dutton, Australian Foreign Minister Marise Payne, and Secretary of State Antony Blinken, Sept. 16, 2021 at the U.S. Department of State, Washington, DC. (Photo by Air Force Staff Sgt. Jackie Sanders courtesy Dept. of Defense)
© 2021, News Editor. All rights reserved.