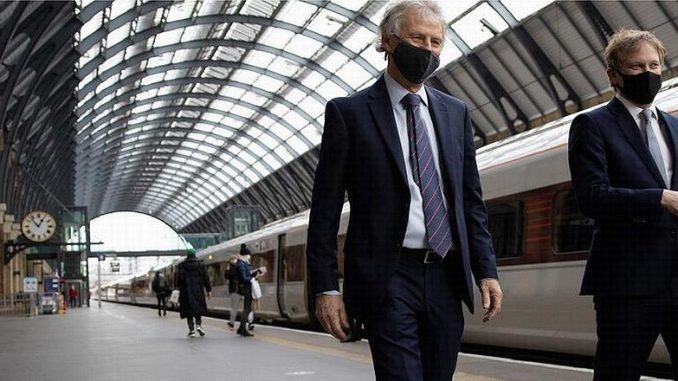 LONDON, UK, July 2, 2021 (ENS) – A host of new technologies to encourage rail passengers to ride British trains again post-COVID-19 have received UK government financial backing as part of the Department for Transport's 2021 "First of a Kind" competition.
In partnership with Innovate UK, the UK Department for Transport, DfT, has funded 30 ground-breaking projects that will each receive a share of £9 million.
This year, the competition's fifth, the entire contest is aimed at making the railways cleaner, greener and friendlier to passengers as Britain prepares for its biggest rail system shakeup in 25 years.
The winning projects offer all kinds of possibilities, from an app for immersive journey planning that helps people understand their trip before actually travelling, to a geo-location app that tells rail passengers the history and stories of the places their train is moving through.
The First of a Kind competition is focused on developing pioneering technology and exceptional ideas that can improve journeys for travellers, encourage passengers back onto the rail network and reduce the environmental impacts of rail as Britian builds back better from COVID-19, transport officials said.
Simon Edmonds, Innovate UK's deputy executive chair and chief business officer, said, "As we move ever closer to getting past the pandemic, passengers are returning to the railway. To give them ever greater confidence that rail is safe and sustainable, we called upon UK innovators to come up with fresh ideas."
"Yet again the response has been fantastic," Edmonds declared. "Not only will passengers benefit from these great innovations, but business prospects are bright in this sector too."
More 2021 winning projects include:
– a system to monitor people flow, congestion points and behavior at stations, so operators can remove bottlenecks and deploy countermeasures, helping people avoid crowds and restoring passenger confidence in the rail system after the COVID-19 lockdowns kept most riders off the trains.
– a technology that uses electromagnetism to deliver safe and predictable braking of trains in harsh conditions, while improving acceleration.
– a plan to deliver a train running on hydrogen and a hydrogen gas blend that promises low emissions and an even greener railway.
– a project that uses artificial intelligence, AI, to fuse terrestrial and satellite signals to improve connectivity on the rail network
– interchangeable train interiors designed for quick, deep cleaning that also allow operators to rejig a train's seating layout at short notice – responding to demand, keeping passengers safe and freeing up space.
Announcing the winners today Transport Secretary Grant Shapps said, "These winners will hopefully play a role in putting passengers at the centre of our railways as we build back better from COVID-19. The competition always throws up surprises and the ideas shown today could transform how we travel in future."
On Track: Williams-Shapps Plan for Rail
"The creative problem solving on display in this competition will be further encouraged by the reforms brought about by the Williams-Shapps Plan for Rail," he said.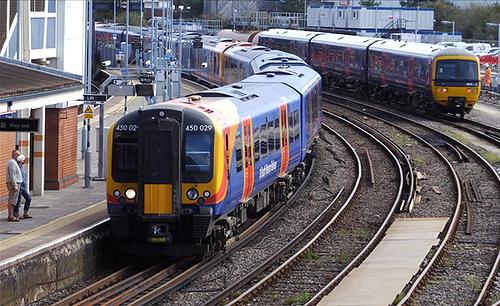 On May 20, the UK Government announced that the Williams-Shapps Plan for Rail would guide its reform plan for the country's railway system, the biggest shake-up of the UK railway system in more than 25 years.
Drafted by Transport Secretary Shapps and Keith Williams, independent chair of the Williams Rail Review, the Plan replaces the rail franchising system, which has been in effect since 1996.
Scheduled for implementation in 2023, the rail reform plan includes the creation of a new public body, Great British Railways. This entity will integrate the railway system, owning infrastructure and collecting fare revenue, setting fares and timetables, and planning works on the network.
Although it's a state-controlled body, Great British Railways retains a role for the private sector, which will operate most train services.
"The expertise and innovation of the private sector will improve efficiency, making it easier and cheaper to plan maintenance, renewals and upgrades," Shapp said, "unlocking new benefits for passengers."
"It is right to take a long-term approach, in order to smooth boom and bust and provide more certainty for rail schemes, decarbonise and digitalise the network, deliver major projects, protect and create jobs, and foster innovation and collaboration between railway partners," Railway Industry Association Chief Executive Darren Caplan said in a statement. "We also welcome the ambition to attract passengers and freight back to the network and grow both markets."
To see the full list of 2021 First of a Kind competition winners, click here.
Featured image: From left: Keith Williams, independent chair of the Williams Rail Review, and UK Transport Secretary Grant Shapps stride through a British railway station, 2021. (Photo courtesy UK Department for Transportation)