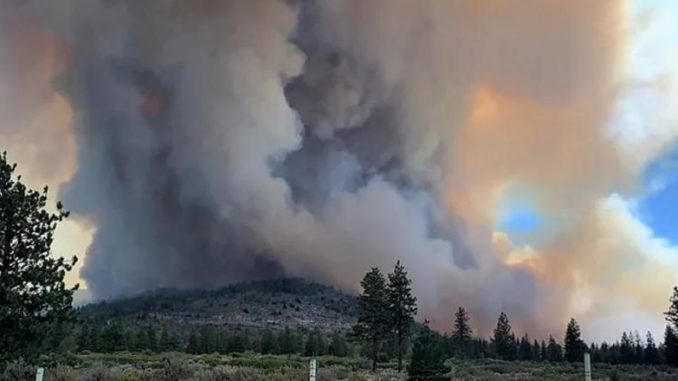 WASHINGTON, DC, June 30, 2021 (ENS) – Hundreds of Northern California residents living between historic Mt. Shasta and the city of Weed have been evacuated from their homes as two fires burning in Siskiyou County exploded overnight, fueled by high temperatures, low humidity, and winds blowing the flames into dry brush.
Rugged terrain and lack of water near the fires are making life even more difficult for the more than 900 firefighters who are trying to contain the flames.
The Lava Fire, burning between the city of Weed and Mt. Shasta, jumped from 13,300 acres on Tuesday to 17,591 acres Wednesday morning, according to the U.S. Forest Service. It's nearly 20 percent contained.
The Tennant Fire burning northeast of the Lava Fire jumped from 1,700 acres on Tuesday to 8,159 acres late Wednesday morning, according to the Forest Service.
Just two days ago, a new man was handed the responsibility for managing these forests as he ascended to the top position in the U.S. Forest Service. Agriculture Secretary Tom Vilsack announced that Randy Moore will serve as the 20th Chief of the Forest Service, an agency that is part of the U.S. Dept. of Agriculture.
Moore will serve as the first African American to hold the role of Chief of the Forest Service. He has been serving as Regional Forester in the Pacific Southwest Region of California since 2007, where he has responsibility for 18 national forests, covering one-fifth of the state on 20 million acres of land.
Biden Promises More Federal Help for Wildfire Battles
During a virtual meeting with western governors today, President Biden said, "Climate change is driving the dangerous confluence of extreme heat and prolonged drought. We're seeing wildfires of greater intensity that move with more speed.
Biden was speaking in the White House South Auditorium, with Vice President Kamala Harris, five members of the Cabinet, FEMA leadership and the leaders from utility industries, and senior members of the White House team in the meeting.
Those attending included Governors Gavin Newsom of California, Jared Polis of Colorado, Michelle Lujan Grisham of New Mexico, Steve Sisolak of Nevada, Kate Brown of Oregon and Jay Inslee of Washington, all Democrats, along with Republican Governors Spencer Cox of Utah and Mark Gordon of Wyoming.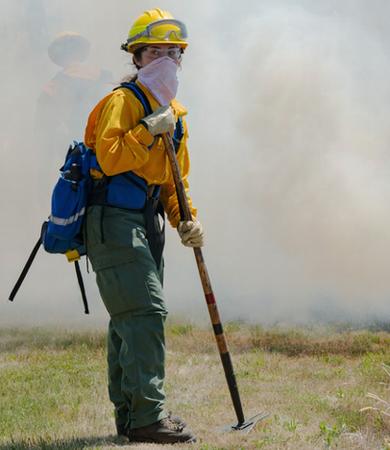 Biden said federal firefighters would get a boost in their minimum wage from $13 to $15 and be kept on the job as long as needed beyond the traditional wildfire season.
Due to climate change, battling wildfires is "no longer a seasonal job. This is a year-round mission," the president said.
"Right now, we have to act and act fast," Biden urged. "We're late in the game here. We're remembering the horrific scenes from last year: orange skies that looked like end of days; smoke and ash that made the air dangerous to breathe; more than 10 million acres burned; billions of dollars in economic damage; families that lost their homes and everything they own; and too many — too many lost lives."
And this year, the fires "could be even tougher, based on the weather patterns," Biden said.
In California and up the West Coast to British Columbia, drought conditions are twice what they were last year and record heat waves are happening across the West.
Governors Grateful for Federal Help
Oregon Governor Kate Brown told the meeting, "Just this weekend, my state of Oregon experienced three consecutive days of record-breaking high temperatures across the Willamette Valley, reaching upwards of 117 degrees [47 C]. It is unprecedented, and unfortunately, it follows one of the most devastating wildfire seasons in our state's history."
Speaking from Northern California where he was checking out the two major fires now consuming the attention of hundreds of firefighters, California Governor Gavin Newsom said the White House attitude toward the problem had changed completely since Biden took office six months ago.
"I've been waiting almost four-and-a-half years to hear a president say what you just said," Newsom told President Biden.
Biden reminded the meeting that this year, there are 36 fires already uncontained and burning. "There are already about 9,000 firefighters deployed across the region — from California to New Mexico, to Utah and Nevada — and it's only June," Biden said.
The president announced a $37 million federal grant to Sonoma County, California, in support of fire mitigation efforts underway there now. This grant is part of FEMA's program Building Resilient Infrastructure and Communities, BRIC.
Finally, said the president, "I want to note that the extreme heat we're seeing in the West is not only a risk amplifier for wildfires, it's a threat in and of itself. People are hurting. It's more dangerous for kids to play outside. Roads are buckling under the heat. I need not — again, I need not tell all of you."
Featured image: The California Highway Patrol in Mount Shasta posted this photo of the Lava Fire with a reminder that Highway 97 is closed for 30 miles from Weed to Macdoel due to the fire. June 28, 2021 (Photo courtesy California Highway Patrol)
© 2021, News Editor. All rights reserved.