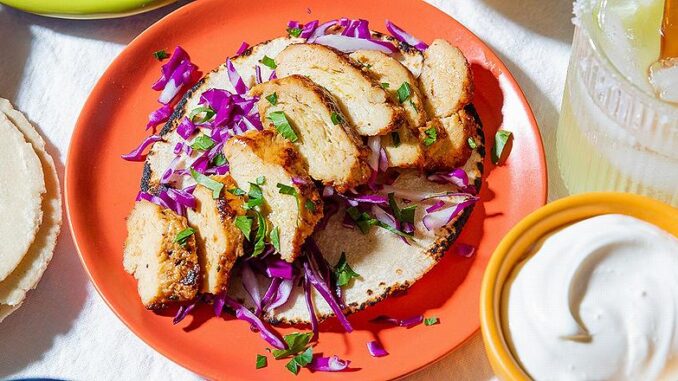 SAN FRANCISCO, California, June 23, 2023 (ENS) – Two California companies, Upside Foods and Good Meat, the cultivated meat division of food technology company Eat Just, Inc., have received approval from the U.S. Department of Agriculture for their cultivated chicken, to enter interstate commerce. This clearance, granted Wednesday, means that cultivated chicken, made directly from animal cells, can now be sold to American consumers.
The two companies will be first in the United States to sell meat that does not come from animals that are killed for food. what's now being referred to as "cell-cultivated" or "cultured" meat as it emerges from the laboratory and arrives on dinner plates.
Upside Foods in Berkeley, California, also a cultivated meat, poultry and seafood company, announced Wednesday that it, too, has completed the pre-market regulatory review process for its cultivated chicken after obtaining a Grant of Inspection from the USDA. This follows its announcement earlier this month that its label has been approved by USDA.
With this approval, Upside Foods can now start commercial production and sales of its cultivated chicken, taking what the company calls "a historic step towards building a more humane, sustainable, and resilient food system."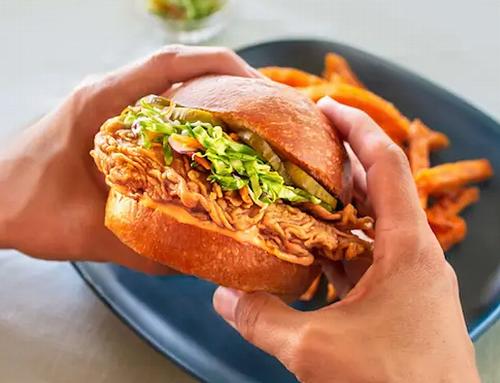 In November 2022, Upside Foods became the world's first company to receive the U.S. Food and Drug Administration's green light for cultivated meat. The inspection and label approvals from USDA mean that Upside Foods has demonstrated compliance with USDA regulations for food safety and labeling of poultry products.
Since cultivated chicken is grown directly from real chicken cells, this chicken product is subject to similar rigorous inspections and food safety standards as conventionally-produced poultry.
The animal welfare NGO People for the Ethical Treatment of Animals, PETA, says the company "recognizes the importance of creating slaughter-free chicken, as approximately 9 billion chickens are killed for their flesh each year in the United States alone. In fact, more chickens are raised and killed for food than all other land animals combined."
Using animal cells that regenerate themselves in large steel tanks, Upside Foods says its production method uses 1/10th the water and 1/100th the land currently used to raise billions of cows, pigs, and chickens each year. The process produces less waste and cuts energy consumption in half.
Having obtained full regulatory clearance in the U.S. for its cultivated chicken, Upside Foods can now begin commercial production. Upside will make its market debut with a whole-textured chicken product that is over 99 percent cultivated chicken cells.
"I'm thrilled to share that cultivated meat will now be available for consumers in the U.S.," said Dr. Uma Valeti, CEO and Founder of Upside Foods. "This approval will fundamentally change how meat makes it to our table. It's a giant step forward towards a more sustainable future – one that preserves choice and life."
Following this regulatory approval, Upside processed the first order of its cultivated chicken, placed by three-Michelin-star Chef Dominique Crenn. UPSIDE's cultivated chicken will be launched in the U.S. in limited quantities through select restaurant partners, starting with Chef Crenn's restaurant Bar Crenn in San Francisco.
The Good Meat Story
Josh Tetrick, co-founder and CEO of Good Meat and Eat Just, said, "This announcement that we're now able to produce and sell cultivated meat in the United States is a major moment for our company, the industry and the food system."
"We have been the only company selling cultivated meat anywhere in the world since we launched in Singapore in 2020, and now it's approved to sell to consumers in the world's largest economy," Tetrick said. "We appreciate the rigor and thoughtfulness that both the FDA and USDA have applied during this historic two-agency regulatory process."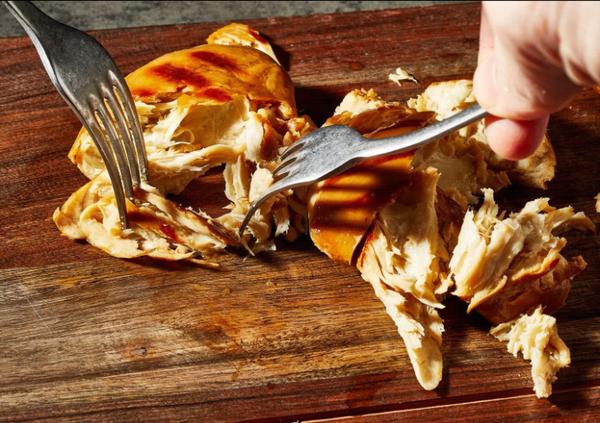 Immediately after receiving the grant of inspection, production started for the first batch of cultivated chicken that will be sold to restaurateur and humanitarian Chef José Andrés.
Andrés, who is owner of José Andrés Group, which operates more than 30 restaurants across the country, previously shared that a yet-to-be-disclosed restaurant in Washington, DC would be the first in the country to serve Good Meat's cultivated chicken.
The important moment for the burgeoning cultivated meat, poultry and seafood sector, and for the global food industry, comes after the USDA's approval of Good Meat's label. In March the company received its "no questions" letter from the U.S. Food and Drug Administration, FDA.
The March approval indicated that the FDA accepted the company's conclusion that its cultivated chicken is safe to eat. It allowed the USDA to begin its part of the regulatory process outlined in a 2019 agreement between the agencies.
Good Meat won multiple regulatory approvals for its chicken in Singapore in 2020 and 2021, and in January 2023 received a key clearance that paves the way for greater scalability, lower manufacturing costs and a more sustainable product.
Since its Singapore launch, the company's cultivated chicken has been featured on menus at fine dining establishments, popular hawker stalls, via the foodpanda delivery platform and most recently by reservation at Huber's Butchery, one of Singapore's producers and suppliers of high-quality meats.
In the United States, under the Federal Meat Inspection Act and Poultry Products Inspection Act, all meat and poultry sold commercially must pass inspection to ensure that it is safe, wholesome and properly labeled. To accomplish this, USDA's Food Safety and Inspection Service, FSIS, places inspectors in slaughterhouses and processing plants. For the first time in history, the agency will assign inspectors to Good Meat and Upside Foods.
As part of the USDA's approval, Good Meat received a grant of inspection for its demonstration plant in Alameda, as has its contract manufacturing partner, JOINN Biologics. The comprehensive vetting includes facilities and equipment; standard operating procedure for sanitation; and the systematic approach to identification, evaluation and control of food safety hazards.
Said Dan Glickman, Good Meat Advisory Board member; former U.S. Secretary of Agriculture under President Bill Clinton; and represented Kansas as a Democrat in the U.S. House of Representatives (1976-1995), "Serving as U.S. Secretary of Agriculture afforded me the opportunity to work with countless individuals at the USDA who were committed to accelerating agricultural innovation and economic opportunity as well as promoting initiatives to better nourish Americans and feed people around the globe."
"Today's approval demonstrates that the United States is a global leader in the promising alternative protein space while also continuing to support family farmers' efforts to feed the world through conventional food and agriculture techniques," Glickman said Wednesday.
Good Meat served its pioneering cultivated chicken at the 2022 United Nations climate conference, COP27 in Sharm el-Sheikh, Egypt. Food system transformation was on the menu during a series of historic dining experiences organized in partnership with the Singapore Pavilion showcasing Good Meat's real, high-quality meat made from animal cells for the first time outside of the Southeast Asian city-state where it debuted nearly two years ago.
The UN's Intergovernmental Panel on Climate Change heralded cultivated meat as a "transformative" approach to mitigating emissions and cited conventional animal agriculture as one of the top causes of greenhouse gas emissions.
According to a 2022 IPCC report, cultivated meat has the potential to deliver substantial reductions in direct emissions from food production. The report states, "These technologies have lower land, water and nutrient footprints, and address concerns over animal welfare."
Featured image: Cultivated chicken served as the centerpiece of a taco meal. (Photo courtesy Upside Foods)
© 2023, News Editor. All rights reserved.