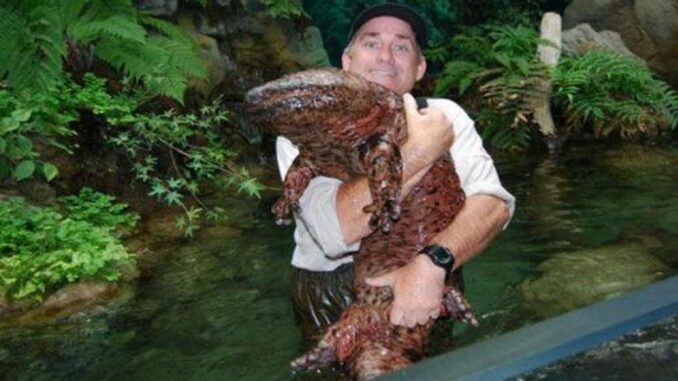 VALENZUELA CITY, Philippines, July 7, 2023 (ENS) – The days when law enforcement agencies and courts turned a blind eye to wildlife trafficking are now history. A court in the Philippines has sent an online trafficker to jail for illegally selling Critically Endangered Chinese Giant Salamanders, marking a win against online wildlife crime for the Philippine National Police Anti-Cybercrime Group and the Department of Environment and Natural Resources, a trend catching on in other countries too.
One of the highest penalties for wildlife trafficking ever imposed in the Philippines came down on May 16, when the Regional Trial Court in Valenzuela City convicted Christian Jade Nualla and sentenced him to four to six years in prison and a fine of 300,000 Philippine pesos. (US$ 5,395) for selling the two rare amphibians.
TRAFFIC, a global non-governmental organization based in Cambridge, England that works to ensure that trade in wild species is legal and sustainable is applauding the Philippine law enforcers for Nualla's conviction.
Director for TRAFFIC in Southeast Asia Kanitha Krishnasamy warns, "Illegal wildlife trade is steadily shifting towards digital platforms and online markets and poses a multitude of regulatory, enforcement and conservation challenges. Rapidly evolving technology can give illegal traders and criminal syndicates a level of anonymity never before seen."
In February 2022, Nualla and a partner, both known for illegally selling wildlife online, offered two of the endangered amphibians on Facebook. The salamanders were delivered to an undercover police officer posing as a buyer.
Upon receiving the animals, police conducted a supervised return delivery to Nualla, and he was arrested after receiving the package. Nualla's partner is still at large.
The Chinese giant salamander, Andrias davidianus, is the largest of all amphibian species. They can grow to more than 1.5 meters (five feet) in length and weigh well over 45 kilos (100 pounds).
Chinese giant salamander is one of only three living species in an amphibian family that traces back 170 million years. Considered a culinary delicacy in Asia, it is at risk from hunting, development and pollution, and its extinction in the wild is considered imminent.
Once common, the population of these salamanders has declined over the past three decades due to what Krishnasamy calls, "commercial over-exploitation for consumption." Entirely aquatic, living in rocky hill streams and lakes with clear water, the giant salamanders are now found only in small numbers in parts of China.
According to the International Union for the Conservation of Nature, which maintains the IUCN Red List of Threatened Species, the Chinese giant salamander is classed as Critically Endangered.
The Chinese giant salamander also is listed on Appendix I of the Convention on International Trade in Endangered Species, a global treaty that prohibits commercial international trade in this species.
The salamanders in the Nualla case are believed to have been purchased from an ornamental fish importing company in the Philippines. The company was found importing aquatic plants, frogs, and turtles without the required permits by the Bureau of Customs on the same day Nualla was arrested. It is not known if charges were filed against the company.
Nualla was charged with violating the Wildlife Resources Conservation and Protection Act in relation to Section 6 of the Cybercrime Prevention Act. This meanst that a penalty one degree higher can be applied to the wildlife offense as it was committed online.
This is one of the highest imposed penalties for wildlife trafficking in the Philippines to date. The use of the Cybercrime Prevention Act is noteworthy as wildlife crimes, including illegal online trade, tend to be prosecuted as an offense solely using wildlife, forestry, or natural resources laws.
Krishnasamy said, "New approaches like this are increasingly important for Southeast Asia as internet penetration grows in the region and authorities grapple with widespread illegal trade of wildlife online."
Chasing a Trafficker Across Four Countries
About a month later, far from Southeast Asia, a hit on databases of the international police force Interpol at the Bulgarian-Turkish border unmasked a Ukrainian female fugitive wanted for smuggling live endangered tortoises from Tanzania to Thailand.
Law enforcement officers arrested the alleged wildlife trafficker who led them on a convoluted chase involving four countries: Thailand, Bulgaria, Turkey, and Tanzania.
Travelling to Bangkok from Dar es Salaam, Tanzania in July 2022, the suspect was first arrested during Operation Golden Strike 2022 when Thai Customs at Bangkok's Suvarnabhumi International Airport detected the internationally-protected tortoises concealed in her luggage.
Many of the tortoises seized are Critically Endangered species covered by CITES, the global treaty that protects endangered plants and animals from being harvested to extinction for international trade.
Interpol said, "Although the suspect fled Thailand before she could be fully prosecuted, intense international police cooperation resulted in her location, identification and extradition from Bulgaria to Tanzania on 17 June 2023."
Interpol alleges that the suspect was working in collaboration with Egyptian and Tanzanian partners who assisted her to commit the offences.
When the fugitive fled Thailand, Tanzania requested the global publication of two Interpol Red Notices, one for the suspect and a second for another suspected tortoise trafficker. Interpol issued the Notices, which are requests to law enforcement worldwide to locate and provisionally arrest a person pending extradition, surrender, or similar legal action.
Operation Golden Strike took place July 2022 to tackle wildlife trafficking, resulting in wildlife seizures, more than 300 arrests, and the dismantling of networks behind wildlife smuggling between Asia and Africa.
Funded by the government of China, Operation Golden Strike 2022 brought together police, customs, financial intelligence units and wildlife enforcement agencies in 28 countries for the simultaneous regional inspection of parcels, suitcases, vehicles, boats and cargo transporters transiting between the two continents.
Interpol says that all its environmental security activities are "externally funded and dependent on sustainable partnerships."
"Operation Golden Strike has provided a platform for the participating countries to take action in synchronicity, signaling the strong resolution of police authorities in combating such crimes," said Duan Daqi, who heads Interpol's National Central Bureau in Beijing, China.
Establishing that the Ukrainian fugitive was a prominent member of a large wildlife smuggling transnational network, the Interpol General Secretariat deployed an operational support team to Bangkok to help local authorities follow up on leads triggered by the arrest and seizure, and to support efforts in locating her.
Interpol hosted a regional investigative analytical case meeting at its headquarters in Lyon, France in February with investigators and prosecutors from Tanzania, Thailand and Egypt to concentrate on locating the two Red Notice subjects.
One week later the Ukrainian fugitive was detected and arrested as she crossed the Bulgaria-Turkey border.
It was the Interpol Red Notice that alerted law enforcement authorities at the land border of the suspect's wanted status.
The Ukrainian fugitive now faces a maximum prison sentence of 30 years for offenses listed under Tanzania's Wildlife Conservation Act and Economic Organized Crime Control Act.
U.S. Salamander Smuggler Sentenced
Then, in August 2022 in the United States, an Arkansas man was sentenced for illegally importing and possessing two live Chinese giant salamanders, according to the U.S. Attorney's office for the Eastern District of the state of Arkansas.
Jackson Roe was sentenced to three years probation and 150 hours of community service for illegally selling and transporting a variety of reptiles in and out of the United States after the U.S. Fish and Wildlife Service received an anonymous tip.
Roe told investigators he had been buying live reptiles and amphibians from a Chinese dealer he had met on Facebook, where the salamanders cost $450 each.
Roe received seven packages from Hong Kong that included six Chinese giant salamanders, a Vietnamese leaf turtle, an Indian roofed turtle and a Chinese big-headed turtle.
When wildlife inspectors seized a package addressed to Roe they found the Chinese giant salamanders still alive in plastic jars.
Authorities also found a Nile crocodile, a Morelet's crocodile and an American alligator in Roe's possession. All the animals were seized by the Arkansas Game and Fish Commission.
Three Reptile Smugglers Caught in Multimillion-Dollar Scheme
Fast forward to January 30, 2023. That was the day Ka Yeung Marvin Chan, a Canadian national, was sentenced to a term of 14 months in prison followed by two years of supervised release for his role in a conspiracy to smuggle reptiles from the United States to Asia. Chan is the last of three defendants sentenced for their roles in this reptile trafficking scheme.
Chan and another conspirator, Daisuke Miyauchi, owned and operated businesses overseas and engaged in the sale of reptiles, according to court documents and information in the public record.
Both men traveled to the United States to purchase, among other creatures, ball pythons, blood pythons, common tegus, Argentine tegus and iguanas, which are protected under CITES Appendix II.
Chan and Miyachi then worked with co-conspirator Chun Ku to smuggle the reptiles out of the country using Ku's Master File CITES permit and fraudulent export paperwork.
Over a seven-year period, the conspirators collectively engaged in at least 107 separate criminal acts, smuggling to Asia a total of 8,738 CITES-protected animals with a retail market value in excess of $5.13 million.
In addition to the smuggled CITES species, the fraudulent shipments contained 61,622 non-CITES animals, many of which were also smuggled.
Chan and his co-conspirators each pleaded guilty to conspiracy to falsely label wildlife being exported from the United States and to smuggle goods and merchandise out of the United States as well as submitting false records and false identification of wildlife intended to be exported.
Earlier, on November 18, 2022, Ku was sentenced to concurrent terms of one year and one day imprisonment, two years' supervised release and a $20,000 fine. On February 22, 2022, Miyauchi was sentenced to concurrent terms of 13 months in prison. Each received favorable consideration at sentencing due to their cooperation with authorities during the investigation.
Assistant Director Ed Grace said, "The three-year long investigation involving the three defendants uncovered at least 107 criminal acts, a combined monetary value of $5,134,000, and involved a conspiracy to violate the Lacey Act, smuggle CITES Appendix II reptiles out of the United States, and create and submit fraudulent documents to the government prior to export.
Grace said, "We will continue to work combating wildlife smuggling while striving to maintain the integrity of the legal export process."
Featured image: A man struggles to hold onto a Chinese giant salamander. January 19, 2015, Malaysia (Photo by Nur Adha Shafiq via Twitter)
© 2023, News Editor. All rights reserved.