WASHINGTON, DC, April 1, 2022 (ENS) – Highly infectious outbreaks of bird flu in 23 states since January have led to the killing of more than 17 million chickens and turkeys, according to state and federal officials. The outbreaks are part of ongoing Eurasian H5N1 bird flu activity that has affected wild birds and poultry in multiple regions of the world.
New bird flu outbreaks were reported today in two more of Iowa's commercial poultry facilities by state and federal agriculture officials. The virus was found in a flock of commercial layer chickens in Osceola County, Iowa and in a commercial turkey flock in Cherokee County, Iowa.
Iowa is the nation's largest producer of eggs and sixth-largest producer of turkeys. Every day this week has brought more sick chickens and turkeys to light.
Iowa has destroyed about 8.2 million birds in an attempt to keep the virus from spreading, or about half of the birds killed nationwide as a result of highly pathogenic avian influenza now appearing in flocks across the country.
Other Iowa outbreaks have happened at a Guthrie County egg facility with 1.5 million laying hens and a Hamilton County farm that had 28,000 turkeys, said Chloe Carson, spokesperson for the Iowa Department of Agriculture.
Iowa State Veterinarian Jeff Kaisand said all the birds in affected facilities are being disposed of on location, including those sickened in the Guthrie and Hamilton county outbreaks, even large numbers like the 5.3 million laying hens destroyed in mid-March at an egg facility in Buena Vista County.
Kaisand says it appears the bird flu infections are coming from migrating wild birds.
Iowa Agriculture Secretary Mike Naig said in a call with reporters earlier this week that there have been nine outbreaks in Iowa since the beginning of March – two in backyard flocks and in seven commercial facilities. Now there are 10.
Flu Hits U.S. Backyard Flocks, Commercial Operations
Federal animal inspection teams have confirmed the presence of highly pathogenic avian influenza, or bird flu, in non-commercial, mixed-species backyard flocks of chickens from Massachusetss to Wyoming, and from North Carolina to North Dakota to Ohio.
In a statement Wednesday, the U.S. Department of Agriculture's Animal and Plant Health Inspection Service, APHIS, said samples from all the flocks were first tested at state laboratories that are part of the National Animal Health Laboratory Network. The infectious results were then confirmed at the APHIS National Veterinary Services Laboratories in Ames, Iowa.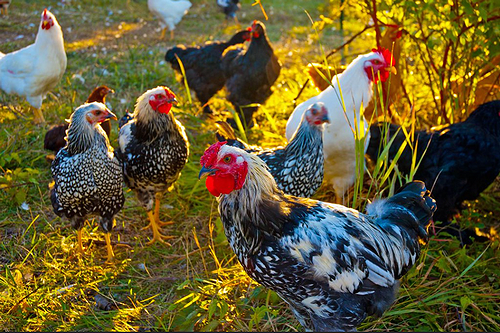 None of the affected backyard flocks are considered to be poultry. State officials quarantined the affected premises, and birds on the properties will be "depopulated" to prevent the spread of the disease.
"Birds from the flocks will not enter the food system," APHIS assured the public.
Elsewhere, the U.S. Department of Agriculture Animal and Plant Health Inspection Service, APHIS, in an update, reports outbreaks in three other already affected states.
South Dakota has three more outbreaks on commercial turkey farms in three counties: Bon Homme, Edmunds, and Spink. All are in the eastern half of the state. The three facilities collectively house 119,609 birds.
Also, APHIS reported additional outbreaks in Maine and New York, both of which involved backyard flocks. Maine's outbreak, its 10th, struck a mixed-species flock of 46 birds in Knox County, on the state's Atlantic shore. New York's outbreak, also its 10th, occurred in a holding of 400 mixed-species poultry in Monroe County, which includes the city of Rochester.
Humans Can Catch Bird Flu Too
The U.S. Centers for Disease Control and Prevention does not think these recent bird flu outbreaks are of immediate public health concern for humans. "No human cases of these avian influenza viruses have been detected in the United States," the CDC said.
But the World Organization for Animal Health, OIE, takes a different approach, saying, "Bird flu can affect both humans and animals. We thus need to tackle bird flu under a One Health approach, that considers human health, animal health and environmental as interdependent."
Dr. Lina Awada, veterinary epidemiologist at the World Organisation for Animal Health, says, "Avian flu is a very telling example of a disease that can affect both humans and animals. Considering together the epidemiology and the characteristics of the viruses circulating in both animals and humans, and how the transmission patterns can be influenced by the environment, is key to address the disease efficiently: this is the basis of the One Health approach."
Between February 25 and March 3, 2022, three new cases of human infection with the avian influenza A(H5N6) virus were notified to the World Health Organization, WHO, in the Western Pacific Region.
A six-year-old girl from Yangzhou, Jiangsu province, with sickened with an onset of this virus on January 20, 2022. She was hospitalized on January 25 for severe pneumonia and was in a critical condition at the time of reporting. Before her illness, she was exposed to backyard live poultry.
Then, a 48-year-old male, an automobile mechanic, from Chengdu, Sichuan province, was hospitalized on January 24 for severe pneumonia as a result of contrcting avian influenza and was in a critical condition at the time of reporting. Before the illness onset, he had exposure to a live poultry market.
The last of the three cases is a 35-year-old male farmer from Hechi in Guangxi, with an onset of illness on January 31. He was hospitalized on February 5 for severe pneumonia and was in a critical condition at the time of reporting. Prior to illness onset, he had exposure to backyard sick and/or dead poultry.
Virus Spreads Among European Birds
In Europe, the virus, brought by wild birds migrating in the autumn, has affected all countries in the 27-member European Union except Malta and Cyprus.
Italy suffered the most severe damage, with more than 300 separate outbreaks of the virus infecting turkeys, chickens, ducks, quail and guinea fowl, most in northern Italy's Veneto and Lombardia regions.
France is facing its worst bird flu crisis in its history as outbreaks of the highly contagious virus reached the country's largest poultry producing regions. More than 12 million birds have been culled since November 2021, France's farm ministry told Reuters.
This week, Belgium reported another highly pathogenic H5N1 outbreak at a commercial farm in the Flanders region, according to the OIE. The event began on March 28, killing 193 of 18,859 susceptible birds.
In The Netherlands, the Wageningen Bioveterinary Research laboratory has analyzed the HPAI H5N1 viruses found at the first three infected Dutch farms in October 2021. "The virus is a newly introduced one, probably brought to the Netherlands by migratory birds. The viruses currently present in the Netherlands are not related to the Asian H5N1 strains that can infect humans," said Wageningen University.
Outbreaks had nearly ended in virtually all European locations by the end of March, as they typically do in spring, data from the OIE shows.
In the United States, the USDA is actively looking for the disease in commercial poultry operations, live bird markets and in migratory wild bird populations. And inspection teams are finding the disease, which goes by many different names – highly pathogenic avian influenza, HPAI, or A(H5N1), avian influenza or just bird flu.
USDA will report its findings to the OIE, as well as to international trading partners. USDA also continues to communicate with trading partners to encourage adherence to OIE standards and minimize trade impacts.
APHIS will continue to announce the first case of HPAI in commercial and backyard flocks detected in a state but will not announce subsequent detections in the State.
All cases in commercial and backyard flocks will be listed on the APHIS website here.
In addition to practicing good biosecurity, all bird owners should prevent contact between their birds and wild birds and report sick birds or unusual bird deaths to animal health officials. In the United States, call APHIS' toll-free number at 1-866-536-7593.
The Animal Health Protection Act authorizes APHIS to provide indemnity payments to producers for birds and eggs that must be depopulated during a disease response. APHIS also provides compensation for disposal activities and virus elimination activities.
Additional information on biosecurity for backyard flocks can be found here.
Featured image: Young chickens crowded together in a barn are being raised for meat. Undated. (Photo courtesy The Humane League)