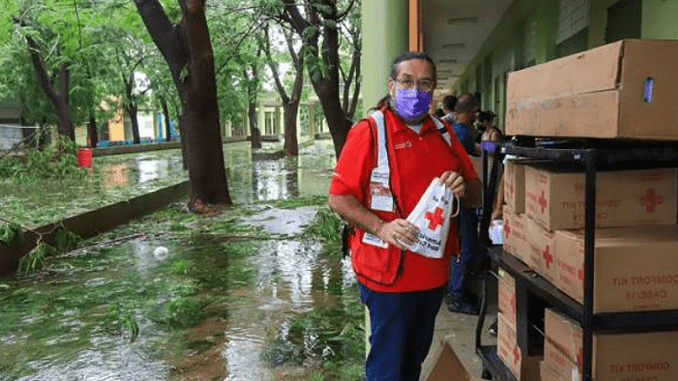 SAN JUAN, Puerto Rico, September 21, 2022 (ENS) – Conditions in Puerto Rico remain life-threatening after Hurricane Fiona devastated the island on Sunday, knocking out power across the island. Homes, businesses, and critical infrastructure were laid waste, and more than a million customers are still without power. There is no water service for two-thirds of the island.
The U.S. Department of Health and Human Services has declared a public health emergency and rescues are ongoing. First responders are using heavy equipment in some areas to lift people to safety.
Today, Hurricane Fiona strengthened to a Category 4 storm as it made for Bermuda after smashing the Dominican Republic and Puerto Rico, leaving up to eight people dead.
In Puerto Rico, the government has opened emergency shelters. More than 1,000 people spent Tuesday night in dozens of shelters powered by solar sources made possible by a Red Cross contribution of nearly US$1.5 million after Hurricane Maria devastated the island in 2017, nearly five years ago to the day. Red Cross and partners delivered solar power to 160 schools at that time; many of them serve as emergency shelters today.
The Red Cross says that some areas are still inaccessible due to mudslides and damaged roads and bridges, but more than 190 trained Red Cross volunteers are helping assess the damage and delivering emergency supplies to shelters where possible.
President Joe Biden Sunday declared an Emergency in Puerto Rico due to the hurricane and directed the Federal Emergency Management Agency, FEMA, to coordinate disaster relief efforts.
On Monday, President Biden spoke to Governor Pedro Pierluisi from Air Force One while returning from the State Funeral for Queen Elizabeth II. They discussed the immediate needs of the people of Puerto Rico in the wake of Hurricane Fiona.
Biden described the surge of federal support to the island, where more than 300 federal personnel were already working on response and recovery. In the coming days, as damage assessments are conducted, the President said that number of support personnel will increase substantially.
Biden said that he will ensure that the federal team remains on the job to get it done, especially given that Puerto Rico is still recovering from the damage of Hurricane Maria five years ago this week.
Governor Pierluisi expressed his appreciation for the partnership and support that he is receiving already from the Biden Administration.
Governor Pierluisi requested an expedited major disaster declaration late Tuesday, and that request is under review.
FEMA Administrator Deanne Criswell traveled to Puerto Rico Tuesday and met with Governor Pierluisi to assess unmet needs and tour areas affected by Hurricane Fiona. She remained in Puerto Rico today, meeting with some of the 700 FEMA staff who live on the island and touring additional damaged areas.
Although the storm has passed, residents are encouraged to stay alert to continuing hazards, including extreme heat. Continuing rains are also making life difficult for survivors.
Governor Pierluisi has activated more than 450 members of the Puerto Rico National Guard to assist, Pentagon Press Secretary Air Force Brig. Gen. Pat Ryder told reporters on Tuesday.
The Virgin Islands National Guard has activated personnel to monitor the situation as part of their joint operations center team, Ryder said.
Before the storm hit, the Puerto Rico National Guard prepositioned soldiers and heavy equipment, including vehicles with high ground clearance, at 10 strategic points around the island to allow it to quickly respond to emergencies such as rescuing stranded or trapped people and clearing roads, Ryder explained.
On Monday, Puerto Rico National Guard's 65th Infantry Regiment rescued 21 elderly and bedridden people from their care facility, as landslides threatened the home's structure and residents' safety, he said.
That day Puerto Rico National Guard's 296 Infantry Regiment in Mayaguez rescued 59 people and 13 pets from a flooded community, while Guard members with the 125th Military Police Battalion rescued a man in Ponce who got caught in a flash flood, Ryder reported.
The U.S. Army Corps of Engineers is preparing generators for emergency power, and the Civil Air Patrol has been providing post-hurricane landfall imagery support and small unmanned aerial system support to FEMA's urban search and rescue teams, he said.
The Defense Department continues to stay in close contact with FEMA, the National Guard Bureau and U.S. Northern Command as response and recovery efforts unfold, Ryder said.
The National Weather Service warns that swells generated by Fiona will continue to spread westward across the southwestern Atlantic toward the northwestern Bahamas and the east coast of the United States during the next day or two. The swells could cause life-threatening surf and rip current conditions.
Featured image: More than 1,000 people spent last night in dozens of schools turned shelters powered by solar sources made possible by an American Red Cross donation of nearly US$1.5 million after Hurricane Maria hit the island in 2017. Here, Red Cross worker Alberto Fernandini delivers supplies to one of the schools. September 2022 (Photo by Isaac Leon Vales courtesy American Red Cross)