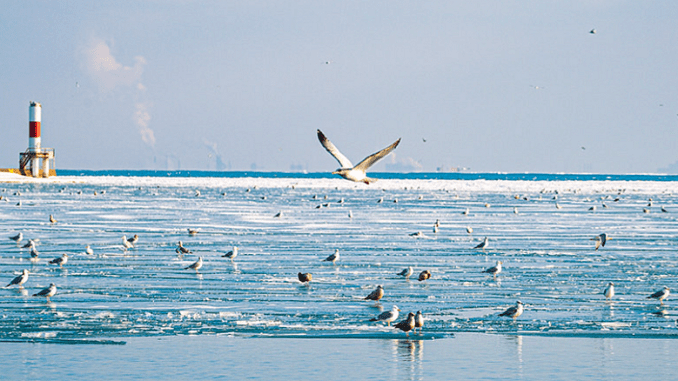 LORAIN, Ohio, February 18, 2022 (ENS) – In Lorain, once famed for its shipyards, where the Black River flows into Lake Erie, President Joe Biden Thursday announced that his administration is making "the most significant restoration of the Great Lakes in the history of the Great Lakes."
With $1 billion from the Bipartisan Infrastructure bill the President signed into law late last year, the Biden administration will clean up a legacy of pollution in the Great Lakes region going back decades.
"Back in 1987, an independent commission identified 43 places called 'Areas of Concern' along the Great Lakes," Biden told the crowd. "They're areas where pollution, as the EPA director said, where pollution from industry, runoff from agriculture, poor wastewater treatment put the Great Lakes and everyone who depends on them at risk."
"Twenty-six of these areas are in the United States side of the border. Twelve of them are in Canada. And five are shared between the United States and Canada. And our mutual nations made a commitment to clean them up, to be good partners, to protect these shared treasures. And for decades, there was a lot of talk, a lot of plans, but very little progress. It was slow," Biden said.
"That changes today."
"We're going to accelerate cleanup of sites across six states in the Great Lakes Basin – from Duluth, Minnesota, to Milwaukee, Wisconsin; Gary, Indiana, to Buffalo, New York, and everywhere in between," the President promised.
"And we know these sites were dangerously polluted for decades," he said. "We're committed to clean them up. Three decades ago, we made this commitment."
Biden mentioned restoring the shoreline around the Detroit River in Michigan, the St. Louis River in Minnesota and Wisconsin, and the Grand Calumet River in Indiana, all of which flow into one or another of the five Great Lakes.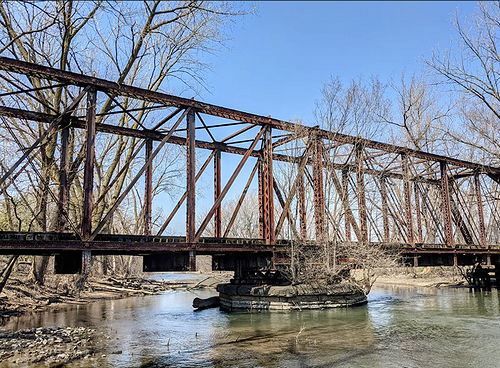 Funds will be devoted to, "Dredging polluted sediment; restoring wetlands and habitats; making the water safer for swimming and fishing and drinking; providing habitats for wildlife and wildfowl," Biden said.
"Every dollar we spend cleaning up the Great Lakes generates between three and four dollars in economic benefit. That's a fact. And it's a really good investment," the President said.
These are not the only investments the administration is making in the Great Lakes. Last month, they announced over $500 million to upgrade the Soo Locks in Michigan, which connect Lake Superior and the Great Lakes.
"Seven thousand vessels and 90 percent of our country's iron ore moves through these locks every single year. That ore makes nearly all the high-strength steel that goes into U.S.-made cars and appliances. Replacing and modernizing the locks will not only create good jobs doing that, it's going to strengthen our supply chains and get goods moving faster and reduce cost," President Biden said.
"This is not the totality of what we're going to do, but it's an example of what I've said from day one: We're rebuilding America. We're going to invest in America and build a better America than we found," he said.
The U.S. Environmental Protection Agency will use the bulk of the $1 billion investment in the Great Lakes from the Bipartisan Infrastructure Law to clean up and restore the severely degraded Areas of Concern. This will allow for an acceleration of progress that will deliver environmental, economic, health, and recreational benefits for communities throughout the Great Lakes region.
"The Great Lakes are a vital economic engine and an irreplaceable environmental wonder, supplying drinking water for more than 40 million people, supporting more than 1.3 million jobs, and sustaining life for thousands of species. Through the investments from President Biden's Bipartisan Infrastructure Law, we will make unprecedented progress in our efforts to restore and protect the waters and the communities of the Great Lakes basin," said EPA Administrator Michael Regan. "Building a better America means investing in our natural resources and the communities they support."
White House Senior Advisor and Infrastructure Implementation Coordinator Mitch Landrieu said, "With this investment, President Biden is delivering major environmental, public health, and economic wins for the Great Lakes region. Building a better America requires us to confront legacy pollution and clean up the environment – ensuring our kids drink clean water and creating good-paying jobs in the process. We know that cleaning up these waterways and improving the health of the Great Lakes will also create great economic opportunities for communities across the eight-state region and beyond."
Don Jodrey, director of federal relations with the nonprofit Alliance for the Great Lakes, said his organization applauds President Biden and the U.S. EPA for announcing that the agency will use the bulk of the $1 billion investment in the Great Lakes from the Infrastructure Investment and Jobs Act to clean up and restore Areas of Concern in the Great Lakes region, which include some of the Great Lakes' most environmentally degraded sites.
"This specific allocation of funds is exactly in line with the Alliance's top federal priorities for the Biden administration for 2022, and in fact, the Alliance has been asking for federal help in cleaning up these toxic hot-spots since 1987, when the U.S. and Canada designated 43 AOCs in the Great Lakes that held dangerous and carcinogenic pollutants such as heavy metals, PAHs and PCBs, and could not support recreation or habitat for wildlife.
"Today's commitment has been a long time coming, but the Alliance is thankful that Congress has recognized the need for this investment," Jodrey said. "We're eager to get to work alongside our local partners to make progress so that these beautiful cities and rivers can once again be places where current and future Great Lakes residents can enjoy time outdoors without worrying about the effect on their health."
Featured image: A seagull flies off as others sit on frozen Lake Michigan, with Chicago, Illinois in the background, February 7, 2022 (Photo by SHYCITYNikon)
© 2022, News Editor. All rights reserved.