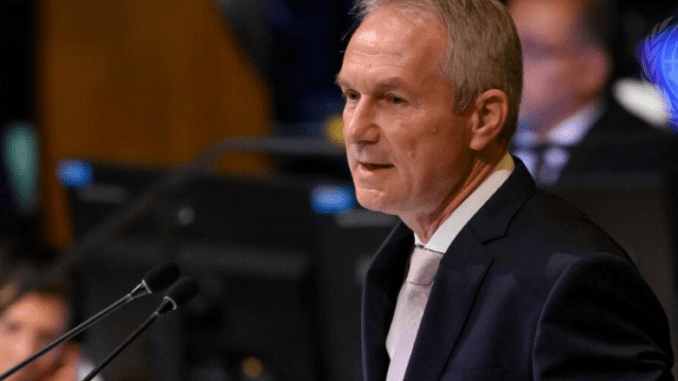 NEW YORK, New York, September 20, 2022 (ENS) – Calling it "the most consequential moment of the last four decades," Csaba Kőrösi of Hungary, the new president of the United Nations General Assembly, today brought down the ceremonial gavel to open this year's debate.
Addressing world leaders today, on the opening day of the UN General Assembly's annual high-level debate, he gave precedence to environmental disasters.
"Climate change has triggered heatwaves, floods, and droughts, while unsustainable consumption and production have left scars across our environment," acknowledged Kőrösi, a former director of environmental sustainability in the Office of Hungarian President János Áder.
"We live, it seems, in a permanent state of humanitarian emergency," warned Kőrösi, pointing out that over 300 million people are now in urgent need of aid and protection – a 10 percent increase since January – and that climate change, COVID-19, and conflict have pushed global hunger to "alarming levels."
Meanwhile, inflation is at 40-year highs as violence has left one-quarter of humanity caught in instability, he lamented.
Kőrösi called for "solutions through solidarity, sustainability and science," his motto for this, the Assembly's 77th, session.
"Solutions, because we have drafted many treaties, set excellent goals, yet have taken too little action," he explained.
"We need solidarity because inequalities have reached record height… sustainability because we owe it to our children to leave behind a liveable world… science because it offers us neutral evidence for our actions."
"Who would have imagined that war would return to Europe? That the nuclear threat would be back in political discourse to settle a dispute with a neighbor?" the Assembly president asked, observing that 203 days after the UN adopted a resolution condemning the military aggression against Ukraine, the bloodshed continues.
Still, there have been positive developments. Kőrösi mentioned the landmark agreement on commercial grain exports out of Ukrainian ports, diplomacy working to release fertilizers, and UN nuclear inspectors preventing a possible catastrophe at one of Europe's key nuclear sites, the Zaporizhzhia nuclear power plant, the largest in Europe.
In line with the debate's theme, "A watershed moment: transformative solutions to interlocking challenges," President Kőrösi declared solidarity with Pakistan, where devastating floods have washed away hundreds of villages this month.
He described "heart-wrenching scenes of devastation," as a possible "window into our future," as climate change makes flooding more likely in many places.
Advancements in science cooperation and climate diplomacy can tackle climate change, "but we have to want to put them in practice," said Kőrösi.
He proposed creating scientific research panels, parallel to the Intergovernmental Panel on Climate Change, IPCC, for water, energy, food and biodiversity. He said the IPCC has proven invaluable in supporting political decisions to combat the climate crisis by providing "a universally accepted, empirical starting point for action."
"Once this high-level week is over, I plan to launch a series of consultations with the scientific community, asking them to help us bring knowledge from microscopes to microphones," he said.
Secretary-General Sees 'Big Trouble,' but Also 'Hope'
"Our world is in big trouble," UN Secretary-General Antonio Guterres told the world leaders.
"Divides are growing deeper. Inequalities are growing wider. Challenges are spreading farther."
"But as we come together in a world teeming with turmoil, an image of promise and hope comes to my mind," Guterres said.
He showed an images of a ship called the Brave Commander. "It sailed the Black Sea with the UN flag flying high and proud. On the one hand, what you see is a vessel like any other plying the seas. But look closer," he invited the leaders.
"At its essence, this ship is a symbol of what we can accomplish when we act together."
"It is loaded with Ukrainian grain destined for the people of the Horn of Africa, millions of whom are on the edge of famine," the UN chief said.
"It navigated through a war zone – guided by the very parties to the conflict – as part of an unprecedented comprehensive initiative to get more food and fertilizer out of Ukraine and Russia."
"To bring desperately needed relief to those in need. To calm commodity markets, secure future harvests, and lower prices for consumers everywhere," Guterres explained.
"Ukraine and the Russian Federation – with the support of Türkiye – came together to make it happen – despite the enormous complexities, the naysayers, and even the hell of war."
"Some might call it a miracle on the sea. In truth, it is multilateral diplomacy in action," said the UN chief, who was central to the negotiations.
"The Black Sea Grain Initiative has opened the pathway for the safe navigation of dozens of ships filled with much needed food supplies. But each ship is also carrying one of today's rarest commodities: Hope."
"We need hope, …. and more. We need action," Guterres urged.
"This year, the world has enough food; the problem is distribution. But if the fertilizer market is not stabilized, next year's problem might be food supply itself," Guterres warned.
Grain Deal a Great UN Accomplishment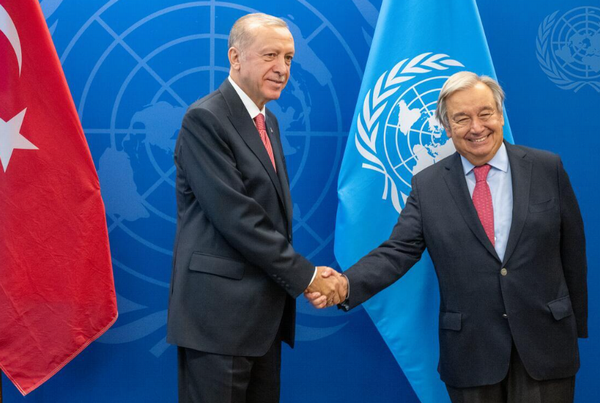 The deal for the Black Sea Grain Initiative was signed in Istanbul in July.
The landmark agreement reached between Ukraine and Russia to permit the export of grain out of war-torn Ukraine is among the UN's greatest accomplishments in recent decades, Turkish President Recep Tayyip Erdoğan told the General Assembly on Tuesday.
The Turkish President said the initiative to export Ukrainian grain via the Black Sea was the result of diplomatic efforts together with the UN Secretary-General, Antonio Guterres.
"This is a critical agreement that was undertaken jointly with the United Nations, and this is one of the greatest accomplishments of the United Nations in the recent decades," said Erdoğan, speaking through an interpreter.
The pandemic triggered supply chain problems with heavy impact on the global economy. Russia's invasion of Ukraine has added to these woes, Erdoğan said, causing a spike in food and fuel prices worldwide that is putting efforts to end hunger and poverty at risk.
Erdoğan called for international cooperation and solidarity. "Against the challenges that identify our common fate, we need to move together," and advocated for peace in Ukraine, saying "We think that the war will never have a triumph, and a fair peace process will not have a loser."
France Will 'Search for Peace'
President Emmanuel Macron of France on Tuesday called Russia's invasion of Ukraine a return to "imperialism" and said that those who remained silent or were "secretly complicit" were engaging in a "new cynicism" that was eroding the global order.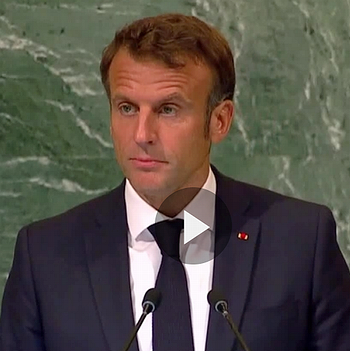 Addressing world leaders on the opening day of the UN General Assembly's annual high-level debate, Macron said, "Today we need to make a simple choice – war or peace."
He recalled that at the end of February, "Russia, a permanent member of the Security Council, through an act of aggression and invasion and annexation, broke our collective security … when it deliberately violated the UN Charter and the principle of sovereign equality of states."
The French President said the International Court Of Justice had declared Russia's aggression illegal and called for the withdrawal of its troops, even as Russia continued its aggression, possibly paving the way for "for other wars of annexation in Europe, today and perhaps tomorrow in Asia, or Africa or Latin America."
"The longer this war goes on, the more it threatens Europe and the world. It could lead to greater conflict where security and sovereignty no longer depend on the strength of alliances, but on the strength of armed groups… and subjugation of others," he said, adding: "What we have seen is a return to the age of imperialism. France rejects this and will steadfastly search for peace."
Scouting the Horizon for Future Consensus
As Assembly President, Kőrösi said that this 77th session would be "key" in preparing the Sustainable Development Goals, SDG, Summit in 2023, and the Summit of the Future in 2024.
"Next year, we will assess SDG 6 at the UN Water Conference – the first since 1977," he informed the world leaders assembled at UN Headquarters in New York. "This call could not be more urgent."
"Water is set to be the next major global driver of conflict," said Kőrösi, outlining the threefold problem: "too much, not enough, not safe."
The session will assess the Sendai Framework for Disaster Risk Reduction, he said, maintaining that along with the 2030 Development Agenda, the Paris Agreement on Climate, the Addis Ababa Action Agenda on development financing, and Our Common Agenda, it describes the world we want and offers avenues to get there.
To revitalize the United Nations' relevance in the eyes of the world, Kőrösi announced his intention to advance negotiations for reforming the UN Security Council to more equitably represent 21st century realities. "This is a matter of credibility for our entire organization and our multilateral order."
Kőrösi declared, "The challenges are great. And they are interconnected. But they are not insurmountable."
Featured image: Csaba Kőrösi, president of the 77th session of the United Nations General Assembly, addresses the General Assembly Debate on Theme, "A watershed moment: transformative solutions to interlocking challenges." September 20, 2022, New York, New York (Photo by Loey Felipe courtesy United Nations)