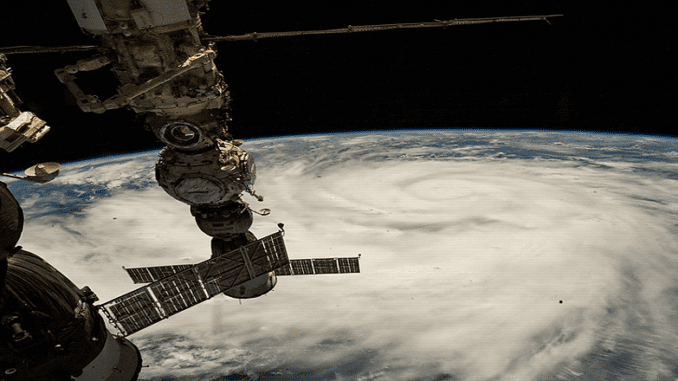 MIAMI, Florida, September 28, 2022 (ENS) – Blowing 155 miles per hour, Hurricane Ian made landfall this afternoon near the Florida barrier island of Cayo Costo off the southwest panhandle coast of Lee County. The storm forced hundreds of thousands to leave home to escape towering floods, and knocked out power to millions.
The hurricane struck Florida after making landfall Tuesday on western Cuba as a Category 3 storm that killed two people and left the entire island without electricity.
"Hurricane #Ian has made landfall as an extremely dangerous Category 4 hurricane" near Cayo Costa, Florida with maximum sustained winds at 150 mph," the National Hurricane Center warned.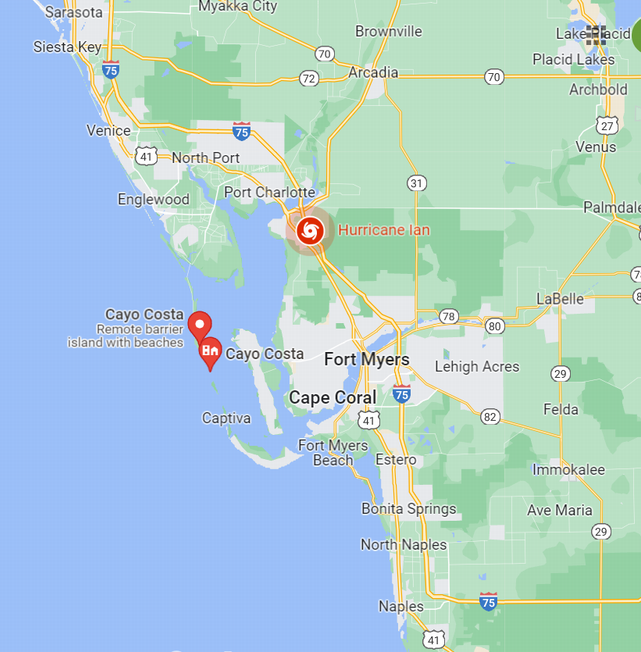 Accessible only by boat, Cayo Costa is a natural island with nine miles of secluded beaches known for their pristine shells. Before Ian, the state park had tent camping sites and cabins. Now, the fierce winds and heavy rains have changed everything on Cayo Costa, other barrier islands and in the coastal cities: Tampa Bay, Fort Myers, Venice and Naples.
More than two million residents on Florida's southwest coast were ordered to evacuate, and Governor Ron DeSantis has activated thousands of National Guard troops as part of the state's response.
Schools in Collier and Lee counties announced they will remain closed through the end of the week.
Disney World, Universal Studios and SeaWorld have shuttered their theme parks and resorts. At Kennedy Space Center on Florida's east coast, the U.S. space agency NASA has closed the visitors center and rolled its Artemis 1 moon rocket and Orion space capsule off the launch pad, delaying a closely watched test flight after several earlier delays.
Thousands of commercial jet flights have been canceled after airports in the path of the storm, such as Tampa and St. Petersburg, shut down operations.
Ian sent storm surge over seven feet high into the streets of Naples. The National Hurricane Center predicts Ian's high winds and rain will cause intense storm surge and flooding that could reach heights of 18 feet in Lee and Charlotte counties.
Colin McCarthy @US_Stormwatch sighted a shark that swam into Fort Myers on the surging ocean waters pushed by the storm. He tweeted today, "The storm surge is so powerful from #HurricaneIan that it has brought a shark into the city streets of Fort Myers," a city in Lee County.
U.S. Border Patrol said Wednesday that due to Hurricane Ian 20 people are missing off the coast of Florida after a boat loaded with Cuban migrants sank.
Officials said on Twitter that the Border Patrol agents responded to a migrant landing on Stock Island, Florida, an island in the lower Florida Keys. The U.S. Coast Guard started a search operation for 23 missing people, later saying it had rescued three of them. The three migrants were taken to a local hospital for treatment of exhaustion and dehydration.
Governor DeSantis Seeks 100% Federal Funding
Today, Governor Ron DeSantis requested President Biden grant a Major Disaster Declaration for all 67 counties, for all categories, and all types of assistance, due to the ongoing devastating impacts of Hurricane Ian.
If granted, a Major Disaster Declaration provides a wide range of federal assistance programs for individuals, as well as funds for both emergency and permanent work and public infrastructure.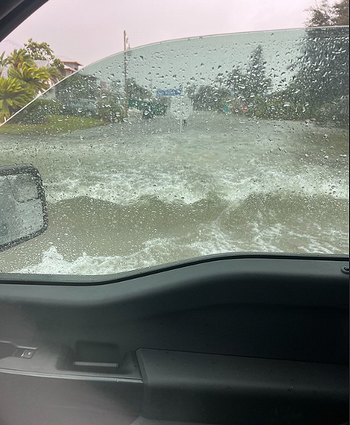 DeSantis asked President Biden to grant the Federal Emergency Management Agency, FEMA, the authority to provide 100 percent federal cost share for debris removal and emergency protective measures for the first 60 days from landfall. This FEMA grant can only be authorized by the President of the United States.
In his request to the President, Governor DeSantis explained that the State of Florida has to date spent "close to $400 million on response costs alone."
The governor recited the the reasons why the State could not cover these costs, and they all come down to too many multi-million and multi-billion dollar disasters over the past five years, he said, and disastrous levels of storm surge right now.
"A storm of this magnitude on the forecast track is expected to produce 12-18 feet of storm surge abover normally dry ground along the coast of Charlotte and Lee Counties, 8-12 feet along the Collier County coastline, 6-10 feet along the Sarasota and Manatee County coastlines, 4-6 feet in and around Tampa Bay, etc," DeSantis wrote in his request.
Feds Pre-staged Equipment, Resources in Advance of Landfall
On September 24, President Biden approved an Emergency Declaration for the State of Florida within hours of receiving the request from Governor DeSantis, to support preparedness efforts and ensure resources were pre-positioned in advance of potential storm impacts.
The Biden Administration pre-staged 110,000 gallons of fuel and 18,000 pounds of propane for immediate deployment and personnel and equipment to support distribution.
The Administration moved in a variety of generators of all sizes and types and pre-positioned assessment and installation teams–to provide temporary emergency power to critical infrastructure.
The Administration is staging 3.7 million meals and 3.5 million liters of water in Alabama.
The Administration has 300 ambulances already in the state working side by side with local officials.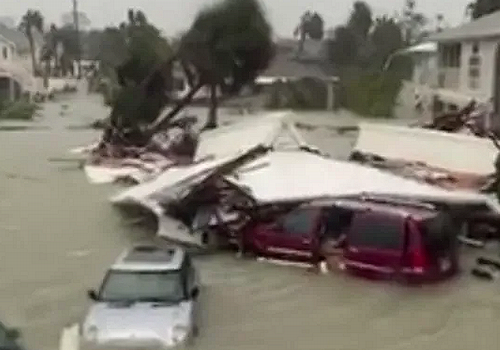 As of September 28, there are more than 1,300 Federal response workers on the ground in Florida to support emergency preparations for operations, planning, power restoration, debris removal, and urban search and rescue.
FEMA Regional Administrator Gracia Szczech has been embedded in the State of Florida to ensure needs are being met.
FEMA has established a federal search and rescue coordination group, including FEMA Urban Search and Rescue personnel and search and rescue personnel from multiple additional federal departments and agencies, including the U.S. Coast Guard, the Department of Defense, the Department of the Interior, and the State of Florida. These teams are on the ground and ready to deploy search and rescue efforts by sea, air, and land as soon as they are needed.
The Army Corps of Engineers has pre-staged 300 personnel to support power and fuel assessments as soon as the storm passes.
The Administration is in close coordination with local power companies. Florida Power & Light, Duke Energy, and Tampa Electric have 30,000 personnel ready to assist in power restoration. Thousands more are being made available through utility sector mutual aid agreements with neighboring utilities in other states.
The Department of Health and Human Services has deployed a 38-person disaster medical assistance team to Miami, Florida. Two additional disaster medical assistance teams have been deployed to Robin Air Force Base in Georgia. They have also deployed 15-person incident management team, two 15-person health and medical task force teams and 4 pharmacists to Atlanta, Georgia. More staff is anticipated in the next 24 hours.
Ian Is On the Move
On the forecast track, the National Weather Service says the center of Ian is expected to move across central Florida tonight and Thursday morning and emerge over the western Atlantic by late Thursday.
Ian is forecast to turn northward on Friday and approach the northeastern Florida coast, as well as the Georgia and South Carolina coasts late Friday.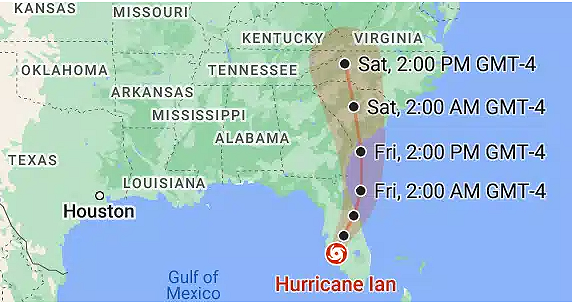 At this point, maximum sustained winds have decreased to near 140 mph (220 km/h) with higher gusts. Further weakening is expected for the next day or so, but Ian could be near hurricane strength when it moves over the Florida East coast tomorrow, and when it approaches the northeastern Florida, Georgia and South Carolina coasts late Friday.
The National Weather Service in Tallahassee, Florida forecasts that the hurricane is likely to diminish shortly, saying, "Ian is currently progressing northeast through central Florida. Gusty winds are the main focus from now thru Friday with rain probabilities continuing to decrease."
As Hurricane Ian moves east and northward, the National Weather Service has discontinued the Storm Surge Warning the Lower Florida Keys and the Storm Surge Watch has been discontinued for the Middle and Upper Keys.
The Tropical Storm Warnings for the Florida Keys and for Florida Bay have been discontinued.
At the same time, meteorologists are issuing new warnings farther north. A Storm Surge Watch has been issued north of South Santee River South Carolina to Little River Inlet.
The Tropical Storm Warning has been extended northward to Surf City, North Carolina, and a Tropical Storm Watch has been issued from north of Surf City to Cape Lookout, North Carolina.
Featured image: Hurricane Ian is pictured from the International Space Station as it orbited 258 miles above the Caribbean Sea east of Belize. At the time of this photograph, Ian was just south of Cuba gaining strength and heading toward Florida. September 26, 2022 (Photo courtesy NASA Johnson Space Center)
© 2022, News Editor. All rights reserved.