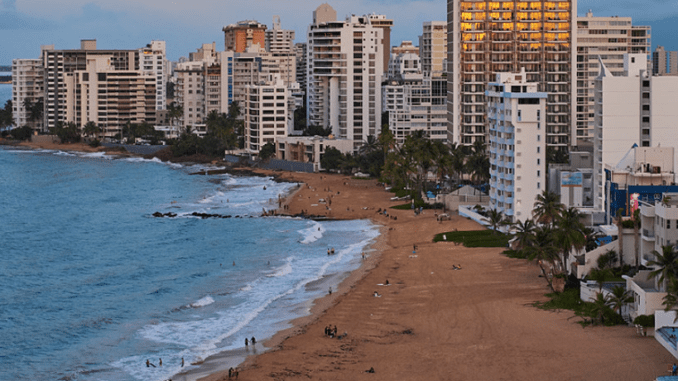 SAN JUAN, Puerto Rico, August 13, 2022 (ENS) – Through the Puerto Rico Coral Reef Program, the Puerto Rico Department of Environment & Natural Resources is working with nonprofit organization Arrecifes Condado to develop an artificial reef and beach nourishment pilot project just offshore of the capital city, San Juan.
One of the pilot project's main goals is to cause waves to break over the offshore reef the partners will construct rather than breaking on Condado beach.
This will reduce the high turbulence and dangerous rip currents associated with drowning and near-drowning events at Condado, a large public-access beach fronted by hotels.
Considered a dangerous beach with strong undercurrents, in early 2022 Governor Pedro Pierluisi Urrutia ordered that steps be taken to address the issue of multiple drownings there.
The constructed reef is expected to improve the ecosystem for endangered sea turtle nesting, create educational and recreational snorkeling trails, and promote a safe beach environment for engaging in water sports.
The nonprofit organization Arrecife Condado is a group of concerned San Juan citizens who have joined in a voluntary search for "an environmentally-friendly and sustainable solution to a situation that affects all of us: how to make the Condado beach experience a safer one for all beachgoers, restore and increase the marine bio-diversity of the area and protect the beach from increased erosion caused by the seasonal extreme weather pattern and sea level rise," the group says on its website.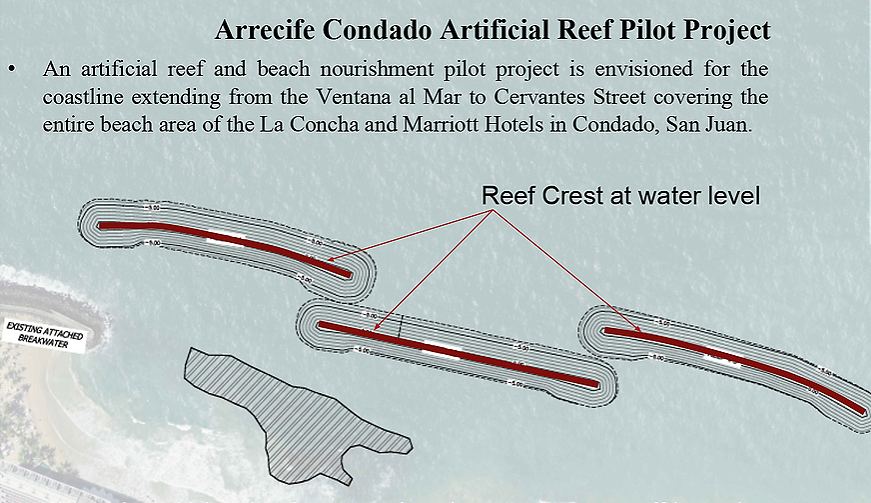 The government agency and the nonprofit agree – Puerto Rico's susceptibility to storms is affecting marine life and causing coastal erosion – conditions the artificial reef is designed to alleviate.
The latest storm disaster happened on the morning of Wednesday, September 20, 2017, when Hurricane Maria, a Catergory 4 storm, struck Puerto Rico with sustained winds of 155 mph, uprooting trees, downing weather stations and cell towers, and ripping roofs from homes.
Artificial reefs are submerged structures constructed on the seabed to replicate the characteristics of a natural reef. The pilot project involves the placement of up to eight tons of native rock 100 and 150 meters (328 – 492 feet) offshore in the shape of a pyramid with a section of about 50 feet between each of several artificial reefs, allowing marine animals to travel through them.
These efforts will serve to prevent the hardening of the shoreline and other coastal damage, the agency said.
Between 1867 and 2017, Puerto Rico took the direct impact of 29 hurricanes, including nine major hurricanes above Category 3, which means winds of 96-112 knots, equal to 111-129 mph, or 178-208 km/h.
Featured image: The golden hour of sunset on Condado beach, San Juan, Puerto Rico, August 4, 2021 (Photo by Edgar Omar)