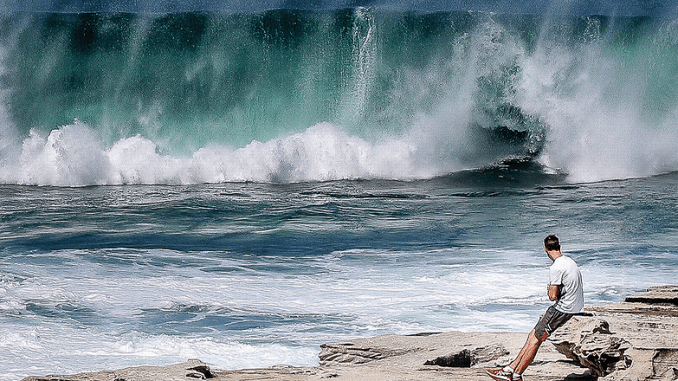 BREST, France, February 25, 2022 (ENS) – "Immense, restless and wild," the ocean is beset by dangers, but solutions do exist and Europe is ready to lead the way to healthier seas, European Commission President Ursula von der Leyen told attendees at the high-level segment of the One Ocean Summit in Brest on February 11.
"We know the ocean is vulnerable and is threatened by our misdeeds," she admitted. "Pollution, chemicals and the overexploitation of marine resources. The ocean is too large for any one of us, and yet so fragile that our individual actions matter. This is what brings us here. It is time for an alliance between us and the ocean. And Europe is ready to lead," von der Leyen declared.
The One Planet Summit dedicated to the ocean, was held in Brest February 9-11. Held in the context of the French Presidency of the Council of the European Union, with the support of the United Nations, the "One Ocean Summit" focused on biodiversity and conservation, marine pollution, oceans as a solution to climate change, and research.
On each of these enormous fields of activity, von der Leyen said "the European Union is putting on the table its flagship initiatives."
"Each flagship is a proposal for cooperation," she said. "Because Europe can make a huge difference as a maritime power. But only together will we turn the tide, and let our oceans teem with life again."
Not All Just Talk. The Actions:
First, the European Union and the French Presidency of the European Council launched the High Ambition Coalition on the High Seas. The Coalition is calling for the adoption, this year, of a global treaty for the conservation and sustainable use of marine biodiversity in areas beyond national jurisdiction.
"We need an international agreement, a legally binding instrument that would sustainably govern the high seas," von der Leyen urged. "We are so close, but we need to push,"
"The ocean is a geopolitical arena, but it is also a frontier for the expansion of cooperation and international law," the President said. "Like in the Ross Sea in Antarctica, which is today a refuge for whales, seals, penguins and fish. Because in 2016, the U.S., China, Russia, the European Union and others overcame their differences to protect this rich ecosystem. We can do it again," she said hopefully.
"Studies show that we need at least 30 percent of the ocean protected for it to be healthy. We have seen the extraordinary regenerative power of marine life, like in the Ross Sea. The High Seas Treaty would launch a regeneration wave of our ocean," von der Leyen said.
Second, she announced the launch of the "Mission to restore our ocean and waters by 2030," saying that creating a mission was a motivating factor. This mission will receive half a billion euros in funding from the research and development program, Horizon Europe, and other instruments.
With a focus on Europe's five seas, it will test specific solutions to defined problems such as – plastic, nutrient and chemical pollution in the Mediterranean; as wll as decarbonizing shipping and electrifying ports in the Baltic and North Seas.
"It is a European mission, yet it is open to all who want to contribute. In the Black Sea, for instance, we are already working with all coastal states. Because the actions of one matter to all overlooking those waters. And all solutions must be shared solutions," von der Leyen said on February 9, before the Russian invasion of Ukraine involving the Black Sea.
Now, the situation is very different. Northwestern Black sea waters bordering Ukraine are closed to all shipping. Ukraine is under sea blockade, carried out by Russian Black Sea Navy Fleet. For its part, Ukraine asked Turkey to close the Bosphorus and Dardanelles straits to Russian ships, Kyiv's ambassador to Ankara said, as Russia launched air and ground assaults on its neighbor February 24.
Still, scientific discovery continues. Von der Leyen explained that to solve some of the ocean's mysteries "Europe is building a digital twin of the ocean. We are connecting our assets – like the Copernicus satellites, marine infrastructure like icebreakers, buoys and underwater drones, and high performance computing. We will gather the raw data and turn it into real-time knowledge and longer-term predictions. We are putting the power of the digital revolution at the service of our climate."
"Glaciers in the South and North Poles are melting fast. Glaciers the size of entire countries. This is raising water levels, globally, threatening the existence of small island states and coastal cities," von der Leyen explained.
"But there is more. It is also changing the current that circles the Antarctic, the world's largest current and a decisive regulator of the climate. It brings ancient waters from the deep to the surface, which should have a cooling effect, but is also releasing more carbon dioxide. We need to better understand these processes and their impact. A digital twin of the ocean can do that, and much more," she said.
France Expands Antarctic Marine Protections
The French Southern and Antarctic Lands, inhabited by the world's largest colony of king penguins, will be protected by France's creation of a one million square kilometer (386,000 square mile) marine reserve in the southern Indian Ocean.
French President Emmanuel Macron declared the new reserve at the One Ocean Summit in Brest on February 11. The national nature reserve of the French Southern Territories thus becomes the largest marine protected area in France and the second largest marine protected area in the world.
The Southern Lands marine reserve will include a new highly protected area surrounding Saint Paul and Amsterdam Islands and covering about 255,000 square kilometers (98,500 miles), where all extractive activities, such as industrial fishing, will be prohibited.
Amsterdam Island is home to the roughly 30 remaining breeding pairs of Amsterdam albatross, a critically endangered species found nowhere else on Earth. Researchers, military personnel, and support staff visit the islands occasionally, but the territory has no long-term human inhabitants.
The added area will more than double the percentage of French waters that are highly protected, from 1.6 percent to four percent, but still leaves the country with a challenge of reaching its goal of protecting at least 10 percent of its waters by the end of this year.
Dona Bertarelli, co-chair of the Bertarelli Foundation and Patron for Nature for the International Union for Conservation of Nature, IUCN, said, "France's ambitious action to fully protect these waters is vital to ensure a healthy ocean ecosystem in a biodiverse area rich in marine life, including orcas, penguins, Antarctic fur seals, and the critically endangered Amsterdam albatross. France's announcement also provides a significant contribution toward the global goal of protecting at least 30 percent of our ocean by 2030."
Macron told the One Ocean Summit that the United States and France support launching negotiations at the upcoming 5th United Nations Environment Assembly on a global agreement to address the full lifecycle of plastics and promote a circular economy. The UN Environment Assembly starts in Nairobi, Kenya on Monday.
A joint statement by France and the United States says, "The agreement should include binding and non-binding commitments, call on countries to develop and implement ambitious national action plans, and foster robust engagement of stakeholders to contribute toward the agreement's objectives while complementing national government contributions. We look forward to partnering with other countries to achieve a successful outcome at UNEA and in the development of such a global agreement."
Canada Onboard to Cut Plastic Pollution
Prime Minister Justin Trudeau virtually joined other world leaders at the One Ocean Summit to announce that Canada will join international partnerships and initiatives toward reducing plastic pollution and protecting the ocean.
"Canadians know that our natural spaces are something to be cherished, not littered with trash. As we take action here at home to ban harmful single-use plastics, we're stepping up on the world stage too. That's why Canada is joining our international partners in the fight against ocean pollution. By working together to reach a future free from plastic waste, we are building a clean, healthy tomorrow for generations to come," said Trudeau.
Canada will join the High Ambition Coalition on Biodiversity Beyond National Jurisdiction to advance the protection of marine biodiversity on the high seas.
Trudeau said Canada supports development of a new, ambitious, legally binding global agreement on plastics at the UN Environment Assembly that takes a full lifecycle approach to addressing plastic pollution.
Canada will endorse the new Plastics Economy Global Commitment, which unites more than 500 businesses and governments committed to taking prompt action to reduce plastic pollution. Led by the Ellen MacArthur Foundation, in collaboration with the UN Environment Programme, The Global Commitment has already mobilized over 500 signatories determined to start building a circular economy for plastic. These include companies representing 20 percent of all plastic packaging produced globally, some of which are well-known consumer businesses such as L'Oréal; MARS; Nestlé; PepsiCo; The Coca-Cola Company; and Unilever; the world's largest retailer – Walmart; major packaging producers such as Amcor and Berry Global; and two of the largest resource management specialists – Veolia and Suez.
Canada's government is also supporting ocean health through the development of a new, government-wide Blue Economy Strategy, Trudeau said. With the longest coastline in the world and one quarter of the world's freshwater, Canada is uniquely positioned to lead in reducing plastic pollution and protecting ocean health.
Joyce Murray, Minister of Fisheries, Oceans and the Canadian Coast Guard, said, "With the world's longest coastline, bordering three oceans that are critical to the lives and livelihood of many Canadians, Canada is an ocean nation. As a coastal Canadian myself, I know how critical it is that we work together to protect our shared waters from the devastating impacts of plastic pollution. That's why, along with our partners, our government is committed to reducing plastic pollution, and ensuring the conservation and regeneration of our ocean ecosystems for future generations."
Getting Rid of Ghost Gear
On February 24, the nonprofit Ocean Conservancy's Global Ghost Gear Initiative® (GGGI) and The Bumble Bee Seafood Company announced a new partnership to reduce abandoned, lost and discarded fishing gear, or ghost gear.
Through a five-year project, Bumble Bee will support the GGGI's ghost gear data collection efforts, the mapping and removing of abandoned gear from key fishing areas, and an assessment of sources of gear loss in Bumble Bee's own supply chain.
"As governments gather at the fifth session of the United Nations Environment Assembly (UNEA-5.2) to act on the ocean plastic problem, it's critical that the private sector does the same – which is why we're so encouraged to see this commitment from Bumble Bee," said GGGI Director Ingrid Giskes.
"Ghost fishing gear is the single most harmful form of ocean plastic to marine life and solving this problem will take an all-hands-on deck effort,: she said. "As one of North America's largest seafood producers, Bumble Bee has the opportunity to make a big difference on this issue and lead others in the industry to do the same."
Bumble Bee has been a GGGI member since 2018 and in that time has supported project work reducing, removing, recycling, and marking fishing gear in Indonesia. Through this expanded partnership, Bumble Bee will support upgrades to the GGGI's Ghost Gear Data Portal, allowing the Initiative to build evidence of the problem more effectively at a global scale and across different fisheries.
Together with the GGGI, Bumble Bee will conduct surveys across components of their supply chain in various geographies to better assess causes of gear loss and implement locally sustainable solutions. They will also support GGGI conducted surveys in the Bay of Fundy and remove ghost gear in spawning areas to help bring back critical halibut stocks.
UNESCO: Education Key to Motivating Action
As a contribution to the One Ocean Summit, UNESCO announced it has set itself the goal of including ocean education in the school curricula of its 193 Member States by 2025. To achieve this goal, the UN agency is making available to public decision-makers a toolkit with a shared reference framework of educational content on the ocean.
Ignorance of the ocean is profound and UNESCO wants to change that quickly. "The international community must make education one of the pillars of its action for the ocean. Because if we want to protect it better, we must teach it better. On the occasion of the One Ocean Summit, I am setting a common objective for our 193 Member States: to include ocean education in school curricula by 2025," said Audrey Azoulay UNESCO Director-General, during her presentation in Brest.
UNESCO is the UN agency in charge of ocean research. The Intergovernmental Oceanographic Commission of UNESCO, founded in 1960 and joined by 150 countries, coordinates global programs such as ocean mapping and the tsunami alert system, as well as scientific research projects. The agency is the guardian of unique ocean places, through marine biosphere reserves and marine World Heritage sites
Azoulay wrote in the latest report on UNESCO's ocean activities, "The ocean is where all life began – it shelters 157,000 known species and up to a million species that have yet to be discovered. Earth could not breathe without the ocean – this blue lung absorbs a quarter of global carbon dioxide emissions. In addition, three billion people, almost half of humanity, depend directly on the ocean for their livelihoods."
"Today, however, the future of the ocean is in jeopardy," Azoulay stated. "Climate change is taking its toll. Waters are warming and becoming more acidic; ecosystems are suffering. Over the past 200 years, the planet has lost half of its coral reef cover, as well as three quarters of its mangrove forests. According to a UNESCO report, the ocean may soon stop absorbing carbon and emit it instead. This would be a disaster, to say the least."
"Today, only 20 percent of the ocean's depths have been explored, even though it covers 71 percent of the world's surface. Ocean research remains poorly funded, only receiving a tiny fraction – an average of less than two percent – of national research budgets."
"We cannot rise to these challenges if we remain ignorant of the ocean," Azoulay wrote. To her, science and education are the critical keys.
2022 Offers Multiple Ocean Learning Opportunities
The One Ocean Summit is the first of several major ocean events in 2022 and a milestone in the lead-up to other talks, formal negotiations and conferences.
– March 1 – 4 brings the World Ocean Summit Virtual Week, on the theme Achieving 2030 Targets. This event is hosted by Economist Impact, a business that partners with corporations, governments and nonprofits "to deliver positive societal change" launched last September by the Economist Group, which publishes "The Economist" weekly magazine.
– March 7 – March 18 at UN Headquarters in New York, governments will further negotiate an international legally binding treaty under the United Nations Convention on the Law of Sea on the conservation and sustainable use of marine biological diversity of areas beyond national jurisdiction. Click here for more information.
– March 15-19 at the Royal Docks in London, Oceanology International is scheduled. Over 450 companies from more than 90 countries are exhibiting at this year's ocean technology event, where industry, academia and government share knowledge and connect with the world's marine science and ocean technology communities. Over 15 key vertical industries will participate, including offshore oil and gas, ports and harbors, marine renewables, maritime security and marine science. To find out more, click here.
– April 13 – 14 in Koror, Palau, an archipelago of over 500 islands in the western Pacific Ocean, Palau and the United States will co-host the Our Ocean Conference. The conference focuses on six themes: climate change, sustainable fisheries, sustainable blue economies, marine protected areas, maritime security, and marine pollution.
"The seventh Our Ocean Conference will be a major moment for ocean-climate action," said U.S. Special Envoy for Climate, former Secretary of State John Kerry. "We encourage significant new commitments to protect our ocean, our people, and our planet."
Check the website www.ourocean2022.pw for information about the conference. To ask questions, email: ourocean2022@palaupresident.info.
– June 8 – World Ocean Day. Hundreds of organizations worldwide plan and carry out their own events and communicate their activities to grow the global movement to protect at least 30 percent of the blue planet by 2030, a movement known as "30×30".
– June 27-July 1 in Lisbon, Portugal the UN Ocean Conference is titled "Scaling up Ocean Action Based on Science and Innovation for the Implementation of Goal 14: Stocktaking, Partnerships and Solutions." The UN Sustainable Development Goal 14 is to "Conserve and sustainably use the oceans, seas and marine resources for sustainable development."
– October 17 – 21 in Virginia Beach, Virginia: The OCEANS Conference 2022 Hampton Roads is where global maritime professionals come to learn, innovate and protect the ocean. features 2,000 attendees, 500 technical papers and 100+ exhibitors. This year's theme is "Resilient Coasts: Adapting Today to Secure Tomorrow." Visit: https://hamptonroads22.oceansconference.org/
Recalling What Humans Owe the Ocean
President von der Leyen went back to what she called "the first piece of European literature, the Iliad," in her address to the One Ocean Summit in Brest earlier this month.
She quoted The Iliad as viewing the ocean as "the river where all things are born."
"It reminds us that, no matter where on Earth we live, we are all connected to the sea," she said. "It is our planet's life support system. Every second breath we take is from the ocean. It gives us half the oxygen we breathe, and absorbs much of the carbon we throw into the atmosphere. Our entire climate depends on the ocean. We have mild winters here in Europe because the ocean pumps millions of tons of warm water every second from southern latitudes towards us."
"The ocean is life, it is nourishment, energy and jobs; 90 percent of traded goods are carried by the waves. And for thousands of years, the ocean has been a source of inspiration for art and literature. For ancient Greeks like Homer, the ocean was an almighty god," President von der Leyen said. "The ocean is part of who we are. And it must be our shared responsibility. Because today, the ocean is in danger."
Featured image: Wave watching and listening at Clovelly, Sydney, Australia, March 7, 2015 (Photo by Martin Snicer)