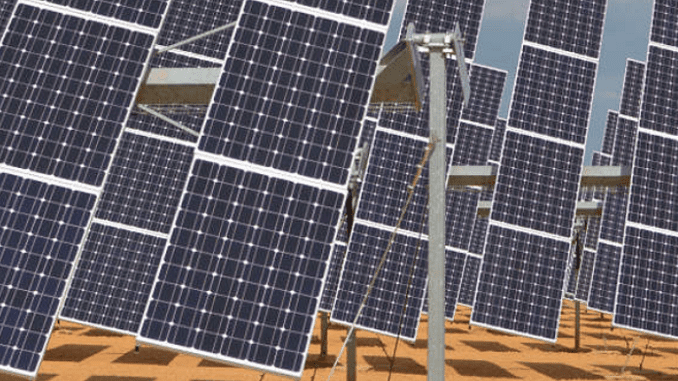 PALM SPRINGS, California, August 15, 2022 (ENS) – The Palen Solar Project, a 457-megawatt photovoltaic facility in Riverside County, California, has reached full power operation, the Department of the Interior has announced. The project, which will supply enough energy to power approximately 116,000 homes and includes 50 megawatts of battery storage, helps lower energy costs for families and bring about a clean energy, carbon-free future.
"Bringing another solar project to full operation on our public lands will accelerate our nation's transition to a clean energy economy by unlocking renewable resources, creating jobs, lowering costs, and boosting local economies," said Secretary of the Interior Deb Haaland. "The Interior Department will continue to advance the sustainable development of clean energy in order to help meet the Biden-Harris administration's goal of 100 percent carbon-free electricity by 2035."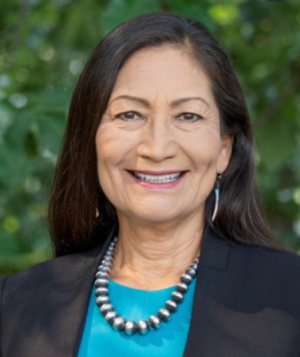 The Palen Solar Project is located on vacant lands between Interstate 10 and Joshua Tree National Park within a BLM Solar Energy Zone and Development Focus Area, specially reserved for utility-scale renewable energy projects.
The solar facility is a single large solar photovoltaic farm consisting of 200 power blocks of 2.5MW generating capacity each, installed in an area analyzed and identified as suitable for renewable energy development as part of the Bureau of Land Management's Desert Renewable Energy Conservation Plan Land Use Plan, DRECP, Amendment.
DRECP is a landscape-level plan focused on 10.8 million acres of public lands in the desert regions of seven California counties that streamlines renewable energy development while conserving unique and valuable desert ecosystems and providing outdoor recreation opportunities.
"The Desert Renewable Energy Conservation Plan represents an unprecedented partnership that balances our country's equally important goals of facilitating renewable energy while ensuring that lands in California's deserts are set aside for conservation and recreation," said Principal Deputy Assistant Secretary for Land and Minerals Management Laura Daniel-Davis.
"As with all the Department's clean energy projects, the Bureau of Land Management has seen this project through to completion with extensive engagement with Tribal governments, local communities, state regulators, industry and other federal agencies," Daniel-Davis said.
The Palen Solar Project has faced opposition from conservationists and tribal groups, who say the industrial facility will harm fragile ecosystems, destroy Native American artifacts and impact Joshua Tree National Park, eight miles from the project site.
Critics maintain that Palen would disrupt sand transport habitat critical to Mojave fringe-toed lizards and a corridor used by Agassiz's desert tortoise, which is classed as Threatened under the federal Endangered Species Act.
In 2018, EDF Renewable Energy, a wholly owned subsidiary of the French utility EDF Group, received authorization from the BLM to construct the solar photovoltaic facility and a seven-mile single circuit 230-kilovolt generation interconnection transmission line that would deliver power through the Southern California Edison Red Bluff Substation.
The Palen Solar Project was completed in five phases starting in December 2020. Full power operation was achieved August 8, when all 457 megawatts and 50 megawatts of battery storage came online.
EDF Renewables, one of the largest renewable energy developers in North America, is committing to providing solutions to meet California's carbon-reduction goals. With 35 years of experience and 20 gigawatts of wind, solar, and storage projects developed, EDF Renewables provides integrated energy solutions from grid-scale power to electric vehicle charging.
EDF Renewables North America is building or planning to build several more solar plants California and more in New York State. "Advancing large-scale solar projects like these newly awarded projects are helping to build out New York's already massive renewable energy pipeline and are central to the State's ability to create a zero-emission electricity grid, said Doreen Harris, President and CEO of the New York State Energy Research and Development Authority, NYSERDA.
"NYSERDA will work closely with EDF Renewables to ensure the communities hosting these projects are engaged throughout the development process and the responsible siting of them will not only help protect our valuable agricultural lands, but benefit the state and local economies alike," Harris said.
In California, new renewable energy approvals include construction of the Oberon, Arica and Victory Pass solar projects near Desert Center in eastern Riverside County.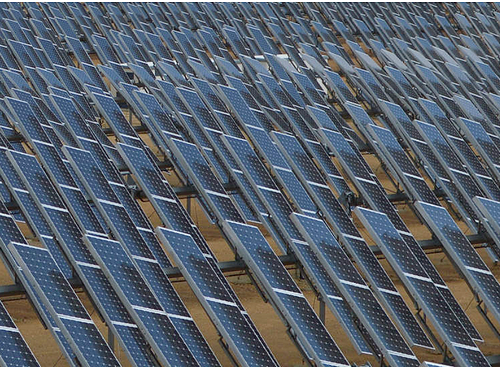 The Oberon project will generate up to 500 megawatts of renewable energy, enough to power 146,000 homes, and includes 200 megawatts of battery storage.
The Arica and Victory Pass projects will result in a combined infrastructure investment of about $689 million, generate $5.9 million in annual operational economic benefit, provide power to 132,000 homes, and add up to 465 megawatts of clean energy generating capacity and 400 megawatts of battery storage.
In June, the Bureau of Land Management, BLM, reached a conservation milestone with the California Department of Fish and Wildlife through the Desert Renewable Energy Conservation Plan by approving a project that will restore 158,000 acres of BLM-managed public lands as part of state-required mitigation for solar development on private lands.
The BLM is currently processing 64 utility-scale onshore clean energy projects proposed on public lands in the western United States. This includes solar, wind and geothermal projects, as well as interconnect gen-tie lines that are vital to clean energy projects proposed on non-federal land.
These projects have the combined potential to add over 41,000 megawatts of renewable energy to the western electric grid.
The BLM is also undertaking the preliminary review of 90 applications for solar and wind development, as well as 51 applications for wind and solar energy testing.
Additional information, including National Environmental Policy Act documents, are available on ePlanning at the Palen Solar Project webpage.
Featured image: Palen Solar Project's photovoltaic panels revolve on a single axis to track the sun's motion across the sky. 2022 (Photo courtesy James Moran)