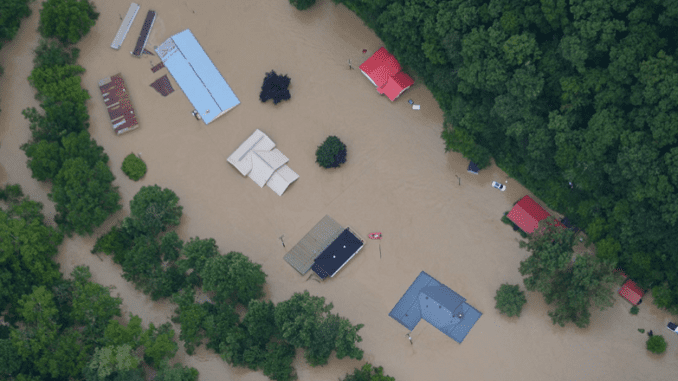 FRANKFORT, Kentucky, August 11, 2022 (ENS) – Kentucky Governor Andy Beshear, a Democrat, focused his weekly Team Kentucky update on the continuing efforts in Eastern Kentucky following historic flooding, noting that the state is now moving from the emergency phase to the stabilization phase.
Late on July 27 and into July 28, historic flooding began in central Appalachia, particularly in Kentucky, where the governor declared a state of emergency.
A total of 37 people were killed in Kentucky, he said, with a 38th fatality occurring days later during cleanup efforts.
"I see our response to this flooding in three phases: emergency, stabilization and rebuilding," said Governor Beshear. "This was the most devastating and deadly flooding our commonwealth has experienced in my lifetime. But the good news is, we are likely out of the emergency phase of responding to this disaster. Now we move into the stabilization phase, and then we can start rebuilding."
The Governor also updated Kentuckians on new economic development projects, a surplus in the General Fund, the ongoing decline in gas prices and COVID-19. He named those who have donated to the Team Eastern Kentucky Flood Relief Fund as this week's Team Kentucky All-stars.
Life and Deaths
The governor said there are now 38 confirmed fatalities in five counties, one more than originally reported. The increase is due to the loss of Aaron "Mick" Crawford, a Knott County High School student who died after assisting with cleanup efforts in the area.
A total of 1,334 rescues were completed between July 28 and August 2 by the Kentucky National Guard, the Tennessee National Guard, the West Virginia National Guard, the Kentucky State Police and the Kentucky Department of Fish and Wildlife Resources.
President Biden Visits, Speeds Help to Kentucky Flood Survivors
"It's going to take a while to get through this, but I promise you we're not leaving.  The federal government and all its resources, we're not leaving.  As long as it takes, we're going be here, and we are committed," said President Joe Biden on his visit to the flood-stricken area earlier this week.
The President promised to pay 100 percent of the cost of search and rescue and debris removal for a 30-day period. "What people don't realize," said Biden, "all those piles of debris and everything else, it takes a lot of time and a lot of money to get that out of the way. And so that's why we did the expedited major disaster declaration."
"It provides temporary housing, home repairs, property loss for homeowners. We've already gotten out 10 million bucks out the door – a lot more to go – directly to flooding survivors to support their recovery," Biden said.
"We were on the ground immediately after the flooding and working closely with the Governor's office, the search and rescue teams distributing food and water and other necessities; getting power restored, water to communities; get phones, Internet service back up; register survivors for disaster assistance, including $500 direct payment for immediate cost of everything from food, water, and prescriptions," said the President.
Still, the Kentucky State Police reports two missing persons from Breathitt County they are still searching for after the flooding in Eastern Kentucky.
Vanessa Baker, a 60-year-old woman from the Lost Creek Community, is described as white, 5-feet-7-inches tall, weighing approximately 215 pounds and having dark-colored hair. Her last known location was at her residence in the area of Lower River Caney Road.
Nancy Cundiff, a 29-year-old woman from the Lost Creek Community, is described as white, 5-feet-1-inch tall, weighing approximately 280 pounds and having dark-colored hair. Her last known location was at her residence in the area of Lower River Caney Road.
Anyone with information about either woman is asked to contact Post 13 in Hazard at 606-435-6069.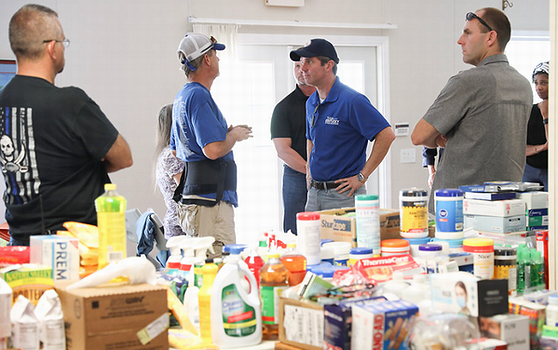 Currently, 20 local organizations are housing 483 survivors at state parks, and in churches, schools and community centers.
The commonwealth immediately began transporting unoccupied trailers purchased for the December tornadoes in Western Kentucky to Eastern Kentucky after the floods. Now, the Kentucky Transportation Cabinet has delivered 82 travel trailers to four state parks and camgrounds. People seeking emergency shelter in travel trailers can find more information and register at governor.ky.gov/FloodResources or call 502-234-1225.
The donations to help Kentuckians who have been flooded out of house and home are substantial. Team Eastern Kentucky Flood Relief Fund has received a total of $5,246,022 in 31,667 separate donations.
A total of 35 funeral payments have gone out totaling $350,000.
The governor asked Kentuckians not to donate clothing, which is now overcrowding much-needed storage space. He asks that donors focus on monetary donations through trusted funds.
To donate online, visit TeamEKYFloodReliefFund.ky.gov.
Power, Food and Water
To date, the Kentucky National Guard has distributed nearly 39,094 bottles of water and 43,882 meals.
Due to storms overnight Wednesday, power outages rose to 749 from 230 reported the day prior in impacted counties. The overnight storms did not cause significant damage to infrastructure, and the additional outages are expected to be resolved quickly.
One Kentucky drinking water system is still not operational; and 6,325 service connections are still without water, down from 40,000 almost two weeks ago.
More than 35,000 service connections are under a Boil Water Advisory, down from 46,194 about a week ago; and five water systems are under limited operations, down from 18 two weeks ago.
Five wastewater systems are still not operational; six wastewater systems are under limited operation, down from 18 almost two weeks ago.
Three wastewater plants are experiencing bypasses; and six systems are experiencing discharges from portions of their collection systems, down from the 13 reported a week ago.
Roadways and Bridges Update
Governor Beshear reports that 100 percent of assessments on public bridges have been completed, with 1,098 bridges inventoried: 27 state and county bridges remain impassable; 32 bridges have been identified for replacement, and an additional 52 bridges have been identified as needing repair.
At least 153 landslides and mudslides that were blocking roadways have been removed and repaired.
Debris removal began Saturday, Aug. 6. Through close of business yesterday, 227 truckloads of debris had been removed from six counties.
Disaster Unemployment Assistance
Residents in Breathitt, Clay, Floyd, Knott, Leslie, Letcher, Magoffin, Martin, Owsley, Perry, Pike and Whitley counties are now eligible for Disaster Unemployment Assistance (DUA) benefits and can file an application online through the Kentucky Career Center website: kcc.ky.gov or by phone at 502-875-0442.
Since July 28, six mobile (DUA) mobile offices have been opened and 1,000 claims have been processed.
The application deadline for all claimants has been extended until Sept. 6, 2022.
FEMA Programs and Updates
The fastest way to apply for all Federal Emergency Management Agency, FEMA, programs is through DisasterAssistance.gov. Kentuckians can also apply through the FEMA mobile app or by calling 800-621-3362.
Kentuckians can visit the FEMA Mobile Registration Centers traveling through the affected counties or one of the Disaster Recovery Centers in impacted counties. To find lists of locations, visit governor.ky.gov/FloodResources.
Disaster Recovery Center Resources
For a full list of Disaster Recovery Centers (DRCs), locations that provide both state and federal resources in one place to best serve flood victims, visit governor.ky.gov/FloodResources. Unless otherwise noted, DRCs are open from 7 a.m. to 7 p.m. Monday through Saturday and from 1 to 7 p.m. on Sundays.
Donate to the Team Eastern Kentucky Flood Relief Fund at teamekyfloodrelieffund.ky.gov.
Resources for flood victims can be found at governor.ky.gov/flood-resources.
Featured image: Kentucky National Guard soldiers and airmen aided in flood relief efforts in response to a declared state of emergency in eastern Kentucky. July 30, 2022. (Photo courtesy Kentucky National Guard)