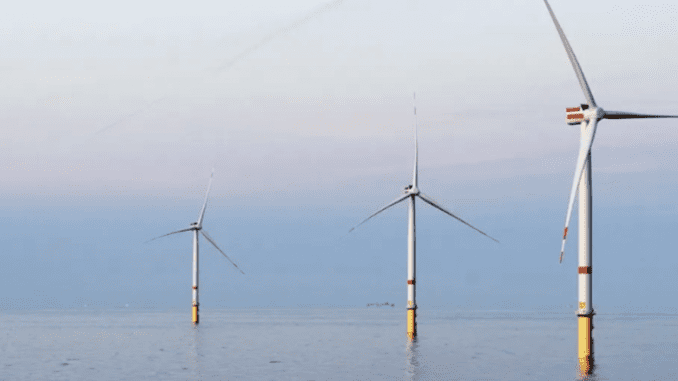 WASHINGTON, DC, December 5, 2021 (ENS) – The construction and operations of the South Fork Wind power project offshore Rhode Island and New York has been approved by the Department of the Interior, DOI, as part of the Biden-Harris administration's goal to deploy 30 gigawatts of offshore wind energy by 2030.
This is the DOI's second approval of a commercial-scale, offshore wind energy project in the United States. Last week, Secretary of the Interior Deb Haaland celebrated the groundbreaking of the first U.S. commercial scale offshore wind project, located off the coast of Massachusetts.
"We have no time to waste in cultivating and investing in a clean energy economy that can sustain us for generations," Secretary Haaland said. "Just one year ago, there were no large-scale offshore wind projects approved in the federal waters of the United States. Today there are two, with several more on the horizon."
The administration is preparing for lease sales in the New York Bight and offshore the Carolinas and California next year. Looking farther ahead, the administration is working with states, tribes and key stakeholders to explore wind potential in the Gulf of Maine and in the Gulf of Mexico, as well as offshore Oregon and Hawaii.
On November 24, South Fork Wind, LLC's plans to install 12 wind turbines off the Rhode Island and New York coasts were approved.
The 130-megawatt South Fork Wind project will be located 19 miles southeast of Block Island, Rhode Island, and 35 miles east of Montauk Point, New York.
New York Governor Kathy Hochul said, "With today's permitting milestone, South Fork Wind is set to be New York's historic first offshore wind farm providing clean energy where it is needed most. Our nation-leading climate and offshore wind goals demand bold action and moving South Fork Wind forward brings us closer to a cleaner and greener future."
South Fork Wind remains on track to be fully permitted by early 2022. At that point the project's joint venture partners Ørsted and Eversource will ramp up construction on the 132-megawatt offshore wind farm that will send power to the far eastern end of Long Island, New York.
"With the achievement of this critical federal permitting milestone, construction of this historic wind farm is expected to begin in the weeks and months ahead," said David Hardy, CEO of Ørsted Offshore North America.
"South Fork Wind will not only boost the economy with family-sustaining jobs, but it will also help combat climate change and reduce air pollution as a clean energy resource for many Long Island residents," he said.
The South Fork wind farm will serve the town of East Hampton's energy needs, producing enough clean energy to power 70,000 homes. When complete, the 12 turbines will be out of sight from East Hampton beaches.
Before construction, South Fork Wind must submit engineering and technical reports providing details for how the facility will be fabricated and installed in accordance with South Fork's approved plan for construction and operations.
The approval adopts a range of measures to help avoid, minimize, and mitigate potential impacts of the construction and operation of the South Fork Wind project. They were developed after consultation with tribes; federal, state, and local government agencies; as well as industry, ocean users, and other partners and stakeholders.
Adrienne Esposito, executive director, Citizens Campaign for the Environment, is celebrating the approval and the protective measures that go with it, saying, "We applaud the Bureau of Ocean Energy Management and New York State, who spent years conducting exhaustive environmental and community outreach to ensure this project is responsibly sited and mitigates environmental impacts to local marine habitat while providing good jobs and reliable energy for Long Island."
Featured image: Offshore wind turbines already serve 17,000 homes on Block Island, Rhode Island. 2016 (Photo courtesy Ørsted Offshore North America)
© 2021, News Editor. All rights reserved.