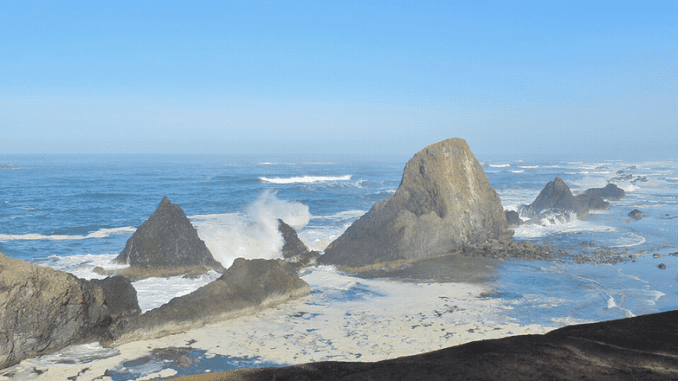 By Benjamin Seidman
NEWPORT, Oregon, December 4, 2021 (ENS) – On the central Oregon coast, a first-of-its-kind $80 million wave energy testing facility is under construction.
"This is the first time a lease has been issued to support the testing of wave energy equipment in federal waters off the U.S. West Coast," said Amanda Lefton, director of the Bureau of Ocean Energy Management.
"Ocean waves contain a tremendous amount of energy," Lefton said, "and this opportunity offers exciting potential to demonstrate the viability of wave energy technology and expand the nation's renewable energy portfolio."
The federal marine hydrokinetic energy research lease was offered to Oregon State University, OSU, for the PacWave South project, an open ocean wave energy test center six nautical miles off Newport.
Marine hydrokinetic technology harnesses energy from ocean waves, tides and currents, and converts it into electricity to power homes, buildings, and cities.
The PacWave North wave energy test facility is an established site for small-scale prototypes of wave energy converter technologies just two miles off the coast of Newport. This site, functional since 2008, is closer to port, shallower at only 45-55 meters deep and in state waters, which is conducive to faster permitting.
In contrast, the new PacWave South facility will provide an opportunity for at-scale testing in a rigorous open ocean environment to determine whether these devices can withstand the harsh environments necessary to generate wave power.
The wave energy converters that will be tested at PacWave South, in the coastal town of Seal Rock just south of Newport, are floating or underwater devices moored to the seafloor that will capture energy from the moving waves seven miles offshore on the outer continental shelf at a depth of 65 to 78 meters.
Each of four testing berths will have the capacity to hold five devices that capture wave energy. The maximum output possible would be 20 megawatts with a 5MW cable allotted to each of the four berths.
The PacWave South site was selected in a joint effort by county, tribal, city and port representatives as well as local fishermen, the Central Lincoln People's Utility District and the general public.
The goal is to provide a standardized facility for at-scale testing of wave energy converters. Not having such a test facility has been a fundamental impediment to development of wave energy technology, which offers a consistent alternative source of renewable energy to the stop-and-go nature of wind and solar power.
Marine renewable energies are still in early stages of development, but by a 2017 estimate from the International Energy Agency, they have the potential to supply 20,000 terawatt hours of electricity, sufficient to satiate the current global energy demand.
A breakthrough in capturing wave energy at this Oregon site has the potential to usher in a new age of marine renewable energy.
Oregon is increasing its involvement in wave energy projects as prototypes begin launching near coastlines worldwide.
In 2019, a 749 tonne wave energy generating device was towed from Portland, Oregon to the U.S. Navy's Wave Energy Test Site in Hawaii, on Oahu's eastern shore, the first grid-connected wave energy test site in the United States.
Although there are other wave and tidal energy test sites in the United States, currently, Hawaii is the only one that can feed electricity directly into the power grid.
"We've been the only show in town, at least in the U.S.," Hawaii Natural Energy Institute marine researcher Pat Cross told Hawaii News Now. "And there are really only a few grid-connected test sites globally. The wave resource out there in the world is vast and could potentially meet a huge percentage of the world's needs."
Back on the Oregon coast, Dan Hellin, PacWave's deputy director, said the horizontal directional drilling to install cable conduits onshore began near Driftwood Beach in June and will continue through early spring 2022.
Hellin emphasized the non-invasive nature of the construction. "An underground vault in the Driftwood parking lot will house the cable connections," he explained. "When all the work is complete, the only thing visible at Driftwood will be some manhole covers. Everything else will be buried."
Featured image: Waves crash on the shore at Oregon's Seal Rock State Park near where the new PacWave South wave energy test site is being built. October 23, 2019 (Photo by Jasperdo)
© 2021, News Editor. All rights reserved.