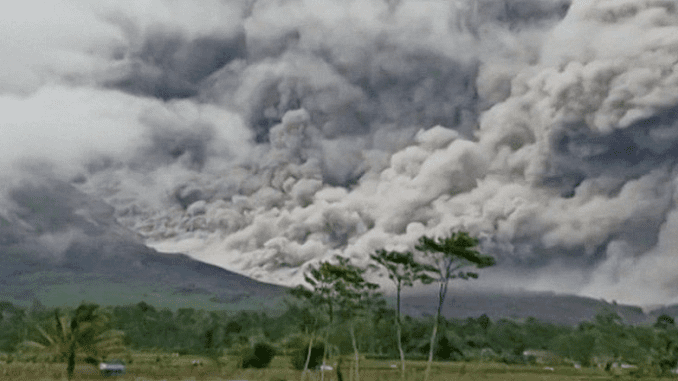 JAKARTA, Indonesia, December 6, 2021 (ENS) – Mt. Semeru, the tallest mountain on the Indonesian island of Java, erupted Saturday, killing at least 22 people, and again today, sending pillars of hot ash skyward to rain down on nearby villages, burying them to the rooftops.
The eruptions were triggered by a thunderstorm and days of rain, which collapsed the lava dome of the 3,676-meter (12,060-foot) Mt. Semeru, said Eko Budi Lelono, who heads the geological survey center.
Indonesian Red Cross volunteers and emergency teams have been providing medical care and relief to the approximately 98 others injured in the eruption.
More than 100 volunteers are helping hundreds of families displaced by the Mount Semeru volcano eruption, with tarpaulins for shelters, clean water supplies, blankets, ready to eat meals and hygiene kits.
Sudirman Said, Indonesian Red Cross Secretary General, said, "It is vital that we continue to search quickly for more survivors from this tragic volcano eruption and provide survivors with medical care and relief as many have lost their homes, buried in the ash and mudflows."
"We are rushing more rescue vehicles, medical teams, water trucks and relief to the area, including food and shelter supplies to help in the coming days and weeks."
The Indonesian Red Cross has despatched 20 ambulances and emergency teams have set up field kitchens to provide food for people displaced from their homes. More than 65,000 surgical masks have been sent to help reduce the dangers of ash and dust, while also keeping people safe from COVID-19. Two water trucks have been sent to provide drinking water.
At the government level, President Joko Widodo has ordered all his staff to quickly implement emergency measures in response to the Mount Semeru eruption, said his spokesman, Minister of State Secretary Pratikno, who was born in East Java where the eruption is happening.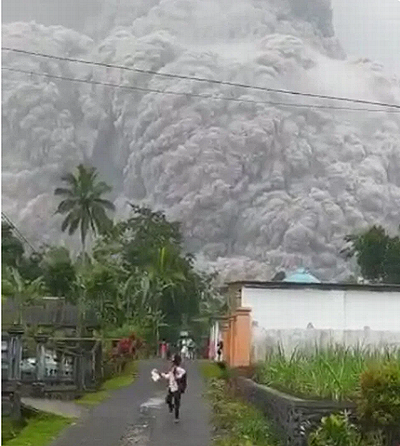 President Widodo ordered relevant members of his Cabinet, the Indonesian Armed Forces, the National Police Chief, and the Governor of East Java "to take immediate action as quickly as possible, taking response steps, emergency services, searching for and finding victims, providing care to injured victims, and handling the impact of disasters," Pratikno said.
"In addition, the President also ordered that the assistance for health services, the provision of logistics for the basic needs of refugees, as well as infrastructure improvements can be completed in a very short time," he said.
The government also appealed to the public to follow the directions of officers in the field and increase vigilance because Indonesia is located in the Ring of Fire, a region around much of the rim of the Pacific Ocean where many volcanic eruptions and earthquakes occur.
"Regional heads and government officials are always vigilant and invite the public to always be alert and vigilant, work together to anticipate this kind of disaster," Pratiko said.
Jan Gelfand, Head of Indonesia Delegation, International Federation of Red Cross and Red Crescent Societies said, "These eruptions are devastating for hundreds of families who have lost loved ones or homes. Many have been injured and it's critical that first aid and medical care is provided to survivors."
Gelfand said, "Indonesian Red Cross is urgently sending more teams to the area to provide relief including tarpaulins for shelter, food and drinking water for people who have lost everything in homes buried under piles of ash, mud and debris."
Officials are warning travelers to expect continued ash fall in nearby areas. There have been reports of road and bridge closures between the cities of Malang and Lumajang City. Avoid areas and roads around Mount Semeru and Bromo Tengger Semeru National Park.
Featured image: Mt. Semeru erupts on the Indonesian island of Java. December 4, 2021 (Photo courtesy Indonesia's National Board for Disaster Management, BNPB)
© 2021, News Editor. All rights reserved.