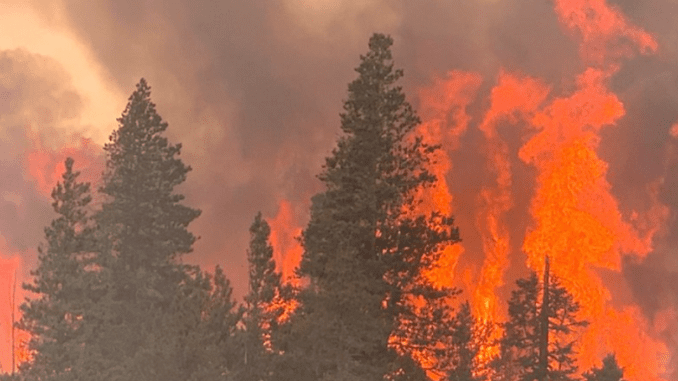 GLASGOW, Scotland, November 1, 2021 (ENS) – "The six years since the Paris Climate Agreement have been the six hottest years on record. Our addiction to fossil fuels is pushing humanity to the brink," United Nations Secretary-General Antonio Guterres warned the opening session of COP26 today. "We face a stark choice: Either we stop it — or it stops us."
Some 120 world leaders gathered in Glasgow today at the start of the 26th Conference of Parties to the UN Framework Convention on Climate Change, UNFCCC, launching two weeks of global negotiations to help determine whether humanity can act in time and with enough determination to avoid catastrophic climate change.
The world needs to secure global net zero by 2050 and halve emissions by 2030 to keep 1.5 degrees of warming in reach, according to the UNFCCC.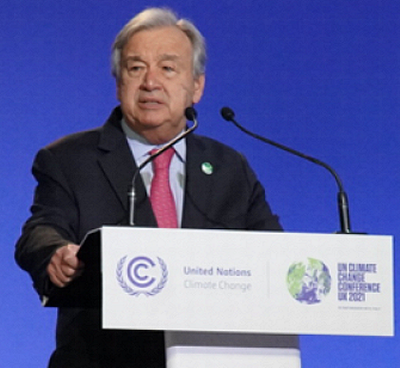 In an impassioned plea for immediate action, Secretary-General Guterres told the leaders, "We are digging our own graves."
"Our planet is changing before our eyes – from the ocean depths to mountain tops; from melting glaciers to relentless extreme weather events," he said. "Sea-level rise is double the rate it was 30 years ago. Oceans are hotter than ever – and getting warmer faster. Parts of the Amazon Rainforest now emit more carbon than they absorb."
It is "an illusion" to think that "we are on track to turn things around," said Guterres. "The last published report on Nationally Determined Contributions showed that they would still condemn the world to a calamitous 2.7 degree increase," he said, referring to the pledges that each government determines that it can afford to make to limit greenhouse gas emissions.
"Even in the best-case scenario, temperatures will rise well above two degrees," said Guterres. "So, as we open this much anticipated climate conference, we are still heading for climate disaster."
"Young people know it. Every country sees it. Small Island Developing States – and other vulnerable ones – live it. For them, failure is not an option. Failure is a death sentence," said the UN leader.
COP26 Host Britain Pledges Billions
Addressing leaders at the first major global gathering since the COVID-19 pandemic, COP26 President Alok Sharma said, "The science is clear that the window of time we have to keep the goal of 1.5℃ alive and to avoid the worst effects of climate change is closing fast. But with political will and commitment, we can, and must, deliver an outcome in Glasgow the world can be proud of."
Charles, Prince of Wales and heir apparent to the British throne, told the leaders, "Climate change and biodiversity loss are no different. In fact, they pose an even greater existential threat to the extent that we have to put ourselves on what might be called a war-like footing."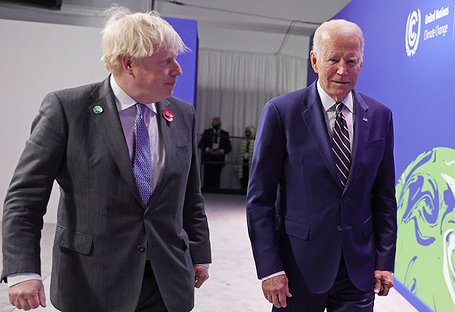 UK Prime Minister Boris Johnson announced a £5.6bn (US$7.65bn) funding package, as part of the UK's Clean Green Initiative, to support the rollout of sustainable infrastructure and revolutionary green technology in developing countries.
The UK funding package includes guarantees to the World Bank and the African Development Bank to provide £2.2bn (US$3bn) for investments in climate-related projects in India and across Africa.
The UK government-backed Private Infrastructure Development Group will commit more than £210m (US$286.6m) in new investment to back transformational green projects in developing countries such as Vietnam, Burkina Faso, Pakistan, Nepal, and Chad.
Later, Prime Minister Johnson will host a roundtable on 'Action and Solidarity' bringing campaigners on climate together with some of the biggest emitting nations and the most climate vulnerable nations to set the tone for negotiations at COP26 over the next two weeks.
Biden Offers to Halve U.S. Emissions by 2030
"We've set ambitious goals of reducing U.S. greenhouse gases emissions by 50 to 52 percent below 2005 levels by 2030. That's a goal in line with limiting global warming to 1.5 degrees Celsius," President Joe Biden told the leaders.
"But the math only works if every country does its part, and those countries that don't have the wherewithal get the kind of help they need," he said.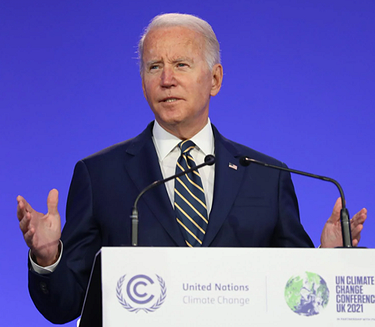 President Biden apologized to the other world leaders on account of his predecessor's actions. "I guess I shouldn't apologize, but I do apologize for the fact the United States, in the last administration, pulled out of the Paris Accords and put us sort of behind the eight ball a little bit," Biden said, and reminded the audience that the first thing he did when he took office in January was to rejoin the Paris Agreement.
Biden announced the Presidential Emergency Plan for Adaptation and Resilience, saying, "Although I try very hard to resist acronyms, they came up with that so they could say, "PREPARE." (Laughs.)
PREPARE will serve as a framework to mobilize the U.S. government resources and expertise in support of climate adaptation efforts for more than a half a billion people worldwide.
"We're going to invest in creating an early warning system and expanding clean energy;" Biden explained, "and build a WaterSMART infrastructure for drought, supporting sustainable forestry and agriculture; and helping nature to work to reduce the climate change drivers and impacts; and protecting critical infrastructure…"
To enhance the resilience of vulnerable nations to climate impacts, Biden announced "a net-zero world initiative to help share the technical expertise of the United States to transition developing countries to energy systems that are affordable, reliable, and clean.
Fossil Fuel Producer Canada Pledges Cooperation
Canada's Prime Minister Justin Trudeau today announced that Canada is the first major oil-producing country moving to capping and reducing pollution from the oil and gas sector to net zero by 2050. To help do this at a pace and scale needed to achieve the shared goal of net zero by 2050, the government will set five-year targets.
Canada also is working toward ending exports of thermal coal no later than 2030. This ban would follow action already taken, like accelerating the phase-out of conventional coal-fired electricity in Canada by 2030, and investments of more than C$185 million to support coal workers and their communities through the transition to cleaner energy.
Prime Minister Trudeau also announced up to C$1 billion for the Climate Investment Funds Accelerated Coal Transition Investment Program, through Canada's international climate finance contribution, to help developing countries transition from coal-fired electricity to clean power as quickly as possible.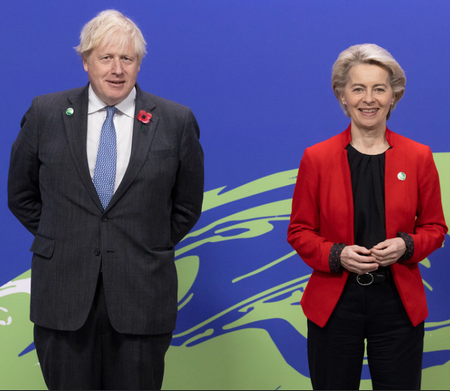 European Commission President Ursula von der Leyen of Germany tried to inspire action by telling her fellow leaders, "This is our opportunity to write history. More than that, it is our duty."
"Europe will spare no effort to become the first climate neutral continent," she said. "But at this COP, we all must speed up our race to net zero."
"First, we have to give strong commitments to reduce emissions by 2030; Net zero by 2050 is good, but not enough. We need real action during this decade," von der Leyen said.
Prime Minister Narendra Modi of India told the leaders assembled in Glasgow that India would cut its emissions to net zero by 2070. The pledge is the first time India has set a net zero target, but this target misses by 20 years the commitment of the United States and European Union to reach net zero by 2050.
While Chinese President Xi Jinping did not attend COP26 and has as yet made no new commitments, China has announced plans for carbon neutrality by 2060.
President Biden expressed the new urgency about climate change amongst the American people after the extreme weather, hurricanes, drought, floods, and wildfires they have experienced, telling the leaders, "The American people four or five years ago weren't at all sure about climate change – whether it was real."
"Well, they have, as they say in southern parts of my state, seen the Lord," Biden said. "They've seen what's happened back home, the incredible changes that are taking place. And they're now finally – finally, finally – realizing the sense of urgency that you all are."
Featured image: The Caldor wildfire devours a California forest, September 13, 2021, (Photo courtesy CALFIRE)
Environment News Service (ENS) © 2021 All Rights Reserved.