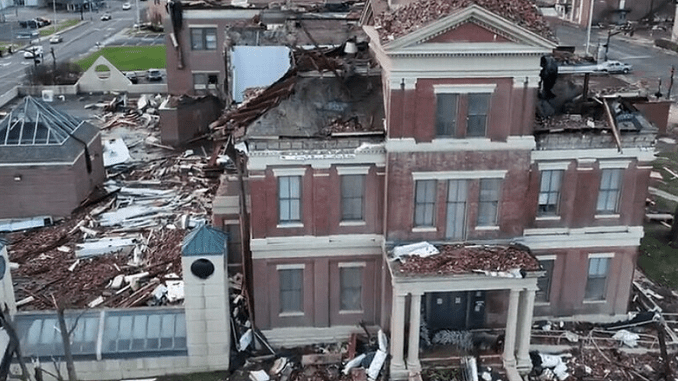 WASHINGTON, DC, December 11, 2021 (ENS) – President Joe Biden has approved an emergency declaration requested by Kentucky Governor Andy Beshear today after more than 30 tornadoes swept across Midwestern and Southern states overnight, claiming the lives of at least 70 people in Kentucky alone.
From late Friday night into early Saturday morning, tornadoes whipping through the region killed more than 80 people, smashing lives and destroying property across six states: Arkansas, Illinois, Kentucky, Missouri, Mississippi and Tennessee.
President Biden had a call with Arkansas Governor Asa Hutchinson, Illinois Governor J.B. Pritzker, Kentucky Governor Beshear, Missouri Governor Mike Parson, and Tennessee Governor Bill Lee this morning to express his condolences for the lives lost and the damage in their states as a result of the tornadoes and extreme weather overnight.
Biden said he would extend emergency declarations to the other affected governors too, whether requested by the other Democratic Governor affected in Illinois, or the four Republican governors.
"This is one of those times when we aren't Democrats or Republicans," Biden said. "Sounds like hyperbole, but it's real. We're all Americans. We stand together as the United States of America."
At least 33 tornado reports were catalogued by the NOAA Storm Prediction Center through Saturday morning. An intense, long tornadic supercell thunderstorm spawned one or more tornadoes along most of a track extending more than 200 miles across four states, National Weather Service experts say https://www.spc.noaa.gov/climo/reports/211210_rpts.html.
The supercell tracked from northeast Arkansas across the bootheel of far southeast Missouri into far northwest Tennessee and western Kentucky.
During the night, tornadoes claimed more than 70 lives in Kentucky when one of the twisters scraped the landscape for a record-breaking 200 miles (320 kilometers).
"I pray that there will be another rescue. I pray that there will be another one or two," Kentucky Governor Andy Beshear said Saturday, as crews investigated the wreckage of a candle factory in the town of Mayfield, where 110 people were working overnight Friday to fill Christmas orders when the storm hit. Forty of these workers were rescued, but many others are still unaccounted for and may be dead.
Early Saturday, a train derailed and struck several houses near Barnsley, Kentucky, around the time a tornado passed through the area. Another train derailment occurred near Elberfield, Indiana, where a tornado struck.
"This is the most devastating, most deadly tornado event in Kentucky's history," Governor Beshear said in a news conference Saturday afternoon. He estimated that the state's death toll could reach 100.
President Biden also spoke with U.S. Senate Republican Leader Mitch McConnell of Kentucky, who released a statement reaching across party lines to support Kentucky Governor Beshear, a Democrat. McConnell promised to "…work with the entire Kentucky federal delegation to support Governor Andy Beshear's request for federal assistance in order to aid these hard-hit communities with the funding and resources they need to rebuild."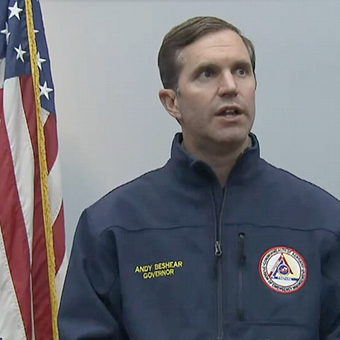 Governor Beshear, too, reached across party lines, saying, "Today, Kentucky is absolutely united. We are united with our people; united to find and rescue as many as possible; united to grieve; and united to be here for our families impacted – not just today, but in the years to come so that we can rebuild together."
The largest and most devastating of the four tornadoes that ripped into Kentucky originated in Arkansas, according to Kentucky Division of Emergency Management director Michael Dossett, and touched down in Missouri and Tennessee before it blew into the Kentucky.
In the small northeastern Arkansas town of Monette, two residents died in the storm that destroyed the Monette Manor nursing home, a single-story brick building.
In Illinois, at least six people were killed at an Amazon warehouse near Edwardsville, after a direct hit from a tornado caused a large part of the building to collapse on Friday night, officials said.
Forty-five people made it out of the building, Edwardsville Fire Chief James Whiteford confirmed to reporters Saturday. "The warehouse doesn't have a specific count of how many employees were in the building at the time that the storm hit, so we're unable to determine how many may be missing still," he said.
Amazon founder Jeff Bezos on Saturday night said he was "heartbroken" over the deaths of at least six Amazon employees in the Illinois warehouse hit by a tornado Friday night.
At least two people in Missouri have died and hundreds of homes and buildings are damaged or destroyed after a massive Friday night stormfront that killed dozens in several states, Governor Mike Parson's office said Saturday.
In Tennessee, one person died as severe storms moved through the Memphis area overnight, leaving thousands without power.
Power outages stretched across eight states with more than half a million customers without service as of Saturday afternoon in Tennessee, Arkansas, Kentucky, Michigan, Wisconsin, Illinois, Indiana, and Ohio, according to PowerOutage. Tennessee was the hardest hit, with more than 131,000 losing power.
Back at the White House, President Biden empathized with victims of the tornadoes. He told reporters at a briefing this afternoon, "Imagine if your home is in the path.  What do you go home to?  What do you worry about?  I mean, everything is gone, from that baptismal photograph to the wedding picture, to a picture of your oldest daughter in a ballet.  I mean, it's profound.  It's just profound."
"But I promise you," the President said, "Whatever is needed, whatever is needed, the federal government is going to find a way to supply it." 
Featured image: The ruins of the 1888-89 courthouse after an F4 tornado cut a 230+mile path across southwestern Kentucky on December 10, 2021. (Photo from drone footage shot by Kentucky State Senator Whitney Westerfield)
© 2021, News Editor. All rights reserved.