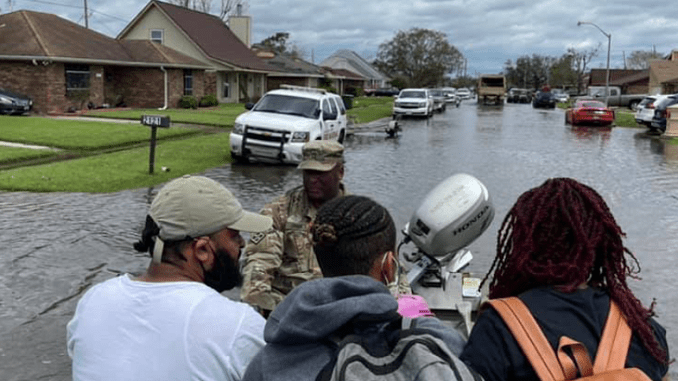 NEW ORLEANS, Louisiana, September 3, 2021 (ENS) – At least 66 people across nine U.S. states have died due to Ida in her various phases from Category 4 hurricane when it struck Louisiana on August 29 to tropical depression blowing out into the Atlantic Ocean east of New England on September 2 .
President Joe Biden visited Louisiana today to view the damage from Hurricane Ida and assess response efforts. He arrived at Louis Armstrong New Orleans International Airport around noon and met with Governor John Bel Edwards and local officials before getting on a helicopter and heading to Reserve in St. John the Baptist Parish.
The storm has caused at least $50 billion in damages, of which $15 billion was in insured losses in Louisiana, making Ida the sixth most costly tropical cyclone on record.
The remnants of the storm produced a series of tornados and catastrophic flash flooding in the Northeastern United States. Flooding in New York City shut down much of the transportation system.
As of September 2, a total of 66 deaths have been confirmed from Ida: 25 in New Jersey, 17 in New York, 12 in Louisiana, five in Pennsylvania, two in Mississippi, two in Alabama, one in Maryland, one in Virginia, and one in Connecticut. The storm has caused seven indirect deaths, including a Louisiana man mauled to death by an alligator after walking through Ida's floodwaters.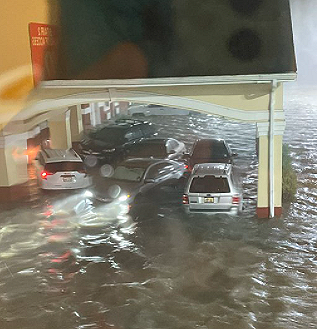 On August 29, the 16th anniversary of Hurricane Katrina, Ida made landfall near Port Fourchon, Louisiana. Ida brought sustained winds of 150 mph, tremendous storm surge and major flooding, making it one of the most devastating storms ever to hit the region.
The historic Category 4 storm knocked power out for nearly 950,000 customers in southeast Louisiana and southwest Mississippi.
To restore power throughout southern communities devastated by Hurricane Ida, some 26,000 professionals from 40 states continue their around-the-clock efforts, says Entergy, the utility that supplies electricity to Louisiana and southwest Mississippi. So far, crews have restored power to 225,000 customers.
In the aftermath of the storm, workers have faced many unique circumstances – extensively damaged electric equipment, downed trees, inability to access inundated areas, and COVID-19 mitigation measures, all prolonging the assessment and restoration process.
Still, Entergy Louisiana and Entergy New Orleans today announced preliminary estimated times of restoration for customers in affected areas. Some of these areas are already having their power restored, but Entergy says some individual cases may take longer.
"We understand the extreme difficulty of living without power, and hope that these estimated times of restoration can help customers better plan and prepare for the coming days, and for those in the hardest-hit areas, weeks ahead," said Rod West, Entergy group president, utility operations.
Power Restoration Dates Scheduled
Today is the power restoration completion date for: Port Allen – Pointe Coupee, West Baton Rouge and Iberville Parishes, and also for Zachary – East and West Feliciana Parishes.
September 4 is the day power in the New Orleans' Central Business District is estimated for completed restoration.
Monday Sept. 6 is the big day for B.R. Metro – East Baton Rouge Parish
It's September 7 for Gonzales and parts of Ascension Parish, for Denham Springs, and for Chalmette – St. Bernard and upper parts of Plaquemines Parish.
The farthest out Entergy has estimated restoration is September 8 when Metairie-Kenner, the Westbank of Jefferson Parish, Algiers, New Orleans East and Orleans Parish are estimated to have power restored.
The estimated times of completed restoration come after a damage assessment by thousands of workers, which has revealed more than 14,000 damaged or destroyed power poles, 2,223 damaged or destroyed transformers, and 155 destroyed transmission structures, Entergy said.
"We recognize the hardship this historic storm has wrought on our communities and across our region. We ask that our customers remain safe, and we appreciate their extended patience. Please know that thousands of employees and contractors are currently in the field working day and night to restore power," West said. "We will continue working until every community is restored."
Entergy is providing backup generation and restoring power to a number of critical-service providers, such as hospitals and wastewater facilities.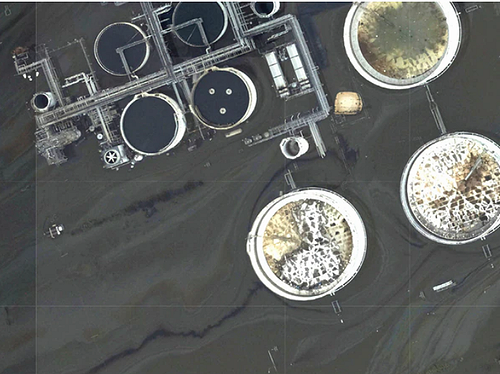 The company is working individually with large industrial customers, including refineries and manufacturing facilities, to coordinate their restoration.
To assist with power restoration efforts, the federal government is sharing aerial and satellite imagery to support damage assessments, helping with debris removal and traffic control so restoration workers and equipment can get access to downed wires and poles, restoring vital communications infrastructure, and expediting permitting for rerunning of transmission cable across the Mississippi River and for standing up transmission towers. 
The U.S. Environmental Protection Agency said Thursday it has sent a surveillance aircraft to an area in Louisiana hard hit by Hurricane Ida with a Phillips 66 refinery where an oil spill has been reported. The Alliance Refinery, located on the Mississippi River in Belle Chasse, Louisiana, is located 25 miles south of New Orleans.
National Guard Units From Across USA Assist Victims
More than 6,000 members of the National Guard from more than a dozen states were in Louisiana assisting state and federal partners with relief efforts. There were 150 Guard members in Mississippi, 100 in Texas and 40 in Alabama., according to the U.S. Army.
Louisiana Guard members are working with local officials helping distribute meals ready to eat, water, tarps and ice from the Federal Emergency Management Agency.
In Alabama, Soldiers of the 711th Combat Sustainment Support Battalion in Mobile monitored reports, satellites and cameras, prepped response teams and coordinated with Alabama Emergency Management Agency cells across the state.
The Oklahoma National Guard is authorized to send as many as 500 Guard members to Louisiana starting Wednesday. South Carolina and Georgia also sent Guard troops.
Survivors Can Sleep in Free Hotels While Handling Home Repairs
A Home Cleanup Hotline has been opened to support those affected by Hurricane Ida. Victims needing assistance at their residences can call 844-965-1386 through September 17, 2021.
Work orders are generated for:
● Fallen tree and debris removal
● Drywall, flooring, and appliance removal
● Tarping roofs – The Army Corp of Engineers is providing blue tarps for Orleans Parish residents who sustained roof damage. Visit Blue Roof Information to learn how to retrieve a blue tarp.
The Federal Emergency Management Agency said Thursday it will cover hotel expenses for survivors of Hurricane Ida with damaged homes or dwellings in 25 parishes in southeast Louisiana.
The program, known as Transitional Sheltering Assistance, will provide survivors with short term housing free-of-charge as they recover from the Category 4 storm.
Survivors who need this help must first register with FEMA at disasterassistance.gov or by calling the FEMA helpline at 800-621-3362.
Those wishing to take advantage of the program must find and book their own hotel rooms. Participating hotels are listed at www.femaevachotels.com.
Northeast Cleans Up From Deep Floodwaters
While work is ongoing to clear floodwaters and restore transportation services in the Atlantic coastal states from Maryland to New York.
Due to storm damage, all Amtrak Empire service will remain suspended between New York City and Albany until Tuesday, September 7, the railway has announced.
New York Governor Kathy Hochul has secured an Emergency Disaster Declaration for 14 affected counties, which provides up to $5 million in immediate federal funding to support response operations ahead of completion of FEMA damage assessments, which began today. 
In New York 7,900 customers are still without power, while transportation is slowly returning to normal.
MTA Metro-North Railroad today said it anticipates restoring service on the full length of the New Haven Line and on the Harlem Line as far as Southeast, New York. Trains will operate on an enhanced weekend schedule beginning at 5:00 am. North End Access at Grand Central Terminal reopened at 6:30 am. 
Metro-North crews worked early Thursday morning and throughout the day to clear flooding and mudslide conditions, remove downed trees and debris across all three of its East-of-Hudson lines. 
"Our crews have made extraordinary progress over the last 24 hours in extremely difficult conditions following unprecedented rainfall throughout the region," said Catherine Rinaldi, President of MTA Metro-North Railroad. "Thanks to their work through the night and day we are able to restore train service on the Harlem and New Haven lines, and they continue to work tirelessly so we can restore full service as soon as possible. I cannot thank our crew members enough for the heroic work they have been doing and will continue to do." 
Service on the Hudson Line, where damage was the most severe, remains suspended. Crews continue to clear mudslide and track washout conditions.  Crews will also continue clean up efforts on the New Canaan and Danbury branches in Connecticut, where service was not back on Friday morning.
In New Jersey, Governor Phil Murphy promised $10 million for immediate assistance to small businesses. "As with any emergency situation, our top priority is the health and safety of New Jerseyans, and we extend our deepest condolences to those families experiencing the loss or grave injury of a loved one," said Governor Murphy. "Now that the skies have cleared, we are eager to get to work on helping those who are waking up to harsh economic realities reclaim their livelihoods and mitigate Ida's financial impacts to their businesses and the hardworking people they employ."
Featured image: Louisiana National Guardsmen rescue people in LaPlace, Louisiana, in the aftermath of Hurricane Ida. September 1, 2021 (Photo courtesy Louisiana National Guard)
© 2021, News Editor. All rights reserved.