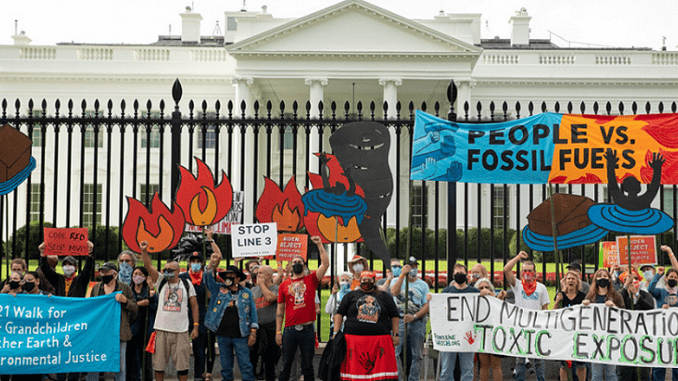 WASHINGTON, DC, October 16, 2021 (ENS) – At least 300 people were arrested at the White House last week while demonstrating to demand that President Joe Biden declare a climate emergency and halt all new fossil fuel projects. The People vs. Fossil Fuels protesters want the leasing of public lands for fossil fuel extraction stopped, now.
"The Navajo communities in the Greater Chaco landscape cannot wait for the Biden Administration to act to stop oil and gas fracking leases," said Mario Atencio with Diné CARE, an organization that works to protect the environment of Navajo Nation.
"The lack of action to stop drilling on public lands has had serious impacts on the community health of the Navajo people who live near oil and gas wells. According to a community Health Impact Assessment done by the local Navajo communities, the toxic chemicals released by the oil and gas wells are impacting the health of the children. This is the consequence of the inaction – the little ones are being hurt because Biden can't fulfill something he promised. We can't wait. Our communities are being hurt. We need the leases stopped."
Not only are communities suffering, so is the climate. The U.S. Geological Survey estimates that roughly a quarter of all U.S. carbon emissions come from oil, gas, and coal extraction on federal lands.
Ahead of the pivotal UN climate conference COP26 which opens in Glasgow October 31, President Biden Friday did what he could on the executive level to limit climate change as Congress has stalled his multi-trillion dollar Build Back Better agenda with its substantial climate package.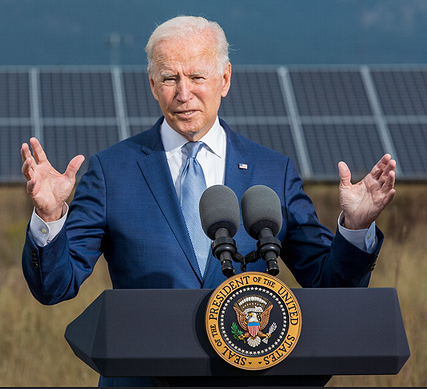 More than 20 agencies released climate adaptation and resilience plans to safeguard federal investments, made, of course, with taxpayer dollars, from the costs of climate change.
The strategy, "A Roadmap to Build a Climate-Resilient Economy" highlights incorporating climate-related financial risk into federal lending and underwriting, and into federal financial management and budgeting.
To protect life savings and pensions from climate-related financial risk, the Department of Labor proposed a rule that protects workers' hard-earned life savings by clarifying that investment managers can consider climate change and other environmental and social factors in making investment decisions.
The federal government is the world's single largest purchaser of goods and services. Planned amendments to federal procurement regulations would require agencies to give preference to bids from companies with lower emissions.
More factual climate data will be available to the public through an upgraded NOAA website, in contrast to the behavior of the previous administration, which remove climate facts from federal websites.
The strategy document states, "These steps will help safeguard the life savings of workers and families, spur the creation of good-paying jobs, and ensure the long-term sustainability of U.S. economic prosperity in the decades to come. Together, they will help usher in a new era where climate-related financial risks are thoroughly understood—where they are measured, disclosed, managed, and mitigated across the economy to the benefit of American workers, families, and businesses."
For Some, the Climate Crisis Has Already Begun
With a banner that read "Biden: Our Communities Can't Wait," hundreds of people marched to the White House all last week to highlight the dangerous ongoing impacts of the climate crisis across the country and the world.
As hundreds rallied in Lafayette Square Park, others sat in at the White House fence, risking arrest to call attention to what they consider to be the Biden Administration's lack of action to fulfill campaign promises, while they suffer the effects of fossil fuel facilities.
"I want to tell our President, Joe Biden, you campaigned on Cancer Alley. That's where I live. People are dying rapidly. People are dying of cancer and other ailments," said Sharon Lavigne, who recently won the Goldman Environmental Prize for her work with Rise St. James, a grassroots organization fighting plastics and petrochemical facilities that threaten her community of St. James, Louisiana.
"President Biden, I sent you a video to tell you about our community. I've asked you to come to see where we live, to come and visit us and get a whiff of all the chemicals that we're breathing. You promised that you would do something for Death Alley. We haven't seen anything yet. We want to hold you to what you said to us in your campaign. We voted for you and this is the way you treat us? You are letting us down by not even coming to see about us," Lavigne said.
Speakers from Alaska, Louisiana, California, North Carolina, and Texas and faith leaders from across the country told of the heatwaves, floods, fires, hurricanes, and other fossil fueled climate disasters threatening their communities.
"How much longer will the future of our communities be on the shoulders of citizens without the backing of our elected officials?" said Jane Kleeb, the founder of Bold Alliance, a network of "small and mighty" groups in rural states fighting fossil fuel projects, protecting landowners from eminent domain abuse, and working for clean energy solutions.
On Thursday, frontline Indigenous leaders from many and various fossil fuel fights occupied the Bureau of Indian Affairs in Washington for the first time since the 1970s, with a list of demands https://www.ienearth.org/pr-55-indigenous-people-and-allies-arrested-occupying-bureau-of-indian-affairs-police-tased-and-hit-multiple-people-with-batons/for President Biden that includes no new leases for oil and gas or extractive industry on public lands.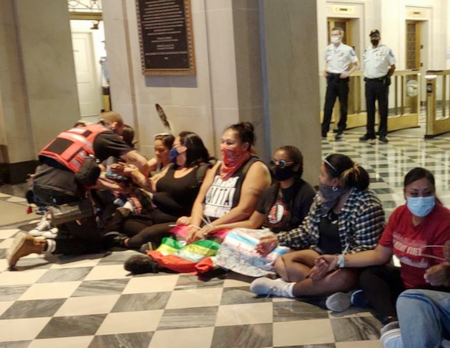 Police acted aggressively with the water protectors and Indigenous leaders, tasing at least two people and hitting others with batons. An independent Indigenous media person was assaulted by the police and had his equipment broken. Fifty-five people were arrested and taken away to DC Metro police stations.
From the Line 3 pipeline in Minnesota to oil and gas drilling in Alaska, Indigenous peoples are on the frontlines of the fight against fossil fuels. Major pipeline projects and other forms of oil and gas extraction not only threaten the land and water in Native communities, but are often in direct violation of treaty rights or violate laws around Free, Prior and Informed Consent. Fossil fuel construction has also been linked to sex trafficking and an increase in Missing and Murdered Indigenous Women.
Under attack from these fossil fuel projects, Indigenous peoples are fighting back and winning. A recent report by the Indigenous Environmental Network and Oil Change International showed that over the last decade Indigenous resistance has stopped or delayed greenhouse gas emissions equivalent to at least one-quarter of annual U.S. and Canadian emissions.
By blocking at least 26 major fossil fuel projects, these Indigenous leaders and water protectors have stopped projects equivalent to 400 new coal-fired power plants, or roughly 345 million new passenger vehicles.
Political Actions and Non-Actions
While not on the White House protest line, the three-million strong Natural Resources Defense Council, like most U.S.-based environmental groups, has been urging bold and immediate climate action from the government.
"Cutting carbon pollution 50-52 percent by 2030 is the cornerstone objective of President Biden's promise on climate – and that's what Congress must enact. With a crisis this urgent, and stakes this high, the nation expects no less," NRDC President Manish Bapna said.
Because of the Democrats' paper-thin majority in both Houses of Congress, and a 60-vote filibuster in the U.S. Senate that the Democrats have been reluctant to change, Biden's Build Back Better agenda must be passed through a budget "reconciliation" process that allows fror passage on 51 votes in the Senate.
The Democrats would have those 51 votes except for Senator Joe Manchin, who represents the coal-producing state of West Virginia. He is opposed to the climate package in the Biden agenda.
A spokeswoman for Senator Manchin, Sam Runyon, wrote in an email to the "New York Times," "Senator Manchin has clearly expressed his concerns about using taxpayer dollars to pay private companies to do things they're already doing. He continues to support efforts to combat climate change while protecting American energy independence and ensuring our energy reliability."
But that position is miles away from what's really needed, according to Bapna of the NRDC. "The reconciliation package must provide a credible pathway to the carbon reductions we need to avert a climate catastrophe," he warned.
"That means real incentives that help clean up our dirty power plants, speed the shift to electric cars, and cap the abandoned oil and gas wells that threaten our communities. It means expanding access to sustainable public transit, for every community, and modernizing our factories, buildings and power grid and storage systems," Bapna said. "And it means directing at least 40 percent of this investment to the historically disadvantaged communities that pay the highest price for the hazard and harm of fossil fuels and climate change."
Fossil Fuel Permits Hit New High Under Biden
According to the International Energy Agency, countries should stop all new fossil fuel production and keep the vast majority of their reserves in the ground in order to keep global warming below 1.5°C, a goal President Biden says he supports.
But as the Associated Press first reported in July, the White House is on pace to hand out more oil and gas drilling permits this year than in any year under President Donald Trump and the most since George W. Bush left the Oval Office.
The protesters are alarmed by a new analysis from Oil Change International showing that if the Biden Administration moves ahead with 21 major fossil fuel infrastructure projects currently under federal review, it would be the emissions equivalent of adding 316 new coal-fired power plants – more than are currently operating in the United States.
The total emissions from just these projects would represent 17 percent of total U.S. greenhouse gas emissions in 2019.
Now, the administration risks heading to the UN Glasgow Climate Change Conference, COP26, without much strength because funding for President Biden's ambitious climate change prevention plans are stalled in Congress.
The Glasgow Climate Change Conference is the first meeting of the Conference of the Parties, COP, to the United Nations Framework Convention on Climate Change, UNFCCC, to be held since the Paris Agreement took over from the Kyoto Protocol in 2020.
It is the first major United Nations environmental meeting to be held in person since the beginning of the COVID-19 pandemic.
The conference proceedings and outcome will indicate whether the Paris Agreement can adequately address the climate emergency. No formal negotiations have taken place in the last two years and the UK Presidency faces challenges to produce meaningful outcomes. As part of the "Road to Glasgow," the Presidency has convened informal dialogues among delegates and ministers.
Featured image: Indigenous leaders protest outside the White House for an end to fossil fuel leasing on public lands and meaningful government response to climate change. October 13, 2021 (Photo by Survival Media Agency)