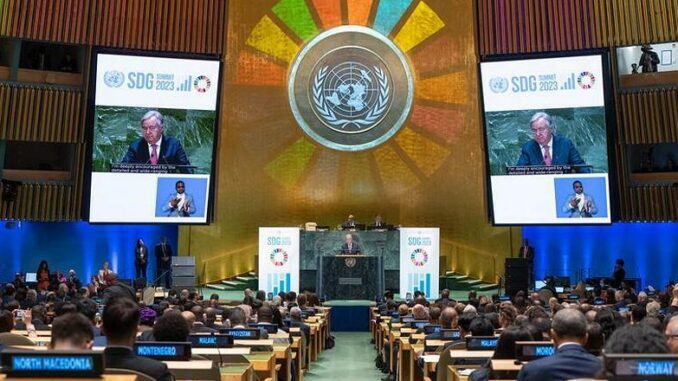 NEW YORK, New York, September 22, 2023 (ENS) – United Nations Secretary-General António Guterres aimed a message at the world's largest polluters Wednesday when he excluded them from his Climate Ambition Summit that took place in New York on the sidelines of the UN General Assembly. His message – you are not taking the climate threat seriously enough.
Guterres excluded the world's five largest emitters of heat-trapping greenhouse gases – China, the United States, Russia, India and Japan – from his Climate Ambition Summit.
But Guterres's message to the world's largest polluters at the Climate Ambition Summit was undermined by the fact that most of the leaders he barred from the summit – Chinese President Xi Jinping, Russian President Vladimir Putin, and Indian Prime Minister Narendra Modi – chose not to attend the UN General Assembly in the first place.
The United Kingdom, another big polluter, also was absent from the summit, amid reports that Prime Minister Rishi Sunak had avoided the UN General Assembly after being warned he would be excluded from the climate discussions.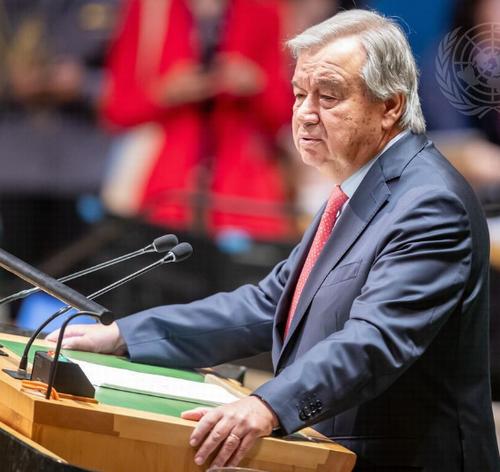 "Humanity has opened the gates of hell," Guterres told the leaders of the countries that were invited, emphasizing action. "We must make up time lost to foot-dragging, arm-twisting, and the naked greed of entrenched interests raking in billions from fossil fuels."
The summit, announced by Guterres in December 2022, was intended to be a "no-nonsense" showcase of the "first movers and doers" fighting to keep alive the "increasingly unrealistic goal" of limiting global warming to 1.5°Celsius (2.7°Fahrenheit) above pre-industrial levels.
The central objective of the 2015 Paris Agreement on climate is its long-term goal to hold global average temperature increase to "well below 2°C above preindustrial levels and pursuing efforts to limit the temperature increase to 1.5°C above pre-industrial levels."
In May, for the first time, the World Meteorological Organization warned that global temperatures are more likely than not to rise above 1.5°C of warming within the next five years,
The United Nations kept the final list of world leaders invited to speak at the Climate Ambition Summit hidden until Tuesday evening.
In the months leading up to the summit, Guterres had said that only countries that had taken significant steps to address climate change would be invited, and could only attend if they sent a high-level leader to the summit.
Several G20 countries made the final cut, including Brazil, Canada, South Africa, and nine European Union countries, including Germany, France, and Spain.
Guterres told the General Assembly on Tuesday, "To all those working, marching and championing real climate action, I want you to know that you are on the right side of history and that I am with you."
"One summit will not change the world, but today can be a powerful moment to generate momentum," Guterres said. "We can and we must turn up the tempo."
Excluded Leaders Care Little
As the Climate Ambition Summit opened at UN headquarters in New York, British Prime Minister Rishi Sunak, the first prime minister to skip the UN General Assembly in a decade, announced plans to walk back many of the UK's existing climate commitments, including ones made by former Conservative Prime Minister Boris Johnson, who hosted the UN's COP26 climate conference in Glasgow in 2021.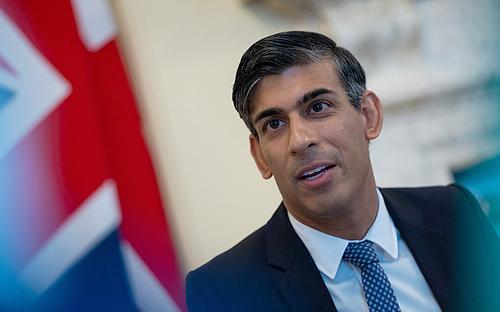 Sunak dashed hopes of net zero targets from London during the Climate Ambition Summit on Wednesday. The move follows Sunak's vow to "max out" UK fossil fuel reserves in the North Sea in August.
Infosys, a six-trillion-dollar company founded by Sunak's father-in-law, signed a $1.5 billion deal with British Petroleum just two months before Sunak announced the new North Sea oil and gas drilling licenses.
Shell CEO Wael Sawan, who called the phase-out of fossil fuels "dangerous and irresponsible" on July 6, 2023, the hottest day ever recorded in human history at the time, is a member of Prime Minister Sunak's business council.
Brazil's Ambition: Halve Emissions by 2030
Brazil's Minister for the Environment Marina Silva announced at the Climate Ambition Summit that her country aims to cut its carbon emissions by 48 percent by 2025, and 53 percent by 2030.
These ambitious goals mark a turn-around in Brazil's climate policy under Lula, who has pledged to reverse the environmental damage done by his predecessor, the right-wing leader Jair Bolsonaro.
During his presidency, 2019-2022, Bolsonaro presided over massive deforestation in the Amazon rainforest and denied the existence of climate change.
Marina Silva made the announcement in place of President Luiz Inacio Lula da Silva, who did not attend the summit due to illness. Lula says he will undergo hip surgery to treat chronic pain in his kneecap by the end of September.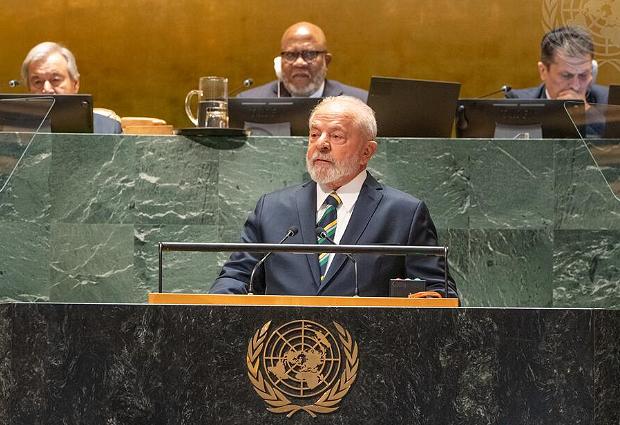 Lula felt well enough to participate in the UN General Assembly debate earlier in the week where he emphasized the need for urgent, comprehensive international cooperation to avoid a worsening climate crisis.
"It knocks on our door, destroys our homes, our cities, our countries, kills, and imposes suffering and losses on our brothers," said Lula. "It is the vulnerable populations in the Global South who are most affected by the loss and damage caused by climate change."
Since Lula took office on January 1, Brazil has decreased deforestation of the Amazon by 48 percent and has become a leader in the transition to renewable energy, with 87 percent of Brazil's electric power coming from renewable sources.
"In Brazil, we have already proven once, and will prove again, that a socially fair and environmentally sustainable model is possible," said Lula. "We are at the forefront of energy transition, and our matrix is already one of the cleanest in the world."
Brazil hosted the Amazon Cooperation Treaty Organization (ACTO) summit in August, where eight South American nations met to discuss rainforest protections and the climate crisis.
EU to Surpass 55 Percent Reduction Goal
European Commission President Ursula von der Leyen told the summit the EU is on track to surpass its goal to reduce greenhouse gas emissions by 55 percent by 2030. The EU will also continue to contribute its "fair share" of $27 billion to the global climate finance fund, she said.
Her counterpart, European Council President Charles Michel, told the General Assembly on Tuesday that the EU is committed to ensuring that concessional finance is available to countries that need it.
Michel compared the current global financial architecture to "an old house, built in another time, for another time."
"We need to make sure everyone has fair access to financing," Michel said. "It costs eight times more for African economies to borrow than it does the rest of the world. That is simply unfair," he said.
Only 17 Countries Want Global Fossil Fuel Phase-out
The heads-of-state of 17 countries, including Kenya, Colombia, a group of small island states, and EU countries such as France, Belgium, Denmark, and Spain, published a letter ahead of the Climate Ambition Summit calling for a global phase-out of fossil fuels.
"There can be no more pretence that anything other than staying within 1.5 degrees is an acceptable limit to pursue," the letter warned.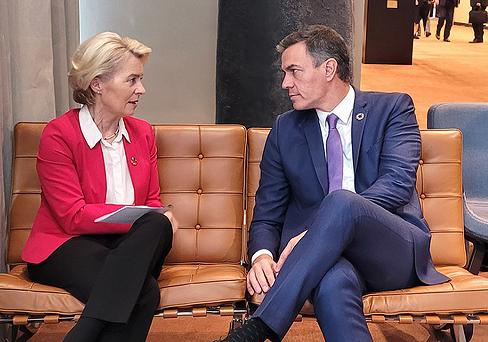 The statement by the 17 countries explicitly denounced the idea that carbon capture technologies can be a solution to the climate crisis.
"[Carbon] abatement technologies have a role to play in reducing emissions, but that role in the decarbonization of energy systems is minimal," the letter said. "Systemic transformations are needed across all economic sectors, driven by a global phase-out of fossil fuels."
But the statement by the 17 countries directly contradicts the position of the United Arab Emirates, host of this year's upcoming UN Climate Conference COP28, which aims to focus on reducing emissions rather than phasing out fossil fuels.
Critics say that the UAE's stance, shared by other petro-states such as Saudi Arabia, would place untested carbon capture technologies at the center of global mitigation efforts and disincentivize critical investments in renewable alternatives to fossil fuels.
Fossil fuels are currently currently subsidized at a rate of US$7 trillion every year, according to the International Monetary Fund.
Most climate scientists agree that carbon capture and storage technologies can play only a minimal role in decarbonizing the economy.
The big oil companies say that they, too, have adopted the net-zero ambition.
"Our net-zero ambition (Scope 1 and 2 operated assets) is backed by a comprehensive approach centered on detailed emission-reduction roadmaps for our major operated assets. We completed these roadmaps in 2022, and will be updating them as needed to reflect technology, policy, and other developments," ExxonMobil says on its website.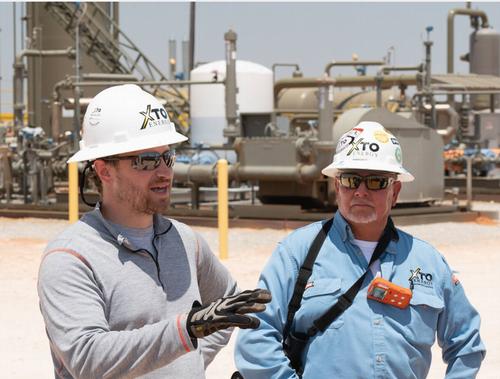 ExxonMobil points to its Permian Basin unconventional operations, where the company announced "industry-leading plans to reach net-zero Scope 1 and 2 emissions by 2030."
"We are working to electrify operations with lower-emission power, which may include wind, solar, and natural gas." the company says. "We are also working to expand and accelerate our methane detection and mitigation technology, eliminate routine flaring, upgrade equipment, and employ high-quality emissions offsets, which may include nature-based solutions."
Shell now owns and operates Volta, one of the largest public electric vehicle charging networks in the United States. Through Volta, acquired in March, Shell now has a public charging network of over 3,000 charge points at shopping centers, grocery stores, and pharmacies, across 31 U.S. states and territories, and more than 3,400 additional charge points in the works.
"We want to make charging as convenient as possible for our customers," said István Kapitany, Executive Vice President of Shell Mobility.
March to End Fossil Fuels Doesn't
Over 75,000 people joined the March to End Fossil Fuels on September 17 in New York City, making it the largest demonstration pressuring President Joe Biden since he took office and the largest climate mobilization since the start of the Covid-19 pandemic.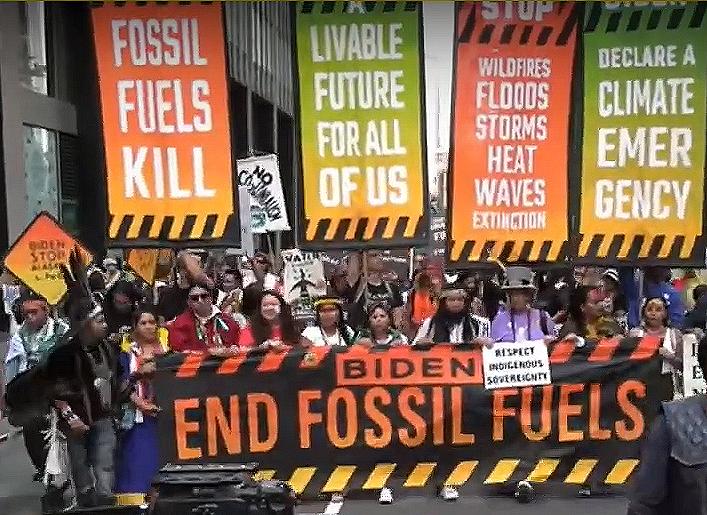 ​The March coordination and operations team included Center for Biological Diversity, Center for Popular Democracy, Climate Organizing Hub, Food & Water Watch, Fridays For Future USA & NYC, Earthworks, Greenfaith, Indigenous Environmental Network, New York Communities for Change, Oil Change International and Oil & Gas Action Network.
Hundreds of scientists have endorsed the demands made by the March to End Fossil Fuels.
Nearly 400 scientists signed a letter of endorsement, including noted climate, public health and environmental scientists: Robert Howarth, Mark Jacobson, Peter Kalmus, Sandra Steingeraber, Rose Abramoff, Farhana Sultana, Lucky Tran and Aradhna Tripati. While many are affiliated with major universities, the scientists signing the letter did so in their individual capacities and not on behalf of the institutions with which they work.
Addressed to President Joe Biden, the letter and march are calling for:
– halting federal approval of new fossil fuel projects like pipelines and export terminals;
– phasing out oil and gas extraction on public lands and waters; and
– declaring a climate emergency, which would halt fossil fuel exports and investments abroad, and facilitate new clean energy development.
"On your first day in office, you issued an executive order pledging that it is 'the policy of my administration to listen to the science' in tackling the climate crisis," the letter states. "And yet," it continues," rather than ratchet down fossil fuels, your administration has approved drilling permits at a rate faster than the Trump administration, opened up huge swaths of land and ocean to leasing, expanded exports, approved new pipelines, and embraced industry greenwashing ploys like carbon capture, which further entrenches our reliance on fossil fuels."
"We scientists heard the president loud and clear when he pledged two years ago to 'listen to the science' on climate. Yet now we're watching our nation's greenhouse gas emissions spiral out of control while White House policy becomes increasingly unaligned with reality. Science says we need to ratchet down fossil fuel extraction – the White House is doubling down," said Sandra Steingraber, PhD, senior scientist at the Science and Environmental Health Network.
"Scientists are here to say that our data support the demands of this march. President Biden, stop approving new fossil fuel projects, phase out drilling on public lands, declare a climate emergency and provide a just transition to renewable energy," Steingraber said.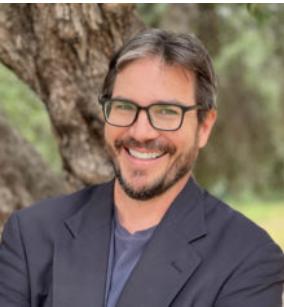 "Given how bad global heating has now gotten, it's simply insane that President Biden still refuses to declare a climate emergency, and indeed, continues to make everything worse by expanding fossil fuels," said Peter Kalmus, PhD, of NASA's Jet Propulsion Laboratory.
"Nothing takes away my hope for humanity's collective future more than Biden's choice to stand with the fossil fuel industry. He must pivot and become the climate leader the planet needs, or else he'll continue locking in higher temperatures and ever more irreversible damage to Earth's habitability," Kalmus warned.
Earth scientist Rose Abramoff, PhD, of the Ronin Institute said, "We can no longer quietly study what is burning down around us when the solutions are so obvious and so necessary to humanity's survival. For decades, we have tried every possible way to communicate the severity of the climate crisis to the public. I have been increasingly risking my career and freedom to get this message across."
"On September 7, I risked felony-level charges to peacefully prevent the Mountain Valley Pipeline from drilling under the longest undammed river in the Eastern U.S. I don't know what else to do. We are desperate. We are not exaggerating. And we need an emergency response from our government now," Abramoff said.
The organizers say that Sunday's March to End Fossil Fuels in New York City was part of a mass global escalation to end fossil fuels, with mobilizations occurring around the world.
People took part in climate marches and protests in hundreds of cities across more than 50 countries. In Europe, climate action began on Friday with a march in Vienna. Organizers say that around 20,000 people came together in the Austrian capital holding signs demanding higher taxes on carbon emissions and no more meat consumption. More than a dozen climate activists were arrested in Berlin after spraying orange paint on the iconic Brandenburg Gate.
"Outside the Summit, thousands of people of marched in the streets calling for an end to fossil fuels, businesses showed how they are reducing food waste though overall progress is lagging, new evidence highlighted the immense potential of ocean-based climate solutions, and the COP Presidency rightly elevated cities' role on climate action, announcing the first-ever local climate summit will take place at COP28 this year," David Waskow, director, International Climate Initiative, World Resources Institute, said.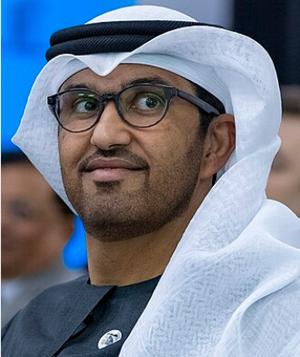 Taking place alongside New York Climate Week, the SDGs Summit and UN General Assembly, the Climate Ambition Summit was a milestone on the road to COP28 in Dubai coming up in November.
There, countries will determine how to respond to the Global Stocktake report findings to keep the 1.5 degrees Celsius goal alive and address climate impacts.
"The small steps countries offered are welcome, but they're like trying to put out an inferno with a leaking hose. There is simply a huge mismatch between the depth of actions governments and businesses are taking and the transformative shifts that are needed to address the climate crisis," Waskow said.
"The Secretary-General clearly laid out how countries must hit "fast forward" with his Acceleration Agenda. A few countries rallied behind the agenda, but far too many key players didn't touch the accelerator. And some of the biggest emitters were noticeably absent from the stage."
"Germany stepped up with its replenishment commitment to the Green Climate Fund, Denmark shifted its net zero goal forward to 2045, and Brazil committed to undo the previous administration's backsliding on its climate target," Waskow recounted.
"All eyes are now on COP28," he said. "Governments have a historic opportunity to correct course, transitioning to a better economy that lifts people out of poverty and provides people with good jobs and clean power. They should be spending the next two months rallying behind a rapid response plan to the Global Stocktake like people's lives depend on it – because they do."
"At COP28, countries should commit to rapidly shift away from fossil fuels and triple renewable energy, double the share of fossil-free transport and transform food systems to address the growing hunger crisis and cut emissions. And countries must operationalize the loss and damage fund and deliver on previous commitments to climate-vulnerable countries, such as doubling adaptation finance by 2025 and fulfilling the $100 billion goal."
"The onus is especially on the world's wealthy countries and biggest emitters to step up both by drastically cutting their own emissions and showing solidarity with climate-vulnerable countries," Waskow said.
Money is the Key
The high-ambition position statement called for trillions of dollars in climate financing and financial system reforms to address the climate crisis.
"The mobilization of finance for climate action must reach the trillions, and we must put in place financial system reforms to be responsive to the multitude of crises the world faces today," the statement says. "No country should have to choose between fighting poverty and fighting for our planet."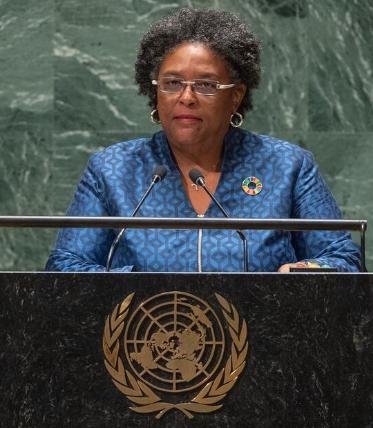 Barbados Prime Minister Mia Mottley began campaigning for funding at the UN climate talks in Glasgow in 2021. The lack of climate finance is "almost a crime of humanity" said Mottley, a leader in the work to reshape the global financial architecture to help vulnerable countries such as her Caribbean island nation adapt to climate change,
Secretary-General Guterres has made climate change the cornerstone of his tenure, and the agenda of the Climate Ambition Summit reflected his flagship issues.
Top of the list is a call for reforms to the global financial system and multilateral banks – which Guterres calls a "new Bretton Woods moment" – and securing climate justice through a surge in climate finance.
He called on world leaders to fully operationalize the Climate Loss and Damage Fund, which was agreed to at COP27 in Sharm el-Sheikh in December 2022 after years of resistance by major polluters.
The Climate Loss and Damage Fund is supposed to support climate adaptation and mitigation in poor nations, which emit a tiny fraction of the world's greenhouse gases but are suffering from the warming climate. Yet the mechanisms for financing the fund, prioritizing countries' needs, and delivering money remain poorly defined.
"Make no mistake, the storm is gaining strength," Samoan Prime Minister Fiame Mata'afa told the summit in a statement on behalf of the Alliance of Small Island States, which face an imminent and existential threat from climate change.
"The pursuit of profit over the well-being is not right – it is unjust," Mata'afa said. "Our contribution to greenhouse gas emissions is less than one percent. The G20 is responsible for 80 percent of the emissions."
Civil society's hopes for climate justice now rest on the outcome of the UN Climate Summit, COP28, set to take place in Dubai in November.
"We the people of the global south are not asking for aid or assistance," said Lidy Nacpil, coordinator of the Asian People's Movement on Debt and Development. "Climate finance is an obligation, and part of reparations for the historical and continuing harms and injustice."
Nacpil said, "We have a right not just to survive, but to build a better home and future for our children."
Featured image: United Nations Secretary-General António Guterres at podium and on screens, addresses the opening of the Sustainable Development Goals Summit, September 18, 2023 New York, New York (Photo by Cia Pak courtesy UN)