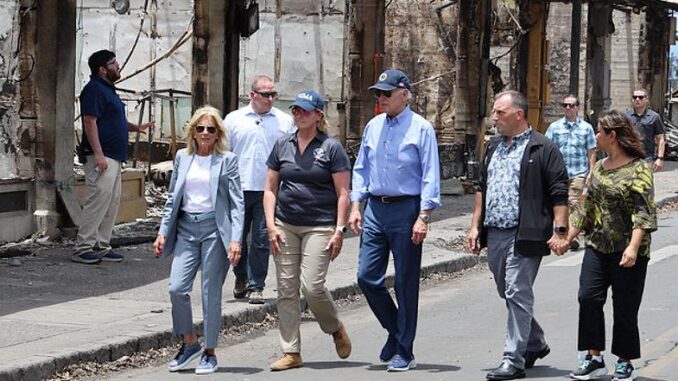 LAHAINA, Maui, Hawaii, August 22, 2023 (ENS) – Governor Josh Green, M.D., and First Lady Jaime Kanani Green accompanied President Joe Biden, First Lady Dr. Jill Biden, Maui Mayor Richard Bissen, FEMA Administrator Deanne Criswell, members of the Hawaii Congressional delegation and others, on an assessment of the wildfire damage to Lahaina Monday.
President Biden pledged to Maui the ongoing support of the entire nation, saying, "For as long as it takes, we're going to be with you, the whole country will be with you," he said. "We will be respectful of your culture and traditions."
During a community event at Lahaina Civic Center, President Biden said, "What I've observed in my short time here today is the courage, the community, the sense of togetherness you have. It's not an ordinary community. It's a community based on faith in one another. I've watched. I've had an opportunity to get to know your governor, I know your senators, know your folks. What they said about who you are is true. It's true, and it matters."
"It's going to be a long road, but you've got to have hope. Hope really does spring eternal. It's based on faith, faith in one another," the President said. "You know, I've been impressed how you look out for one another and turn your pain into purpose. This town has stood in this sacred spot for centuries. So much history. So much beauty."
"Just before coming here, I stood in front of a banyan tree that's stood for 150 years. Burned, but it still stands. One resident called it a diamond in the rough of hope. Another said, "Fire cannot reach its roots."
"I know it's a metaphor, but that's you. That's who you are. That's Hawaii. There's no quit in Hawaii. There's no quit in America. … Let me end with my prayer for all of you … May he raise you up on eagles' wings and bear you on the breath of dawn, make you to shine like the sun, and hold you in the palm of his hand."
"To you, the people of this island, have shown such absolute courage. The nation stands with you," President Biden declared.
The death toll in the Lahaina wildfire has grown to 115 with approximately 850 people still unaccounted for, Maui officials today confirmed.
As of Monday, 100 percent of the single-story residential properties were searched in the disaster area in Lahaina, that spanned 3.5 miles. Search teams will now transition to searching multi-story residential and commercial properties.
Governor Green cited previous disasters that Hawaii has come through.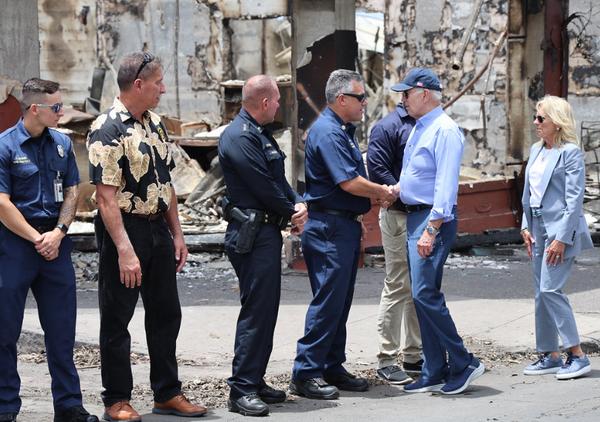 "We've been through so much together in recent years," said Governor Green. "Three years of COVID, the volcanic eruptions of 2018 and 2022 which ravaged the Big Island; there are scars in people's lives left by opioids and homelessness, but none of this has been as tragic as this fire in Lahaina."
"Our hearts are broken and we will heal with the assistance of President Biden, and the federal government, and the love and compassion of resources throughout our state. We know we have the support to lift us up as we find those who are lost to deal with the tragedy," he said.
"The people of Lahaina will need time to heal, to recover and to grieve," he said. "Like we've been sharing, and as President Biden said today, Lahaina belongs to its people and we are committed to rebuilding Lahaina the way the people of Lahaina want."
The West Maui fire, ignited on August 8 and fueled by hurricane-force winds, is now 90 percent contained and has burned 2,170 acres.
The Lahaina blaze is considered to be the deadliest in U.S. history after it razed Front Street to the ground in the historic town that was once the capital of the Kingdom of Hawaii.
Governor Green said again that he has asked the state attorney general to enhance criminal penalties for predatory purchases of fire-devastated real estate.
"This land is for the people of Maui and it is reserved as they return and rebuild," the governor said.
President Biden and state, federal, and state officials: including Governor Green, U.S. Senators Brian Schatz and Mazie Hirono, Congressmembers Jill Tokuda and Ed Case, Maui Mayor Richard Bissen, Maui County Councilmembers, and Office of Hawaiian Affairs Chair Hulu Lindsey reiterated their commitment to rebuilding Lāhainā in a manner consistent with the priorities of area residents who were impacted by the tragedy.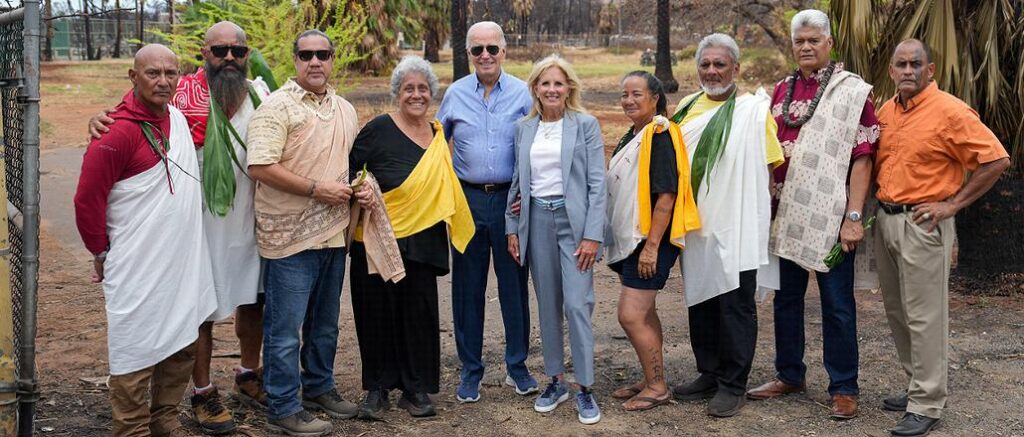 Senator Schatz told reporters, "We've had floods and hurricanes and even some wildfires, and certainly volcanic eruptions, and all of those are their own kind of tragedy. But this is in its own category in terms of the death toll, but also in terms of the property damage."
Governor Green re-emphasized that while travel to West Maui is restricted to returning residents and emergency responders, the rest of Maui and the state remains safe and open for visitors. He encouraged visitors to come, "to support our local economy and speed the recovery."
"The world is watching, and we will show it the true strength of our culture, our people and all that we believe. And as they watch us heal, protect and nurture one another, the world will be reminded why it loves and embraces Hawaii and we embrace it."
President and First Lady Biden returned to Nevada on Air Force One Monday afternoon.
Featured image: President Joe Biden and First Lady Dr. Jill Biden walk through Lahaina, Maui, devastated by wildfire August 8-9 accompanied by state and federal officials. Front row, from left: First Lady Dr. Jill Biden, Federal Emergency Management Agency Administrator Deanne Criswell, President Joe Biden, Hawaii Governor Josh Green, MD, and Hawaii's First Lady Jaime Kanani Green walk down what remains of Lahaina's Front street. August 22, 2023 (Photo courtesy Governor Josh Green)
© 2023, News Editor. All rights reserved.