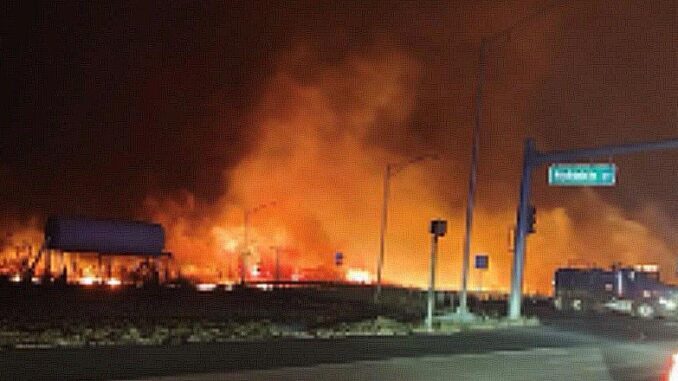 KAHULUI, Maui, Hawaii, August 25, 2023 (ENS) – Maui County sued Hawaiian Electric Industries Inc. and its subsidiaries, including Maui Electric Co., Thursday, alleging civil damages from the deadly August 8 fires in Lahaina. The lawsuit claims that Hawaiian Electric's energized and downed power lines sparked three different fires by igniting dry grass and brush in the hills above Lahaina and elsewhere in Upcountry Maui.
The lawsuit in Second Circuit Court alleges Hawaiian Electric and its subsidiaries acted negligently by failing to turn off power to their electrical equipment despite a National Weather Service "red flag warning" issued August 7, the day before the wildfires exploded. The lawsuit accuses Hawaiian Electric of failing to maintain its systems and power grid.
Hawaiian Electric is a for-profit, investor-owned utility that trades on the New York Stock Exchange. The company serves 95 percent of Hawaii electricity customers on all the islands except Kauai.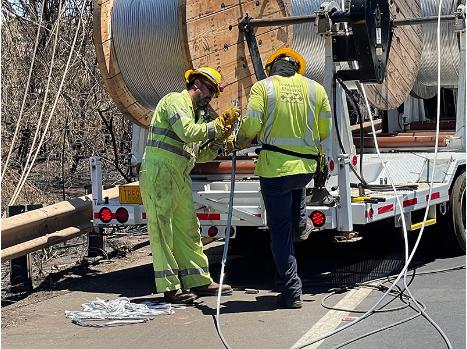 Also on Thursday, investors filed suit against Hawaiian Electric Industries and several of the company's current and former executives, alleging violations of federal securities laws. 
The investor class-action suit, filed in U.S. District Court in California, seeks unspecified damages, alleging that the HECO executives failed to disclose to investors that the company's wildfire prevention protocols were not adequate.
In a separate case, three law firms filed a class-action lawsuit against Hawaiian Electric on August 12, alleging that the utility's downed power lines contributed to the deadliest U.S. wildfire in more than a century.
To date, the death toll from the fire that destroyed the historic town of Lahaina remains at 115, but Maui officials warn it will rise as search crews continue to look for human remains.
Some Fires Still Burning
The Maui Fire Department advises the public that complete extinguishment for Upcountry fires may take an extended time given the large burn area, and the nature of the rural terrain. Fire containment percentages have not changed in recent days, the MFD said late Thursday.
The Lahaina fire: remains 90 percent contained and is estimated to have burned 2,170 acres. There have been no noteworthy flareups in recent days, the MFD says.
In Upcountry Maui, the Olinda fire remains 85 percent contained and is estimated at 1,081 acres. A helicopter was deployed before sunset on August 22, to help extinguish hot spots.
The Upcountry Kula fire remains 85 percent contained. A smaller fire it is estimated to have burned 202 acres. MFD crews have been extinguishing hot spots in the Kula fire using hand crews and a helicopter. Fire activity now is mostly located in hard-to-reach gulches. Flareups and reports of smoke have been well within the burn area, and have not posed any threat to public safety or fire expansion, the MFD says.
The Pulehu/Kihei fire was declared 100 percent contained on August 12.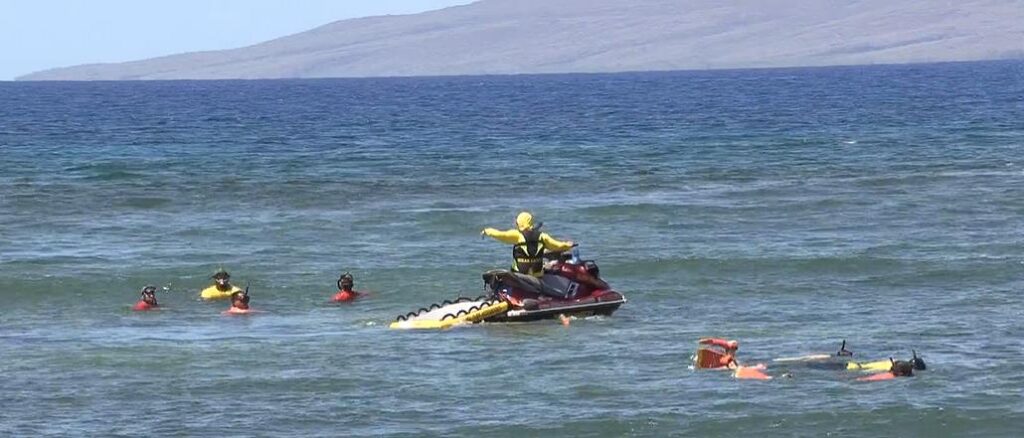 The Search Goes On
As of August 25, all of the single-story, residential properties in the Lahaina disaster area have been searched. Teams made up of 340 emergency personnel and 50 canine units now are searching multi-story residential and commercial properties.
Underwater search efforts for human remains that began August 18, continued today in near-shore waters at the Lahaina Small Boat Harbor and along the Front Street breakwater. The search area stretches four miles (6.4 km), from Puamana Beach Park on the south end of Lahaina to Waihikuli Wayside Park on the north.
A team of 40 from the Maui Fire Department and Ocean Safety are using personal watercraft to conduct grid searches in hopes of finding people who died after climbing over a seawall to escape the flames devouring Lahaina's downtown.
The searching firefighters are using snorkel gear, instead of the dry suits and fully encapsulated face masks used last weekend by rescue and dive crews. The state Department of Land and Natural Resources' Division of Conservation and Resources Enforcement is providing on-water support.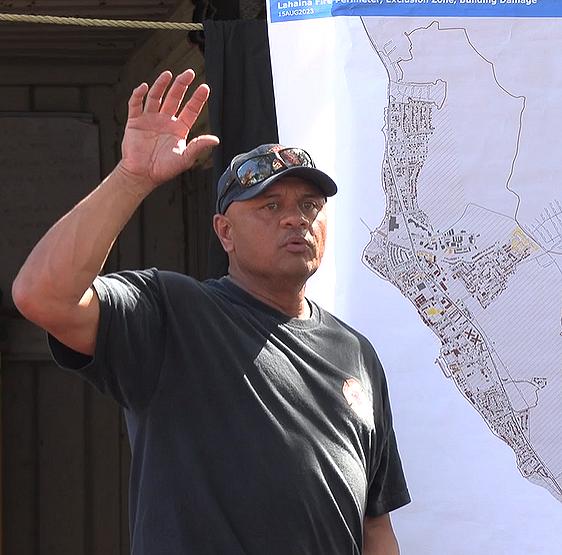 "We're going though this sizable area from with a fine-toothed comb," said Maui Fire Dept. Captain Peter Vanderpoel. "Even with a crew this size, I have no doubt this is going to be a multi-day operation."
"We do know that people went into the water here, so we're taking a much more forensic approach to the search here because there's a high probability that we will find items in this area. We're going through a fine-toothed comb in this area. Other areas outside of here a little bit more of a broad search. We're really being meticulous in the area along Front Street," Vanderpoel added.
Firefighters and first responders have been working nearly non-stop for more than two weeks. Some lost their homes. Vanderpoel said, "Right now, I think overall we're holding up very well. Everbody is still in the fight mode. There's work to be done. We're here to stay with it and work until duty does not require us to work anymore. Overall, spirits are high. Even the guys who lost their homes are here."
Currently, the Lahaina disaster area is restricted to authorized personnel only. Media and residents are not allowed in the disaster area as significant hazards exist. Dangers include ash that may contain toxic, cancer-causing chemicals including asbestos, arsenic, and lead with debris including broken glass and exposed electrical wires.. Unstable buildings and structures may contain hazardous materials and could collapse causing injury, the Fire Department warns.
There is no list that authorities are using to escort residents back into the disaster area. Maui County says, "There will be a coordinated effort to develop a plan for the safe return of residents. Maui Police, FEMA, and the National Guard cannot facilitate any requests at this time."
Excavators and other heavy machines are currently only being used in the Lahaina disaster area to assist emergency responders with the search and recovery process. Emergency crews are using heavy machines to move debris, including vehicles and building materials, so that first responders can safely examine properties as part of the search and recovery process. Heavy machines are not being used for any debris removal operations, and no debris removal operations are underway in Lahaina this time.
Challenges: Identifying the Missing and the Found
An FBI-validated list of 388 individuals reported unaccounted for was released by the County of Maui on Thursday. The names are being provided to the public in an effort to help identify anyone who can be accounted for.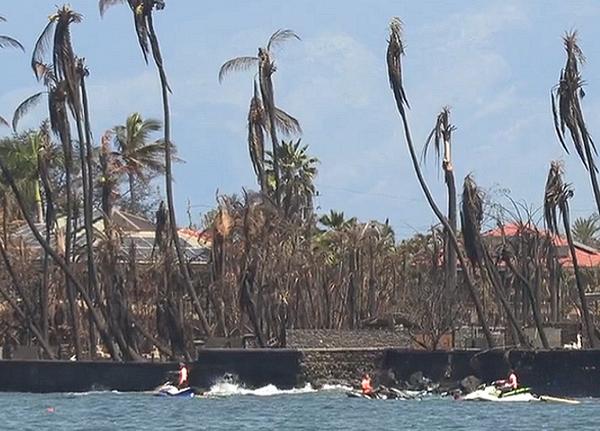 The Maui Police Department needs the public's help in providing information on anyone who is reported unaccounted for and whose name is on this list, but know the person can be accounted for. To view the list online, please visit www.mauinuistrong.info/unaccountedfor.
If you recognize a name on the list and know the person to be safe, or if you have additional information about the person that may help locate them, please contact the FBI at (808) 566-4300 or HN-COMMAND-POST@ic.fbi.gov as soon as possible.
"We're releasing this list of names today because we know that it will help with the investigation," said Maui Police Chief John Pelletier. "We also know that once those names come out, it can and will cause pain for folks whose loved ones are listed. This is not an easy thing to do, but we want to make sure that we are doing everything we can to make this investigation as complete and thorough as possible."
If you believe an individual is still unaccounted for and their name is not included on the validated list of names, please email unaccounted@mpd.net immediately to provide the Maui Police Department with any additional information you may have on that person.
As of late Thursday afternoon, an additional 1,732 individuals who had originally been reported as unaccounted for have since been found safe and well.
If you are an immediate family member (parent, sibling or child) of an individual you believe is still unaccounted for, please visit the Family Assistance Center in the Monarchy Ballroom at the Hyatt Regency in Ka'anapali to provide a DNA sample to assist with the identification process. The County of Maui is assuring people on its website that the DNA samples will not be stored or used for any other purpose.
"I want to make sure that we reassure people that by coming in and providing a DNA sample, the only purpose for which it will be used is identifying the unaccounted for," said Maui County Prosecutor Andrew Martin, who coordinates activities of the county's Family Assistance Center.
If you live outside of Maui, please contact the FBI at (808) 566-4300 or HN-COMMAND-POST@ic.fbi.gov to coordinate the submission of a DNA sample.
To see a video statement on the release of the validated list of names from Chief Pelletier, click here.
Electricity Back For Most on Maui
As of August 21, the transmission line connecting Kaheawa Wind Power I to Lahaina has been restored in Hawaiian Electric's continuing efforts to safely rebuild sections of the grid on Maui. More than 80 percent of the customers who lost electricity have their power back on. More than 90 percent of all customers on Maui have electricity, the company says.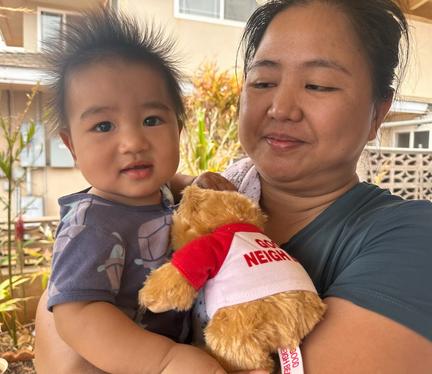 Roughly 1,800 customers in Olowalu, Lahaina and some surrounding areas remain without power. By the end of this week, Hawaiian Electric estimates that 95 percent of Maui customers who lost electricity will have their power back on.
More than 400 Hawaiian Electric employees and contractors from Hawaii Island, Lanai, Molokai and Oahu are on Maui to help restore remaining outages and rebuild infrastructure.
Hawaiian Electric has reached out to industry partners nationwide for essential materials needed for restoration work on Maui. Aid received from Mutual Assistance will help replenish critical supplies. The company has requested expedited delivery of materials from vendors and expects more supply shipments in the coming week.
Debunking Misinformation
Maui County is calling out misinformation and posting the facts on its website. Among the false rumors the county is debunking: there are no dead bodies from Lahaina washing up on the shores of the nearby island of Lanai.
The Federal Emergency Management Agency, FEMA, is not taking away anyone's land, and applying for FEMA disaster relief does not result in the loss of property.
There has been no dismantling of donation stations or dumping of donations into the trash. Instead, the county says, " Donations are welcome and we invite you to make emergency donations through Hawaii Community Foundation, Maui United Way, and Hawaii Region American Red Cross."
The County of Maui said today, "At Lahaina Gateway, local volunteers are helping deliver 4,000-5,000 pounds of ice a day to our West Maui families. Mahalo to Hawaii Foodservice Alliance for keeping the container deliveries of ice coming. People who have stepped forward to lead response efforts in their communities are the backbone of our island recovery. Our heartfelt mahalo to Maui volunteers for all you do."
Featured image: Fire destroys the historic town of Lahaina, Maui. August 8, 2023 (Photo courtesy Maui County)
© 2023, News Editor. All rights reserved.