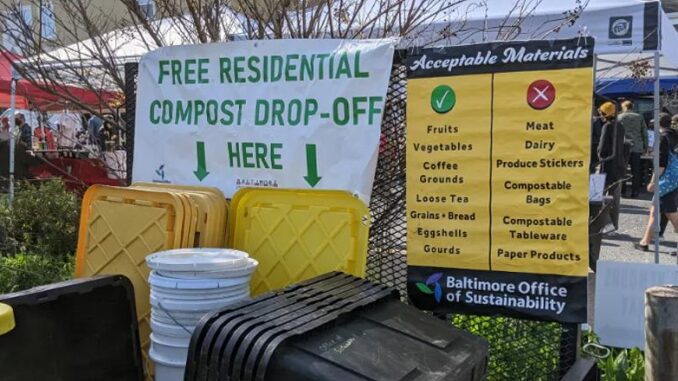 WASHINGTON, DC, September 14, 2023 (ENS) – The U.S. Environmental Protection Agency is receiving more than $100 million from President Joe Biden's Investing in America agenda to expand recycling infrastructure and waste management systems across the country. These funds will be EPA's largest recycling investment in 30 years.
EPA has selected 25 communities to receive grants totaling more than $73 million under the newly created Solid Waste Infrastructure for Recycling https://www.epa.gov/infrastructure/solid-waste-infrastructure-recycling-grant-program funding opportunity.
In addition, the agency is making available approximately $32 million for states and territories to improve solid waste management planning, data collection and implementation of plans.
The grants support achievement of EPA's National Recycling Strategy to build an economy devoted to keeping materials, products, and services in circulation for as long as possible, creating the start of a "circular economy."
"President Biden's Investing in America agenda tackles our most pressing environmental challenges including climate change and lead in drinking water, and today we add another historic investment to better manage waste in communities across America," said EPA Administrator Michael Regan. "By investing in better recycling, EPA is deploying resources to provide recycling services across the country, including in disadvantaged communities, while preventing waste that contributes to the climate crisis, supporting local economies and creating good-paying jobs."
"Recycling helps us protect our environment while creating jobs and promoting economic growth," said Senator Tom Carper, who chairs the Senate Environment and Public Works Committee. "Thanks to the Bipartisan Infrastructure Law, this unprecedented investment will provide communities across our country with the opportunity to improve their recycling programs and implement more sustainable waste-management practices."
The City of Baltimore, for instance, will receive $4 million to develop a solar-powered, scalable composting facility co-located with the new East Side Transfer Station at Bowleys Lane. The proposed development leverages funds from the transfer station development project, and from a partnership with Baltimore's Department of Parks and Recreation. This project will yield 12,000 tons of organic matter from landfill and incineration streams each year, reducing 6,000 tons of greenhouse gas emissions annually.
The City of Baltimore's Department of Public Works supports five food scrap drop-off locations at citizen convenience centers and two drop off locations at farmer's markets. To date, the convenience centers have diverted over 60,000 pounds of food scraps from the landfill. The pilot program started as part of the Food Matters grant program funded by the nonprofit Natural Resources Defense Council. After a year, the Department of Public Works is taking steps to make the program permanent.
With the new federal funding, Maryland will analyze data from within the state to support sustainable management of food residual diversion and recovery infrastructure, perform outreach to areas where there is high potential for organics diversion, identify roadblocks associated with organics recycling and support through education. Then, the state will publish the project results on Maryland's website, and host a food summit in 2026.
In a completely different type of project, the State of Washington will develop and implement a circular economy accelerator program to support projects for waste prevention, reuse, repair, recycling, and organics. The accelerator program includes six months of training and will feature a series of workshops on business and technical planning support, networking opportunities, and pitch development. This program will culminate in a pitch competition showcasing accelerator projects in front of potential partners and investors.
Bidenomics Backs Recycling
President Biden's Investing in America agenda, a key pillar of Bidenomics, is based on the policy of growing the American economy from the middle out and bottom up.
The Investing in America agenda includes:
– rebuilding the nation's infrastructure,
– driving over $500 billion in private sector manufacturing and clean energy investments in the United States,
– creating a manufacturing and innovation boom powered by good paying jobs that don't require a four-year degree,
– building a clean-energy economy that is lowering energy costs for hardworking families, and
– combating climate change and making American communities more resilient.
The new Solid Waste Infrastructure for Recycling grant program is authorized by the Save Our Seas 2.0 Act and funded through the Infrastructure Investment and Jobs Act, also called the Bipartisan Infrastructure Law. This law provides $275 million for Solid Waste Infrastructure for Recycling grants to support Building a Better America. This is allocated as $55 million per year from Fiscal Years 2022 to 2026 to remain available until expended. EPA received an additional $2.5 million in Fiscal Year 2022 funding to implement the program.
EPA's Solid Waste Infrastructure for Recycling Grant Program is also advancing the President's Justice40 Initiative, which aims to ensure that 40 percent of the overall benefits of certain federal investments flow to disadvantaged communities that are marginalized, underserved, and overburdened by pollution.
Approximately $56 million out of the $73 million earmarked for communities, or 76 percent of the total community funding, will go toward projects that benefit disadvantaged communities.
Recycling Grants for Communities
The recycling grants for communities will support improvements to waste management systems across the country and will range from $500,000 to $4 million per grant.
Selected projects include purchasing new fleets of recycling collection vehicles and bins to provide curbside recycling services for communities currently lacking access.
Funding covers upgrades to material recovery facilities to reduce contamination; enhancements to composting and organics programs and infrastructure; and construction of facilities that improve recycling, composting, and reuse infrastructure for materials such as plastics and food waste.
Grants for States and Territories
The recycling grants for states and territories will provide funding to all 56 states, territories, and the District of Columbia via grants ranging from $360,000 to $750,000; with the highest grant amounts supporting those states and territories that need it the most.
These grants represent important steps toward achieving the EPA's National Recycling Goal and Food Loss and Waste Reduction Goal.
Funded activities include improving post-consumer materials management programs through developing or updating solid waste management plans and strengthening data collection efforts.
The September 13 announcement for states, territories, and communities is the first round of funding from this new grant program. In the coming months, EPA will announce the selected recipients of the recycling grants for Tribes and intertribal consortia, as well as the recipients of EPA's new Recycling Education and Outreach grant program.
The Bipartisan Infrastructure Law provides $275 million total from fiscal year 2022 to fiscal year 2026 for grants authorized under the Save Our Seas 2.0 Act – the largest investment in recycling in 30 years. The recycling grants are supplemented with additional funding provided through EPA's annual appropriations.
EPA has selected these entities to receive funding for recycling infrastructure projects and anticipates making all the awards announced Wednesday once all legal and administrative requirements are satisfied.
For details about the Solid Waste Infrastructure for Recycling Grant Program selectees and other Bipartisan Infrastructure Law-related funding opportunities, click here to visit the EPA recycling grants webpage.
Featured image: