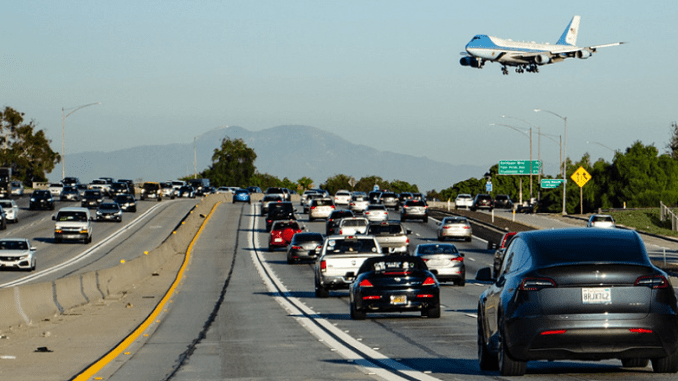 WASHINGTON, DC, March 10, 2022 (ENS) – The U.S. Environmental Protection Agency has reinstated California's authority under the Clean Air Act to implement its own greenhouse gas emission standards for cars and light trucks, which other states, too, can adopt and enforce.
The decision on March 9 reverses the Trump administration's 2019 attempts to revoke a waiver that allows California to set stricter standards than the federal government and affects 16 other states and the District of Columbia, which have adopted California's stricter standards:
"Today we proudly reaffirm California's longstanding authority to lead in addressing pollution from cars and trucks," said EPA Administrator Michael Regan, after leading a legal reconsideration of the Trump administration's position on the waiver..
"Our partnership with states to confront the climate crisis has never been more important. With today's action, we reinstate an approach that for years has helped advance clean technologies and cut air pollution for people not just in California, but for the U.S. as a whole," Regan said.
California Governor Gavin Newsom celebrated the decision. "I thank the Biden Administration for righting the reckless wrongs of the Trump Administration and recognizing our decades-old authority to protect Californians and our planet," Newsom said. "The restoration of our state's Clean Air Act waiver is a major victory for the environment, our economy, and the health of families across the country that comes at a pivotal moment underscoring the need to end our reliance on fossil fuels. California looks forward to partnering with the Biden administration to make a zero-emission future a reality for all Americans."
To accelerate the state's zero-emission vehicle, ZEV, goals, Governor Newsom has advanced investments such as a proposed $10 billion ZEV package, that has argues will deliver good jobs, spur innovation and help to clean California's smoggy air.
Together with the $5 billion investment in ZEV charging from President Joe Biden's Bipartisan Infrastructure Law, "these historic investments will help make ZEVs more affordable and convenient for all Californians, while building out clean transportation infrastructure and charging stations, especially in low-income communities," the governor said.
Luke Tonachel, director for clean vehicles and fuels at the Natural Resources Defense Council, said, "States have long been leaders in cleaning up tailpipe pollution, and the EPA is absolutely right to recognize this. State leadership is crucial to move our nation toward cleaner vehicles."
"While the previous administration tried to undermine this authority, the law clearly gives California and other states the ability to adopt standards to curb the pollution affecting the health of their citizens," Tonachel said. Reaffirming this legal authority will protect public health and help address the climate crisis."
With today's action, EPA is withdrawing Trump's SAFE-1 interpretation of the Clean Air Act that would ban other states from adopting the California GHG emission standards.
As a result, now other states may choose to adopt and enforce California's greenhouse gas emission standards in lieu of the federal standards, consistent with section 177 of the Clean Air Act.
With this authority restored, EPA will continue partnering with states to advance the next generation of clean vehicle technologies.
House Energy and Commerce Committee Chairman Frank Pallone, Jr., a New Jersey Democrat, said, "With today's announcement, the Biden EPA is reversing one of the Trump administration's most absurd and indefensible actions. Seventeen states and the District of Columbia have voluntarily adopted more protective clean car standards and now, after years of uncertainty and frustration, those standards will be upheld and respected."
"Today's action is a win for everyone since the waiver helps states improve air quality for communities across the country, spurs American innovation of clean vehicle technology, and ensures that consumers have access to the most advanced and efficient vehicles possible," Pallone said.
An increasing number of states are looking to follow the precedent set by California and adopt stricter vehicle emissions standards.
The Virginia legislature passed a measure in February to stiffen its emission regulations, and Minnesota and Nevada are considering similar bills.
If successful, those states would join the 16 others, plus Washington, DC, that have adopted California's vehicle tailpipe emissions standard.
Featured image: Air Force One flies across smoggy skies of over the 405 freeway carrying President Joe Biden to Long Beach, California to support Governor Gavin Newsom. Los Angeles, California, September 13, 2021 (Photo by Tracie Hall)