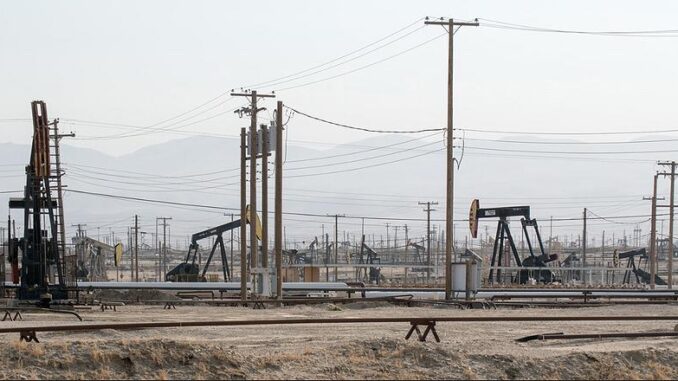 OAKLAND, California, September 18, 2023 (ENS) – Alleging decades-long campaigns of deception and statewide climate change-related damage in California, the State Friday filed a lawsuit against five of the world's largest oil and gas companies: Exxon Mobil, Shell, Chevron, ConocoPhillips, and BP, and the trade association the American Petroleum Institute. The companies have a combined market capitalization of over $1.2 trillion.
"For more than 50 years, Big Oil has been lying to us – covering up the fact that they've long known how dangerous the fossil fuels they produce are for our planet," California Governor Gavin Newsom said at the announcement event Saturday in Oakland. "California taxpayers shouldn't have to foot the bill for billions of dollars in damages – wildfires wiping out entire communities, toxic smoke clogging our air, deadly heat waves, record-breaking droughts parching our wells."
"With this lawsuit, California is taking action to hold big polluters accountable and deliver the justice our people deserve," Governor Newsom said.
Filed in San Francisco County Superior Court, California's complaint asserts that although the companies have known since at least the 1960s that the burning of fossil fuels would warm the planet and change our climate, they denied or downplayed climate change in public statements and marketing.
As detailed in the complaint, California has spent tens of billions of dollars to adapt to climate change and address the damages climate change has caused so far, and the state will need to spend multiples of that in the years to come.
For a copy of the lawsuit, click here.
And California alleges that the deception continues today. The State alleges that the defendant companies' affirmative promotion of fossil fuel products as "Green," "Clean," or otherwise good for the
environment is likely to mislead California consumers about how use of those fossil fuel products leads to climate change.
The American Petroleum Institute, API, tried to blow the lawsuit off, saying that climate policy should be made in Congress rather than in the courts. The trade association pointed out that the industry has made progress in cutting emissions in recent decades, while providing affordable and reliable energy supplies.
"This ongoing, coordinated campaign to wage meritless, politicized lawsuits against a foundational American industry and its workers is nothing more than a distraction from important national conversations and an enormous waste of California taxpayer resources," Ryan Meyers, API senior vice president and general counsel said.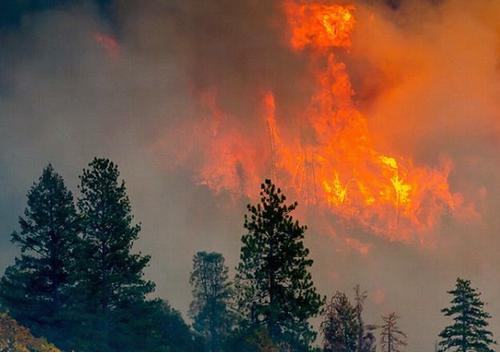 Shell said in a statement, "We do not believe the courtroom is the right venue to address climate change, but that smart policy from government and action from all sectors is the appropriate way to reach solutions and drive progress."
A Chevron representative, too, objected to making climate policy in court and told Argus Media that climate change is a "global problem that requires a coordinated international policy response."
But California is being battered by the warming climate, suffering worsening wildfires, longer droughts, soaring heatwaves, flooding rains and coastal erosion, and additionally must absorb the costs of coping with these impacts.
California's lawsuit includes seven distinct causes of action:
Public nuisance: Although a nuisance is often considered to be a small annoyance, under California law, a "nuisance" is "anything which is injurious to health," and a "public nuisance" is "one which affects at the same time an entire community or neighborhood, or any considerable number of persons." The complaint alleges that all the defendants, by their deceptions, acts, and omissions, have created, contributed to, and assisted in creating harmful climate-related conditions throughout California.
Damage to natural resources: California law authorizes the Attorney General to take legal action to protect the state's natural resources "from pollution, impairment, or destruction." The complaint alleges that the misconduct by all the defendants has served to exacerbate the climate crisis in California, and has led to the pollution, impairment, and destruction of California's natural resources.
False advertising: California law prohibits untrue and misleading advertising in connection with the disposition of property or services. The complaint alleges that all defendants, with the intent to induce members of the public to purchase and utilize fossil fuel products, made misleading statements concerning fossil fuels.
Misleading environmental marketing: Under California law, "[i]t is unlawful for a person to make an untruthful, deceptive, or misleading environmental marketing claim, whether explicit or implied." The complaint alleges that all defendants have made environmental marketing claims that are untruthful, deceptive, and/or misleading, whether explicitly or implicitly.
Unlawful, unfair, and fraudulent business practices: California law prohibits unlawful, unfair, or fraudulent business acts or practices. The complaint alleges that all defendants committed unlawful acts by, among other things, deceiving the public about climate change and affirmatively promoting the use of fossil fuels while knowing that fossil fuels would lead to devastating consequences to the climate, including in California.
Products liability (strict and negligent): The complaint alleges that, as a result of the defendants' failure to warn about the climate-related harms related to the use of their products, California has sustained many injuries and damages, including to state property, state infrastructure, and its natural resources.
To compensate for these damages Attorney General Reb Bonta is seeking on behalf of the people of California:
– nuisance abatement through the creation of a fund to finance climate mitigation and adaptation efforts;
– injunctive relief to both protect California's natural resources from pollution, impairment, and destruction as well as to prevent the companies from making any further false or misleading statements about the contribution of fossil fuel combustion to climate change; damages; and
– penalties.
"Oil and gas companies have privately known the truth for decades – that the burning of fossil fuels leads to climate change – but have fed us lies and mistruths to further their record-breaking profits at the expense of our environment. Enough is enough," Attorney General Bonta said at the Oakland announcement.
"With our lawsuit, California becomes the largest geographic area and the largest economy to take these giant oil companies to court," Bonta said. "From extreme heat to drought and water shortages, the climate crisis they have caused is undeniable. It is time they pay to abate the harm they have caused. We will meet the moment and fight tirelessly on behalf of all Californians, in particular those who live in environmental justice communities."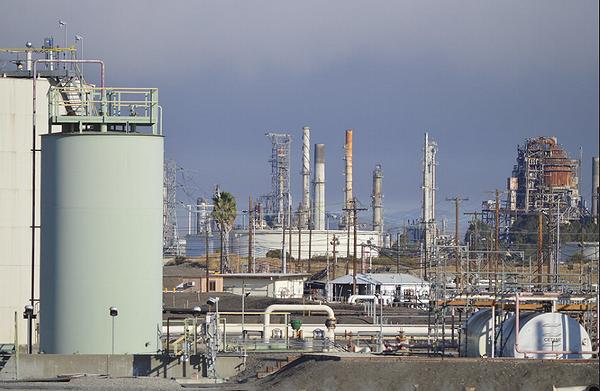 The complaint contains extensive evidence demonstrating that the defendants have long known about the catastrophic results caused by the use of fossil fuels.
For instance, in 1968, API and its members received a report from the Stanford Research Institute, which it had hired to assess the state of research on environmental pollutants, including carbon dioxide. The report stated, "Significant temperature changes are almost certain to occur by the year 2000, and . . . there seems to be no doubt that the potential damage to our environment could be severe."
In 1978, an internal Exxon memo stated that "[p]resent thinking holds that man has a time window of five to ten years before the need for hard decisions regarding changes in energy strategies might become critical."
In its current lawsuit, California alleges that the defendants have "deceptively portrayed themselves and their products as part of the climate solution." For example, Shell claims online that it aims to become a net-zero emissions energy business by 2050, and that it is "tackling climate change." However, Shell's CEO told the BBC on July 6, 2023 that cutting oil and gas production would be "dangerous and irresponsible."
Behind the Lawsuit, It's an Old Story
Scientific, environmental, and conservation organizations have been making this very case in the court of public opinion for many years.
Back in July 2015, for instance, the nonprofit Union of Concerned Scientists, UCS, issued a bombshell report, "The Climate Deception Dossiers: Internal Fossil Fuel Industry Memos Reveal Decades of Corporate Disinformation."
The report's core message, supported by many evidentiary examples, is that fossil fuel interests have covertly funded key, purportedly "independent" researchers "who continue to vocally challenge climate science in an effort to manufacture uncertainty where there is broad consensus."
Kathy Mulvey, accountability campaign director in the Climate and Energy Program at UCS was a lead co-author of the " Climate Deception Dossiers," and she has read all the memos. Now, eight years after publication, commenting on the California lawsuit linking the five oil companies to "decades of deception," she is looking to the U.S. justice system for resolution that will help the planet.
"California's suit adds to the growing momentum to hold Big Oil accountable for its decades of deception, and secure access to justice for people and communities suffering from fossil-fueled extreme weather and slow onset disasters such as sea level rise," Mulvey said upon hearing of the lawsuit. "As movements to reverse the tobacco and opioid epidemics have demonstrated, litigation is a powerful tool that can and should be used to hold bad actors accountable and to protect people and the planet over corporate profits."
"A rapidly growing body of scientific research attributes particular climate change impacts to heat-trapping emissions traced to the largest fossil fuel and cement producers. California's lawsuit reflects the growing body of evidence of what ExxonMobil, Shell, and other major oil and gas companies knew about the dangers their products posed to the global climate, and the devastating harms that have resulted from their lies, obstruction, and delay tactics," Mulvey said.
"It's past time for these companies to stop their greenwashing and disinformation campaigns and pay their fair share of the costs the climate crisis is imposing on Californians," she said.
This lawsuit makes California the eighth state and the largest economy to sue the oil and gas majors for climate deception. In addition, 36 municipalities, the District of Columbia, and one industry trade association are suing major oil and gas firms for deceiving the public about the climate damages they knew their products would cause.
Eight California cities and counties have also sued fossil fuel companies for their climate deception. Those cases, filed in 2017 and 2018, are expected to reach trial before the State's case and will not be superseded by California's lawsuit against the oil companies.
"California's decision to take Big Oil companies to court is a watershed moment in the rapidly expanding legal fight to hold major polluters accountable for decades of climate lies," said Richard Wiles, president of the Washington, DC-based nonprofit Center for Climate Integrity.
"As similar cases proceed toward trial," Wiles said, "California's move is an unmistakable sign that the wave of climate lawsuits against Big Oil will keep growing and that these polluters' days of escaping accountability for their lies are numbered."
Featured image: The Kern River Oil Field covers an area of 10,750 acres (43.5 km2) extending over the low hills north of Bakersfield, the densest operational oil development in California. Kern County produces 66 percent of the oil in California, about 10 percent of the U.S. oil supply, and about one percent of the world's total oil production. October 16, 2020 (Photo by Don Barrett)
© 2023, News Editor. All rights reserved.