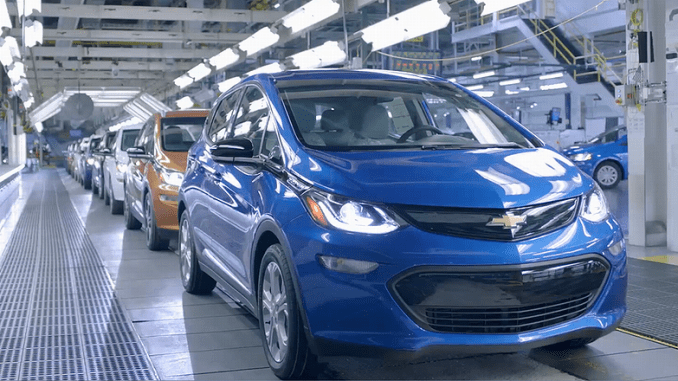 DETROIT, Michigan, September 15, 2021 (ENS) – In a setback for electric cars, General Motors has now had to recall every one of the approximately142,000 battery-electric Chevrolet Bolts it has ever produced due to potential battery fires while charging.
The risk is the potential of an unattended fire in the high-voltage battery pack underneath the back seat's bottom cushion.
The Bolt EVs are equipped with lithium-ion battery modules that have the potential to smoke and ignite internally. This fire could spread to the rest of the vehicle and cause a structure fire if parked inside a garage or near a house, warns the National Highway Traffic Safety Administration, NHTSA, which has opened an investigation into this issue.
GM will replace the Bolt EVs' defective batteries without charge to the owners. The automaker estimates an overall cost for this replacement at US$1.8 billion.
"Our focus on safety and doing the right thing for our customers guides every decision we make at GM," said Doug Parks, GM executive vice president, Global Product Development, Purchasing and Supply Chain.
"As leaders in the transition to an all-electric future, we know that building and maintaining trust is critical," Parks said. "GM customers can be confident in our commitment to taking the steps to ensure the safety of these vehicles."
The Bolt was first recalled in November 2020 after five Bolts caught fire although they had not been in accidents. That recall affected all model year 2017 and 2018 Bolt EVs, as well as certain 2019 Bolt EVs.
Chevy recalled a second batch in July. In August, GM issued a recall of 73,000 Bolts made from model years 2019 to 2022 – the third and final recall.
The recall now applies to all Chevrolet Bolt EVs, including those that may have received an earlier recall repair for the fire risk issue, the NHTSA states.
Who's to Blame?
The problem involves battery packs containing cells made at LG Chem's factory in Ochang, South Korea. Chevrolet says that, working with NHTSA, it confirmed a total of five Bolt EV fires caused by this issue, which occurred when charging the cars' battery packs to full capacity.
But a 2019 Bolt EV battery fire in Chandler, Arizona, prompted investigators to recognize that fires could also start in batteries made at other LG factories, such as the one in Holland, Michigan that supplied the batteries to that 2019 Bolt.
GM explains in a statement that experts from GM and LG Chem have identified the simultaneous presence of two rare manufacturing defects in the same battery cell as the root cause of battery fires in certain Chevrolet Bolt EVs.
GM says that the battery cell defects are a torn anode tab and folded separator, which increase the risk of a fire when both are present in the same cell. For a fuller technical discussion, click here.
Since December 2019, LG Chem and General Motors have been partners in battery production for electric vehicles. Then, the two companies announced plans to mass-produce battery cells for future battery-electric vehicles, promising to invest up to a total of US$2.3 billion into a new, equally-owned, joint venture company.
GM Will Replace Bolt Batteries, But Patience is Required
"Out of an abundance of caution," GM says it will "replace defective lithium-ion battery modules in Chevrolet Bolt EVs and EUVs with new lithium-ion modules. We will notify customers when replacement parts are ready." The Bolt EUV is a new battery electric vehicle (BEV) from General Motors' Chevrolet brand. The automaker introduced the new model as an expansion of the Bolt lineup, with the intent of offering SUV-like proportions to EV buyers.
The company is asking Bolt EV drivers to take the following steps until their batteries are replaced:
– Set your vehicle to a 90 percent state of charge limitation using Hilltop Reserve mode (for 2017-2018 model years) or Target Charge Level (for 2019-2022 model years) mode. Instructions on how to do this are available in the videos below. If you unable to successfully make these changes, or do not feel comfortable making these changes, GM is asking you to visit your dealer to have these adjustments completed.
– Charge your vehicle more frequently and avoid depleting the battery below approximately 70 miles (113 kilometers) of remaining range, where possible.
– Park your vehicle outside immediately after charging and do not leave your vehicle charging indoors overnight.
Featured image: Chevrolet Bolt EVs roll off the assembly line at the GM factory in Lake Orion, Michigan, 2019 (Screengrab from video courtesy General Motors)
© 2021, News Editor. All rights reserved.