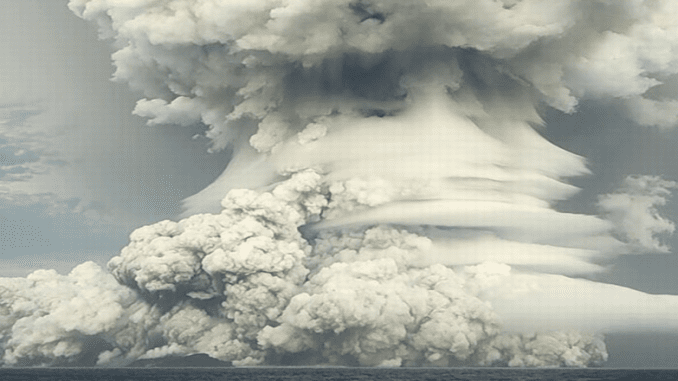 HONOLULU, Hawaii, January 15, 2022 (ENS) – A tsunami advisory was issued across the Pacific for the coasts of Australia, Alaska, California, Hawaii, Oregon and Washington after an undersea volcano erupted Friday night in the Tonga Islands, sending huge tsunami waves breaking onshore and people scrambling to higher ground.
A four-foot tsunami wave struck Tonga's capital, Nuku'alofa. Witnesses said ash fell from the sky when the volcano, Hunga Tonga-Hunga Ha'apai, about 40 miles north of the Pacific island chain's main island, erupted in an explosion visible from space.
The tsunami sent waves flooding across Tonga's shorelines. Satellite images showed a wide plume of ash, steam and gas rising into the air to about 12 miles over Pacific waters.
The Matangi Tonga news site reported that a team of scientists from Tonga Geological Services observed massive explosions, thunder and lightning near the volcano after it started erupting Friday afternoon.
"Yesterday there were massive explosives, thundering lightning within two miles away, we observed and recorded," said Deputy Secretary Tonga Ministry of Lands & Natural Resources Taaniela Kula, who led the scientific team.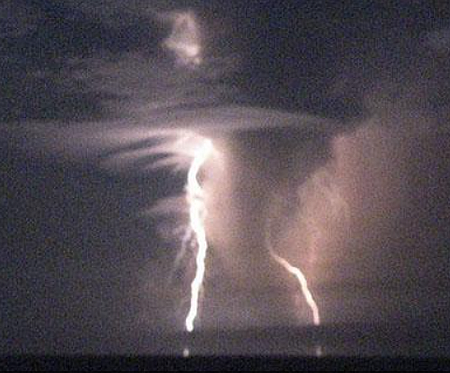 On Tonga, inhabited by about 105,000 people, video footage posted to social media showed huge waves swirling around homes, buildings, and a church.
Tonga's King Tupou VI was evacuated by police and military troops, according local news reports.
More than 1,400 miles away in New Zealand, officials warned of storm surges from the eruption. New Zealand's military is monitoring the situation and remains on standby, ready to assist if asked.
The Tonga Meteorological Services said a tsunami warning was declared for the entire archipelago, and data from the Pacific Tsunami Center showed waves of 80 centimeters (2.7 feet) had been detected.
Australia's Bureau of Meteorology issued tsunami warnings for Australia's east coast, including Queensland, New South Wales, Victoria and Tasmania. Evacuations were ordered on Lord Howe Island.
The U.S. National Weather Service is urging people who live on boats in coastal bays and harbors from Alaska to the California-Mexico border to seek shelter on higher ground. Experts do not expect widespread inundation, but warn that a series of dangerous waves may reach the coast hours after their initial arrival time, and the first wave may not be the largest.
The first waves to hit the continental United States were measured at about 30 centimeters (1 foot) in Nikolski, Atka and Adak, Alaska. The wave was about 20 centimeters (.7 feet) at Monterey, California, the U.S. National Tsunami Warning Center said in a tweet.
U.S. Cancels Tsunami Warning for Hawaii
The Pacific Tsunami Warning Center, PTWC, issued the tsunami Advisory for Hawaii at 12:40 am local time on Saturday. PTWC said then that the situation is being monitored and the advisory will be canceled when the hazard has passed.
At 10 am PST on Saturday, the tsunami wave heights across Hawaii were coming in "below advisory levels and are continuing to diminish," so the PTWC cancelled the tsunami advisory. "Small sea level changes and strong or unusual currents may persist for several additional hours in some coastal areas and appropriate caution should be exercised by boaters and swimmers," the PTWC advised.
The state reported that no major tsunami is expected to strike Hawaii but says the water displaced by the volcanic activity caused unusual sea level changes and alterations to typical sea currents starting at about 1:05 Saturday morning.
More detailed maps can be found at the NOAA's Tsunami Warning System website.
Featured image: Eruption at Hunga Ha'apai sends a gigantic plume of smoke and ash high above the Pacific Ocean. As witnessed by the scientists of the Tonga Geologic Services, TGS, observer team, a 5km (three mile) wide column of smoke and ash rises over 18km above sea level, January 14, 2022 at 5:14pm, Tonga time. (Photo by Taaniela Kula/TGS)