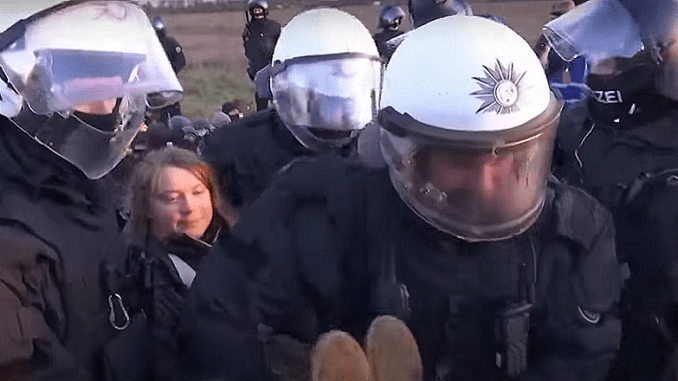 LUZERATH, Germany, January 17, 2023 (ENS) – Swedish climate activist Greta Thunberg was detained by police Tuesday while protesting a coal mine expansion that has emptied a now-abandoned hamlet in western Germany.
Video from the protest site at Lützerath shows three policemen carrying a smiling Thunberg away. Thunberg, who joined the sit-in on Friday, was then seen sitting in a large police bus, making a thumbs-up sign.
"We are going to use force to bring you to the identity check, so please cooperate," a policeman warned protesters, Reuters footage shows.
Police told the BBC that Thunberg was not under arrest and that she would be released after they checked her ID.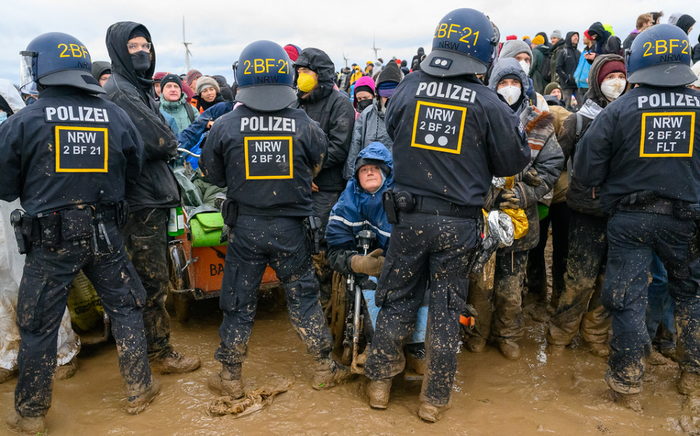 An Aachen Police spokesperson said Thunberg was detained after a group "rushed towards the ledge" of the Garzweiler 2 mine, adding that one activist had jumped into the mine, which is located 9km (5.6 miles) from Lützerath.
"Greta Thunberg was part of a group of activists who rushed towards the ledge. However, she was then stopped and carried by us with this group out of the immediate danger area to establish their identity," said the Aachen Police spokesperson.
Two police officers were injured Wednesday during the first day of evacuation operations in Lützerath, according to Aachen Police Chief Dirk Weinspach, who is directing the operation. The officers were fit for duty, he told reporters.
About 200 climate activists voluntarily left the area on the first day Chief Weinspach said. The real challenge still lies ahead for the police, he said.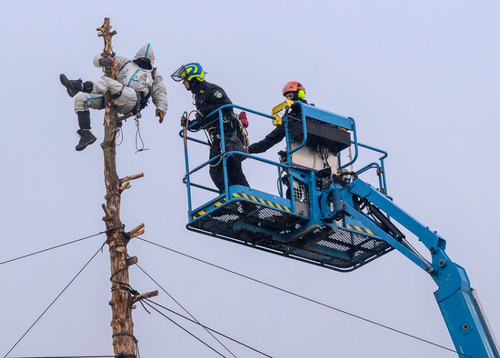 Hundreds of protesters have defied police at Lützerath, building shelters and watchtowers high in the trees connected by traveling lines and occupying them for two years.
Aachen, the nearest large city two hours drive away, is Germany's westernmost city, close to its borders with the Netherlands and Belgium. Lützerath, 40 kilometers (25 miles) west of Cologne, has become a center for climate protest.
Police began clearing the area of hundreds of protesters on January 11 at the request of RWE Power, the company that will extract the coal deposits beneath the abandoned village and sell the electricity.
Just two days ago, on Sunday, Thunberg and other protesters were physically removed from the site.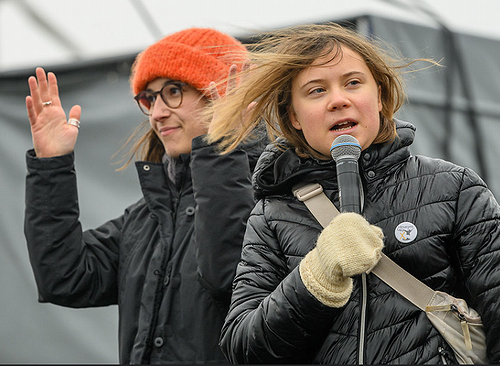 Protest organizers put the number of demonstrators near 35,000 on Saturday, but police said there were only about 15,000.
Insisting that mining and burning coal, a fossil fuel, will make climate crisis worse, climate activists want to prevent this.
RWE Power takes the position that the demolition and mining expansion now will "bring RWE's exit from coal forward by eight years to 2030."
"This means that the previously planned operating time of the company's coal-fired power plants has been halved," RWE said.
"All necessary licences and court orders have been granted and all original inhabitants left the village some time ago," the company said in a January 11 statement.
"The appropriation of the village," the company explained, "is part of a comprehensive political agreement between the German Federal Ministry for Economic Affairs and Climate Action, the Ministry of Economic Affairs, Industry, Climate Action and Energy of The State of North Rhine-Westphalia, and RWE."
Germany no longer depends on Russian imports for its energy supply, the country's finance minister has told the BBC.
Christian Lindner said Germany had completely diversified its energy infrastructure since Russia's invasion of Ukraine in February 2022.
Following the invasion, Russia turned off the gas to Europe, leading to fears of blackouts this winter.
Germany had imported half of its gas from Russia and more than a third of its oil. Russia cut off the gas supply in August 2022, and Germany ended Russian oil imports at the start of this year.
But Germany has now found new sources of energy from global markets, Lindner told the BBC.
In addition, Germany has delayed plans to close its three remaining nuclear power plants, and is increasing its capacity to store natural gas imported from Norway and the United States.
Germany also has reopened coal-fired power plants, which has raised the demand for coal from places such as Lützerath.
Featured image: Swedish climate activist Greta Thunberg, 20, is carried from the coal mine protest site at Lützerath, January 17, 2023, Lützerath, Germany (Screengrab courtesy Independent TV)
© 2023, News Editor. All rights reserved.