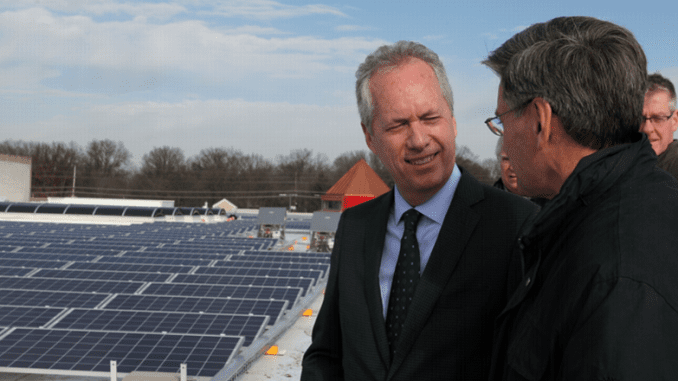 LOUISVILLE, Kentucky, January 15, 2022 (ENS) – Kentucky's largest city, Louisville, with its 1.1 million people, is partnering with the National Renewable Energy Laboratory, NREL, to achieve a clean energy goal that even city administration officials say is "ambitious." The Louisville city government last year passed a law that requires 100 percent clean electricity for municipal government operations by 2030, and the city is wasting little time making it happen.
The law also requires all city government operations, including transportation and building heating, to decarbonize by 2035 and community-wide decarbonization by 2040, less than 20 years from today.
Famed around the world for hosting the Kentucky Derby every May at its race course Churchill Downs, the city government is aware that electricity generation and consumption within Louisville currently are the city's greatest source of greenhouse gas emissions. The city wants to reduce its carbon footprint, find details here.
"Louisville is excited to work with the NREL, a proven organization in achieving and reaching renewable goals," Mayor Greg Fischer said. "We must increase the percentage of our city's energy sources that is run by renewables, and I believe, with the right partners at the table, we can do just that."
The initial goal of the Louisville-NREL Partnership was to provide a road map of potential options for the city government to meet its 2030 goal, considering both the city's energy sources and cost-effective opportunities to reduce electricity use.
"We've been able to have some targeted impacts very quickly," said Louisville-NREL Partnership Program Manager Owen Zinaman. "In the next phase of our work, we'll help identify which pathways should be prioritized over different timeframes."
The project got underway after a citizen's group, 100% Renewable Energy Alliance of Louisville (100% REAL), pushed the Louisville Metro Government to start making the change.
"We have an incredibly strong advocacy group here in Louisville that has done so much work to build community support, but we were unsure of how to start," said Allison Smith, assistant director of the city's Office of Advanced Planning and Sustainability, who oversees all the municipality's climate change and sustainability efforts.
"It's a really ambitious goal, and I don't know if we could have ever gotten this far without NREL's help," Smith said. "These are the people who can help us chart this course and figure out what our options are."
NREL is advising the city on setting up a Clean Energy Innovation Fund, which will collect money saved on utility bills due to energy efficiency in municipal buildings and then reinvest the savings in further energy efficiency measures.
NREL has already partnered with several state and local communities for similar programs, including Los Angeles Department of Water and Power for the Los Angeles 100% Renewable Energy Study (LA100).
Other partnerships include New York State Energy Research and Development Authority; Dallas, Texas; Kingston, New York; Orlando, Florida; and Kansas City, Missouri.
Featured image: Louisville Mayor Greg Fisher squints into the sun as he shows off a new array of solar panels on a municipal building, 2021 (Photo courtesy Office of the Mayor)