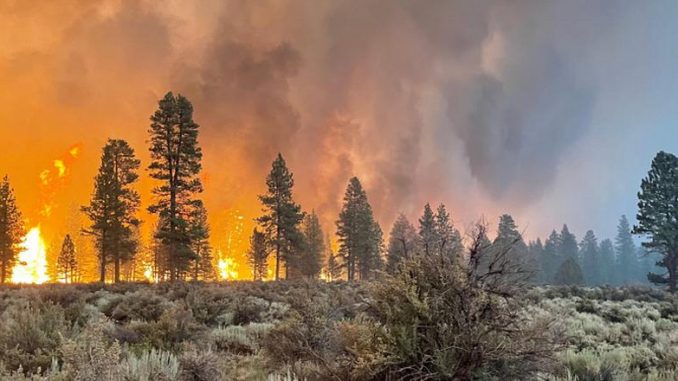 MEDFORD, Oregon, July 12, 2021 (ENS) – Members of the public cannot fly drones near the exploding Bootleg Fire on the Fremont-Winema National Forest and on private lands in southern Oregon, the U.S. Forest Service is warning. Any drone activity will cause officials to ground all airborne firefighting resources.
Helicopters and fixed wing water and retardant drops are being used to assist hundreds of firefighters on the ground working day and night to control the uncontained fire that has burned 153,535 acres north of the towns of Sprague River and Beatty.
Hot dry weather and extremely dry trees and brush are fueling what fire officials on the Bootleg Fire are calling "extreme, intense fire behavior" that has forced hundreds to evacuate, ripped through a residential area and is burning along a power line right-of-way that is interrupting power supplies to California.
As of Monday, 926 personnel were working to control the blaze with three Hotshot Crews, 16 crews with other special skills, 10 helicopters, six bulldozers, 83 fire engines and 25 water tenders – all of these resources being utilized at full capacity.
Desperately needed reinforcements are on the way. Two Type 1 Teams are being added to manage the fire and a surge force of structure protection resources is also arriving.
Conditions were so extreme on Sunday that firefighters had to disengage and move to predetermined safety zones. Fire managers evaluated conditions and looked for opportunities to reengage firefighters safely.
Blaze Burns Through California Transmission Line
This extreme fire behavior caused four miles of fire growth to the east and the north. The fire has burned through a residential area and along 12 miles of a high voltage powerline corridor linking the California grid with power generators in the Pacific Northwest.
"The fire is still right there around those power lines," Gert Zoutendijk, a public information officer for the Oregon State Fire Marshal told reporters.
"Really the fire is just exploding and continuing to grow dramatically," Zoutendijk said Saturday. "We are seeing doubling in size of the fire every 24 hours. We started with a smaller 3,000 acre fire, went to 16,000, then it went up to 35,000, and then 76,000 acres. So we know even during the day it'd getting bigger."
There have been no reported fatalities. Damage to structures and infrastructure is being assessed. The cause of the fire is under investigation, officials say.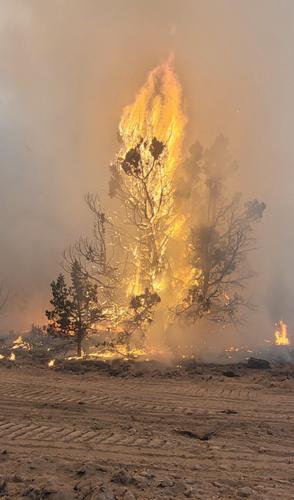 To help with firefighting costs for the Bootleg Fire, the Federal Emergency Management Agency, FEMA, has authorized the use of federal funds for a Fire Management Assistance Grant of $584,000.
Fire Management Assistance Grants are provided through the President's Disaster Relief Fund and are made available by FEMA to assist in fighting fires that threaten to cause a major disaster.
FEMA Region 10 Acting Regional Administrator Vincent Maykovich determined that the Bootleg Fire "threatens to cause such destruction as would constitute a major disaster."
In addition to the power transmission corridor, the fire is threatening roads, bridges, utilities, infrastructure, recreation and businesses in the area. Oregon continues to experience extreme heat conditions and has burn bans and red flag warnings in place.
The grants can cover expenses for field camps; equipment use, repair and replacement; mobilization and demobilization activities; and tools, materials, and supplies.
FEMA funding will be available to pay 75 percent of Oregon's eligible firefighting costs under an approved grant for managing, mitigating, and controlling designated fires. And after the fire is out, grants can be used for the correction of wildfire hazard conditions.
These grants do not provide assistance to individual home or business owners and do not cover other infrastructure damage caused by the fire.
Featured image: Bootleg Fire advances in south-central Oregon, July 10, 2021 (Photo courtesy U.S. Forest Service Inciweb)