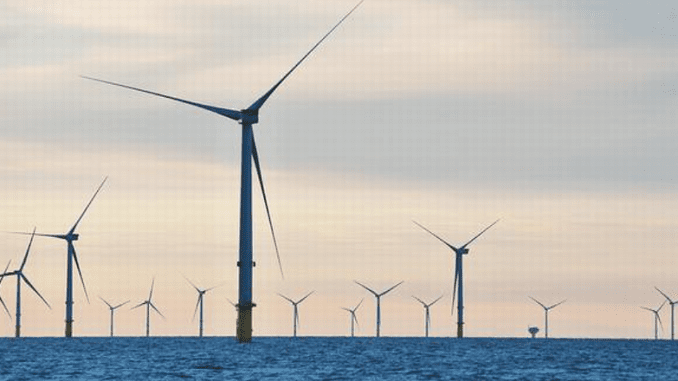 BRUSSELS, Belgium, January 23, 2022 (ENS) – "Offshore wind has the biggest growth potential of any renewable energy technology, but the policy environment needs to improve rapidly for offshore wind to reach international net zero targets," the Brussels-based Global Wind Energy Council said in its latest Offshore Wind Report 2021.
"Offshore wind today is only two percent of what the world needs to get to net zero by 2050," the Council says. The Council's 2021 report forecasts that 235 gigawatts of new offshore wind capacity will be installed over the next decade under current policies. That capacity is seven times bigger than the current market size, and is a 15 percent increase on the previous year's forecasts.
"A growing group of countries have identified offshore wind as a key technology for reaching climate targets, but governments now need to follow up on commitments and work with industry to allow investment to scale up rapidly," the Council said.
The global offshore wind market grew nearly 30 percent per year between 2010 and 2018 and the International Renewable Energy Agency, IRENA, based in Abu Dhabi, predicts it will grow 10-fold from now until 2050. IRENA estimates 45GW will be added each year by 2050, up from the 4.5GW of offshore wind power added in 2018.
Offshore wind development is moving ahead quickly in countries everywhere. Here's a quick scan of activities in the past few months, by region alphabetically.
ASIA
There are currently 695 offshore wind projects worldwide, according to IHS Markit's Petrodata Fieldsbase https://ihsmarkit.com/products/oil-gas-development-fieldsbase.html. Asia-Pacific hosts 46 percent of global offshore wind projects, of which 24 percent are in mainland China. Chinese offshore wind leads the region with 52 percent or 166 of the projects.
The pace of development is also accelerating in other Asia-Pacific nations, 49 projects located in Japan, 48 in South Korea, 29 in Taiwan and 23 in Vietnam.
China Leads the Region
China currently has a total of between 10 and 12 GW of offshore wind energy capacity.
A typhoon-resistant offshore floating wind turbine has been installed in southeast China's Guangdong Province. This wind turbine, with a power generation capacity of 5,500 kilowatt-hours can provide clean energy for 30,000 households every year.
Now, Chinese wind turbine manufacturer MingYang Smart Energy has an order to supply its 11 megawatt typhoon-resistant turbine to two deepwater offshore Guangdong wind farms with a combined capacity of one gigawatt. The 600MW Qingzhou I and 400MW Qingzhou II projects are due to be commissioned by 2023.
MingYang launched its 11MW turbine in July 2020. At the time it was the largest, most powerful turbine offered by a Chinese manufacturer, but the company has since unveiled a more powerful 16MW offshore wind turbine. The company's hybrid-drive turbines feature both a drivetrain and permanent magnet generator.
Meanwhile, in May 2021 the China General Nuclear Power Corporation, CGN, put an offshore wind farm into full operation in the waters northeast of Dalian Island off the coast of east China's Fujian Province.
The project, with 60 turbines, has a total installed power generation capacity of 240 MW.
It is expected to send about 960 million kWh of electricity to the power grid annually, saving 308,100 tonnes of standard coal and reducing carbon dioxide emissions by 900,000 tonnes a year, CGN claims.
CGN is China's largest nuclear power operator, and has invested heavily in offshore wind power over the years, building 2,358 MW of offshore wind-power projects in the country to date.
And on Christmas Day 2021, China's largest offshore wind farm in terms of single-unit capacity was connected to the power grid at full capacity. The Qidong offshore wind power project has a total installed power generation capacity of 802 MW.
Electricity generated by 134 wind turbines in waters off the eastern province of Jiangsu, around 35 km from the city of Qidong, was successfully transmitted to the power grid through undersea power cables, said the State Grid Jiangsu Electric Power Co.
The project is expected to send about 2.2 billion kWh of electricity to the grid every year, an amount equalling the annual consumption of 900,000 households.
As of December 22, 2021, the total installed capacity of wind farms off the coast of Jiangsu connected to the power grid had exceeded 10 gigawatts, GW.
One gigawatt is enough energy to power about 750,000 homes.
South Korea Develops Wind Farms Offshore Incheon
Danish energy company Ørsted has signed an agreement with Korea Southern Power (KOSPO) and Korea Midland Power (KOMIPO) to develop the Incheon offshore wind project in South Korea.
The 1.6GW offshore wind facility will have the capacity to generate enough renewable energy to power 1.3 million Korean households while displacing almost four million metric tonnes of carbon emissions a year.
The project will also support the South Korean government's green energy transition efforts and help it reach its net-zero emissions target by 2050.
It will require a total investment of more than KRW1tn (US$839 million) and is expected to create jobs for Incheon's economy.
The three companies intend to develop the offshore wind facility 70km (43.4 miles) from the Incheon coastline to reduce its impact on the environment and fishing waters.
Ørsted Group deputy CEO Martin Neubert said, "The MoUs with KOSPO and KOMIPO, two leading Korean utilities who could be the future off-takers of renewable energy certificates from the Incheon offshore wind farm, takes us an important step closer towards developing this flagship project."
Earlier this month, Ørsted signed an another agreement with KOSPO to jointly develop an 800MW offshore wind facility in Ongjin, Incheon.
The offshore wind farms are related to the Korean Green New Deal, which focuses on renewable energy, green infrastructure and the industrial sector.
Japan Explores Floating Wind Farms
The Japanese government aims to deploy 10 GW of offshore wind capacity by 2030 and 30-45 GW by 2040, including floating wind turbines, as part of its target to reach net-zero emissions by 2050.
Back in June, a consortium of six companies led by Toda Corporation was selected to build a 16.8 MW floating wind project offshore Goto City, Nagasaki Prefecture.
In August 2021, Kansai Electric Power and RWE, based in Germany, agreed to jointly study the feasilibility of a large-scalle floating offshore wind project off the Japanese coast.
Sven Utermohlen, COO Wind Offshore Global of RWE Renewables said, "We see great potential for floating wind farms worldwide, but especially in coutries with deeper coastal waters like Japan."
The, in December 2021, Japan launched its third offshore wind auction in the past three years to select the developer of up to 356 MW of offshore wind capacity in the Happo-Noshiro zone off Akita prefecture.
The auction opened on December 10, 2021, and the deadline to submit bids for the development of projects at the Happo-Noshiro zone is June 10, 2022. The winner is expected to be announced by December 2022.
NORTH AMERICA
Canada
No offshore wind farms exist in Canada, but projects totaling more than 3.6 GW have been proposed. The 400 MW NaiKun Project in Hecate Strait, British Columbia is the only West Coast proposal.
United States
President Joe Biden has set a goal to install 30 gigawatts of offshore wind power by 2030, generating enough electricity to power more than 10 million homes. In November 2021, work began on the first commercial-scale offshore wind farm in the United States, the Vineyard Wind 1 project off the coast of Massachusetts.
Now, U.S. federal agencies are collaborating to advance offshore wind energy. On January 12, the Bureau of Ocean Energy Management, BOEM, and the National Oceanic and Atmospheric Administration, NOAA, signed an interagency memo in support of the Biden-Harris Administration's offshore wind energy goals "to advance wind energy responsibly while protecting biodiversity and promoting cooperative ocean use."
This new agreement underscores BOEM's and NOAA's commitment to deploy 30 gigawatts of wind energy production capacity in federal waters by 2030.
"We are already seeing the impacts of climate change on communities across the country and the ocean resources that we manage. Now is the time to act. Working together, we will further advance offshore wind, which can play a critical role in meeting our country's energy needs while combating climate change and creating new family supporting jobs," said BOEM Director Amanda Lefton.
Thousands of turbines are in the federal approval pipelines for the Atlantic Ocean, and will provide wind energy to millions of American homes by 2030.
"This agreement is powerful and timely as we face climate change head on. It will help ensure coordination, collaboration, and alignment by NOAA and BOEM at key decision points in support of the administration's offshore wind energy goal," said NOAA Administrator Rick Spinrad, PhD. "It will also provide specific pathways for NOAA data and services while protecting our ecosystems and marine resources."
Maryland Approves Two Offshore Projects
On December 17, 2021, in a victory for clean energy advocates, the Maryland Public Service Commission approved two large offshore wind projects off the U.S. mid-Atlantic coast. Together they will yield nearly US$1 billion in additional in-state spending and spur the creation of more than 10,000 new direct jobs in Maryland.
The green light for the separate US Wind and Skipjack projects, places them among the largest offshore wind projects approved in the United States, along with other major initiatives in Virginia, New Jersey, and North Carolina.
The new proposed projects are in addition to the 368 MW of offshore wind already being developed by both companies off Maryland's shore and whose offshore wind renewable energy credits, ORECs, were approved by the Commission in 2017.
"The effects of climate change are real and, with its more than 3,000 miles of tidal shoreline, Marylanders are especially vulnerable," said Maryland Public Service Commission Chairman Jason Stanek. "That's why it is important for the Commission to take this action that will put our state on a path of deeper decarbonization and help Maryland achieve its aggressive clean energy goals. The residents of our state and region deserve no less."
The US Wind project will generate 808.5 megawatts of power with 55 turbines. The Skipjack project will produce 846 megawatts with 60 turbines. The two projects, combined, will create enough energy to power roughly a million typical homes.
Due in part to the legal efforts of the public interest law firm Earthjustice, the Maryland Public Service Commission has ruled that the operations and maintenance facilities serving the new projects will be net zero-emission facilities.
The MPSC is also requiring the new wind projects to file plans addressing how they intend to limit the emissions at each facility and updates reporting how successful each company has been in its efforts.
New York – New Jersey – Rhode Island
The South Fork wind farm off New York and Rhode Island to be built and run by Danish energy giant Ørsted, is the second of its kind to get federal approval for construction off the American coast. Only a five-turbine wind farm off Rhode Island built in 2016 is currently operating in U.S. waters.
Ørsted expects to have South Fork's 12 turbines operational by early 2023.
South Fork is the second offshore wind farm in planning at the federal level to receive the green light. The U.S. Department of the Interior approved it in November, and BOEM has issued its approval letter for the construction and operations plan.
Orsted and project partner the utility Eversource expect the work onshore to begin by early February and offshore later this year for as many as 12 turbines.
Those developments, along with last week's announcement that the Biden administration will hold its first offshore wind auction next month, show there's a lot of excitement, energy and progress in the U.S. offshore wind industry, said David Hardy, CEO of Orsted Offshore North America.
The auction is for nearly 500,000 acres in the New York Bight, and area off the coast of New York and New Jersey, for wind energy projects that could produce enough electricity to power nearly two million homes.
"There's a lot of activity, at the same time it's still a nascent industry," Hardy said this week. "So there are still a lot of unknowns and a lot of risk, quite frankly, to getting this started and getting it right and in achieving the full opportunities of the industry."
Some commercial fishing groups have complained that wind projects off the East Coast could interfere with efforts to catch seafood species such as scallops, clams and sea bass. A group representing fishing associations and companies, Responsible Offshore Development Alliance, has said the Biden administration has been moving forward on such projects at a staggering pace with insufficient environmental reviews or public comment.
Concerned about the esthetic impacts of the turbines, and potential lost tourism revenue, another group of New Jersey residents have sued BOEM to seek the reversal of its March 2021 decision to pursue the development of an area of ocean 30 miles off the coast of New Jersey for wind turbines.
Community group Save Long Beach Island accused BOEM in Washington, DC, federal court earlier this month of failing to prepare an in-depth report on potential environmental impacts of selecting 800,000 acres of the New York Bight to lease to developers that would install wind turbines.
The Interior Department said it consulted with commercial fisheries and other stakeholders before moving forward with the upcoming lease sale, resulting in a 72 percent reduction in the size of the proposed lease area off the coast of New York and New Jersey.
The South Fork Wind project will be about 19 miles (30 kilometers) southeast of Block Island and 35 miles (56 kilometers) east of Montauk Point, at the eastern tip of New York's Long Island. It will provide 130 megawatts of energy, enough to power about 70,000 homes,
Harnessing Winds in the Gulf of Mexico
BOEM said January 11 that the agency is preparing a draft environmental assessment to consider the impacts of potential offshore wind leasing in federal waters of the Gulf of Mexico.
The area that will be reviewed in the EA includes almost 30 million acres just west of the Mississippi River to the Texas/Mexico border.
BOEM says it will narrow the area based on stakeholder and ocean user input before advancing any Wind Energy Areas, which are offshore locations that appear most suitable for wind energy development.
"The Gulf of Mexico is well-positioned to support a transition to a renewable energy future, as much of the infrastructure already exists to support offshore wind development in the region," said BOEM Director Amanda Lefton. "BOEM's Environmental Assessment is an important step to ensure that any development in the region is done responsibly and in a way that avoids, reduces, or mitigates potential impacts to the ocean and to ocean users."
BOEM is seeking comments on considerations to be included in the draft EA for the Gulf of Mexico. BOEM will use these comments in its scoping process. For more information on how to comment, click here.
California Wind Areas Under Analysis
BOEM also is seeking public comment on a draft environmental analysis of a Northern California Wind Energy Area offshore of Humbolt County.
The Humboldt WEA covers 206 square miles that, if developed, could bring up to 1.6 GW of clean energy to the grid, enough to power approximately 560,000 homes.
The draft EA considers potential environmental impacts and socioeconomic effects from issuing offshore wind energy leases and related site characterization and assessment activities within the Humboldt WEA.
Site characterization activities include geophysical, geotechnical, archaeological, and biological surveys needed to develop specific project proposals on those leases.
Site assessment activities could include installation and operation of meteorological buoys in support of leases that may be issued.
"BOEM is requesting public comments on the adequacy of our environmental analysis and of the measures designed to avoid or reduce potential environmental impacts," said BOEM's Pacific Office regional director Doug Boren. "BOEM will consider such comments before determining whether to issue a finding of no significant impact or to conduct additional analyses under the National Environmental Policy Act."
Before approving the construction of any offshore wind energy facility on a potential future lease in the Humboldt WEA, BOEM will develop an Environmental Impact Statement to analyze the specific environmental consequences of constructing and operating such a facility, in consultation with Tribes and appropriate federal, state, and local agencies, and with participation by stakeholders and the public.
Comments on the Humbolt WEA close at 11:59 pm Eastern time on February 10, 2022.
To facilitate public input, BOEM will host two virtual meetings. The first meeting will be held on January 25, 2022, from 9 am to noon Pacific Time. The second meeting will be held on January 26, 2022, from 5 to 8 pm Pacific Time.
The draft EA, instructions on how to submit comments and information on the public meetings can be found online at www.boem.gov/HumboldtEA.
SOUTH AMERICA
Brazil Offshore Wind Energy Regulations Being Finalized
Brazil's government intends to conclude the process of consolidating contributions to the country's first offshore wind energy regulation by the end of January, a spokesperson for the Mines and Energy Ministry told BNamericas in an emailed statement on January 21.
According to studies by federal energy research company EPE, Brazil has offshore wind potential of 697GW in waters up to a depth of 50 meters, of which 276GW are in depths of up to 20 meters and 421GW between 20 and 50 meters, without considering other criteria such as socio-environmental factors.
Environmental regulator Ibama, the Brazilian Institute for the Environment and Renewable Natural Resources, is in the process of licensing 23 offshore wind power projects involving 3,486 turbines for 46.6GW of installed capacity:
Argentina Surprise
Brazil may be the front-runner in South America's rapidly emerging offshore wind play, but Argentina could surprise the market in the 2030s, writes Rikke Nørgaard in "Recharge News."
"So vast is the wind resource in Argentina that it could be harnessed to win the regional hydrogen race for the country as well, making it an international exporter of green hydrogen in the future," Norgaard writes.
EUROPE
Europe is the world leader in offshore wind power, with the first offshore wind farm installed in Denmark in 1991. By the end of 2015, 3,230 turbines at 84 offshore wind farms across 11 European countries had been installed and grid-connected, making a total capacity of 11,027 MW.
Globally, the United Kingdom is the largest player in offshore wind, with an installed base of nearly eight GW – enough electricity to power seven million homes, and another seven GW committed or under construction.
With a pledge from the UK government to increase the country's offshore wind energy generation to at least 30 GW by 2030, the UK is set to keep growing in offshore wind. More than 30 additional wind farms and related projects are already in planning or development to help reach those goals.
The UK government's long-term strategy to deliver at least one-third of the country's electricity from offshore wind was developed as part of a Sector Deal between the offshore wind industry and the government to substantially increase the country's affordable energy supply while reducing carbon emissions.
Triton Knoll Completed
Earlier this month, the last of 90 turbines was commissioned at Triton Knoll offshore of England's east coast. Once fully operational, the power output of Triton Knoll will be 857 megawatts, making it one of the world's largest offshore wind farms.
Triton Knoll will generate enough electricity to meet the needs of around 800,000 homes each year. Standing 164 meters (538 feet) tall, about the size of a five-story building, full operations of the 90 turbines are expected in the first quarter of this year.
Sven Utermöhlen, CEO of the Wind Offshore division of the German company RWE Renewables, said, "Commissioning the final turbine at Triton Knoll is a huge achievement, especially during a global pandemic. It's a great credit to the project team and to our supply chain partners that we have reached this milestone on time."
"The UK plays a key role in the delivery of RWE's Growing Green strategy and Triton Knoll is currently one of the largest offshore wind project realized by RWE. We are driving forward up to 2.6 GW of new projects off the coast of the UK, in addition to the 1.4 GW Sofia Offshore Wind Farm: As RWE we are committed to supporting the UK government's ambitious offshore wind targets," Utermöhlen said.
The project represents an investment of around £2 billion that includes construction of the wind farm and the grid connection. Triton Knoll is jointly owned by RWE (59 percent), the Japanese companies J-Power (25 percent) and Kansai Electric Power (16 percent). RWE led the wind farm's development as well as construction and will also operate and maintain it on behalf of the project partners.
Seabed Plots Auctioned by Scotland
The January 17 ScotWind auction of seabed plots by Crown Estates Scotland raised just under £700 million for the public purse, with First Minister Nicola Sturgeon hailing the scale of the opportunity as "truly historic."
Seventeen projects covering a total of 7,000 square kilometers have been chosen in the first such leasing round in a decade. They have a combined potential generating capacity of 25 gigawatts which will deliver more than triple the offshore wind energy needed to power every home in Scotland.
The ScotWind leasing auction attracted 74 bids from major oil companies, utility firms and investment funds from around the world. Companies such as BP Alternative Energy Investments and Shell New Energies paid tens of million pounds to secure the rights to create offshore developments.
Successful bidders include Scottish Power, which won the seabed rights to develop three new offshore wind farms with a total capacity of 7GW. They include two new floating projects in conjunction with Shell.
The partnership between Fred. Olsen Seawind and Vattenfall was successful as bidder in the Crown Estate Scotland's ScotWind offshore leasing round. This will deliver a project 67km off the east coast with a capacity of up to 798 MW, enough electricity to power over 700,000 UK homes.
The auction supports Scotland's net zero ambitions to deliver 11 GW of offshore wind by 2030.
Most of the sites are on the east, north east or northern coast, with just one on the western side of Scotland.
Scotland already has 1.9GW of operational offshore wind, and another 8.4GW in construction or advanced development.
Denmark, an Early Leader, Still Building Offshore
Vesterhav Syd and Nord will be the latest addition to Vattenfall's growing cluster of offshore wind farms in the North Sea now that the company has approved investment in these facilities.
Vattenfall, a Swedish multinational power company owned by the Swedish State, will further strengthen its presence on the west coast of Denmark by establishing a new service facility in the Port of Hvide Sande, which will service both Vesterhav Syd and Nord and another wind farm, Horns Rev 3.
The wind farms will consist of 20 and 21 turbines respectively with a capacity of 8.4 MW each. Combined, the installed capacity will be 344 MW. There will be 168 MW generated at Vesterhav Syd and 176 MW at Vesterhav Nord.
This electricity production can cover the annual consumption of more than 350,000 Danish households by the end of 2023 at the latest.
"We are pleased to have made the final investment decision for the Vesterhav projects. At Vattenfall we want to enable fossil-free living within one generation, and we will continue to work towards this goal step by step through projects such as the Vesterhav offshore wind farms," Vattenfall CEO Anna Borg said.
Germany and Spain Form Innovative Partnership
Siemens Gamesa based in Spain and Siemens Energy based in Germany are developing a commercial offshore wind turbine that produces hydrogen via electrolysis, the companies said, marking a breakthrough for the mass production of renewable hydrogen.
The companies are investing 120 million euros (US$146 million) in the system, which has not been previously reported on. It is the renewable industry's most concrete plan yet to capitalize on an expected boom in hydrogen demand.
In the European Union, renewable hydrogen, which can replace fossil fuels in sectors struggling to decarbonize, is seen as a way to meet goals to reduce emissions.
The ultimate fully integrated offshore wind-to-hydrogen solution will produce green hydrogen using an electrolyzer array located at the base of the offshore wind turbine tower, blazing a trail towards offshore hydrogen production, the companies said in a statement January 13. The solution will lower the cost of hydrogen by being able to run off grid, opening up more and better wind sites.
The companies' developments will serve as a test bed for making large-scale, cost-efficient hydrogen production a reality and will prove the feasibility of reliable, effective implementation of wind turbines in systems for producing hydrogen from renewable energy.
Sustainability Award Goes to Vestas
Danish offshore and onshore wind turbine maker Vestas has been named the most sustainable company in the world in Corporate Knight's 2022 ranking of the world's 100 most sustainable corporations.
According to Corporate Knights, a media, research and financial information products company based in Toronto, Canada, Vestas' ranking is based on a rigorous assessment of nearly 7,000 public companies with revenue over US$1 billion.
This year, Vestas came in first, jumping up the pecking order from the 21st spot secured in the 2021 ranking.
The company's compatriot and one of the world's largest offshore wind farm developers Ørsted, took seventh place this year, down from last year's second. Also, Spanish wind farm developer Iberdrola came in 25th this year, from last year's 19th place.
In a statement, Vestas said the ranking was linked "to the industry-leading progress of Vestas' sustainability strategy.
Launched in 2020, the strategy has made sustainability performance a core priority across the Vestas value chain and its supplier network.
As part of the strategy, Vestas has launched a circularity roadmap and governance structure, along with having its carbon emissions reduction targets for internal operations validated by the Science Based Targets initiative, as "being in line with the 1.5-degree scenario of the Paris Agreement," Vestas said.
Henrik Andersen, CEO, and President, Vestas, said, "Vestas has successfully helped our partners avoid more than 1.7 billion tonnes carbon emissions over the past four decades. Building a more sustainable future for our planet, however, demands that we do more. As the energy transition accelerates, Vestas is dedicated to making sure this transformation unfolds sustainably, in close collaboration with our partners."
Belgium Could Cut Offshore Wind Support
The Belga News Agency reported on January 21 that the Belgian government is considering cutting support for offshore wind farms by €177 million this winter and using this money to lower household and business energy bills.
Energy prices are part of the equation used by the Belgian government when calculating financial support for wind farms. Initially, wind farm operators were due to receive federal subsidies worth €812 million, Belga News Agency reports.
But with current energy prices reaching record highs, more money is flowing to wind turbine operators for the energy they produce. As the price of energy increases, the federal subsidies decrease.
Belgian Energy Minister Tinne Van der Straeten, a Green Party member, tweeted her support for the idea of taking surplus wind farm support to help offset this winter's high energy prices.
In the Belgian portion of the North Sea, there are currently 399 electricity-producing wind turbines, reports Belgian Offshore Platform. These turbines alone produce nearly 10 percent of Belgium's total energy needs.
The Late Comers
Africa
For most African coastal states, specific information about their offshore wind potential is not available.
But a 2019 study by scientists at the University of London evaluated the technical offshore wind potential of the entire continent using spatially explicit models and long-term satellite data.
Two different scenarios were developed to reflect different levels of technological maturity in the wind industry. The shallow-water, near-coast scenario 1 represented the conservative assumption that technology will not improve beyond what is available already now.
The deep-water, full-exclusive economic zone, EEZ, scenario 2 assumes the operational availability of floating platforms that would allow it to access wind resources at much deeper water depths across the entire EEZ.
Both scenarios indicate very good technical offshore wind energy potential for one third of the African coastal states, with Mozambique, South Africa, Somalia, Madagascar and Morocco exhibiting particularly good resources. South Africa, along with Mozambique and Mauritania, could utilize their excellent wind resources.
More than 90 percent of the offshore wind resources are concentrated in coastal zones associated to three African Power Pools – the Southern African Power Pool, the Eastern African Power Pool, and the Comité Maghrébin de l'Electricité, COMELEC. The researchers say a joint and integrated development within these power pools could offer a promising approach to utilizing offshore wind energy in Africa.
Australia, New Zealand, and the Pacific Islands
Australia currently has no offshore wind farms. In November 2021, the Australian Parliament approved laws which are intended to "support the development of Australia's offshore energy industry and deliver new jobs and investment in offshore windfarms and transmission projects."
In December 2021, plans for three major wind developments offshore Australia were announced, with two of them to use floating wind technology.
In a statement, Madrid-based BlueFloat Energy said it is seeking to develop the projects with advisory firm Energy Estate, which works in the Australian cities of Sydney, Adelaide, and capital Canberra.
The proposed facilities are:
– the 1.4 gigawatt Hunter Coast Offshore Wind Project, which would be in waters off Newcastle, New South Wales;
– the Wollongong Offshore Wind Project, set to have a capacity of 1.6 GW and be spread across two sites off Wollongong, New South Wales;
– the 1.3 GW Greater Gippsland Offshore Wind Project, planned for waters off Victoria's Gippsland region.
According to BlueFloat Energy, the Hunter Coast and Wollongong projects will float, while the Greater Gippsland wind farm will be a bottom-fixed development.
Carlos Martin, BlueFloat Energy's CEO, said in a statement, "Offshore wind energy is booming globally and now it is Australia's time."
BlueFloat Energy announced in November, 2021 that it has joined forces with two energy consulting firms to develop New Zealand offshore wind farms.
The BlueFloat-backed consortium is bringing together Australia's Energy Estate, which develops renewable energy and green hydrogen projects in Australia and New Zealand, as well as Elemental Group, a Wellington-based energy consulting company with expertise in the offshore wind sector.
For more information explore the Global Offshore Wind Farm Database online here.
Featured image: In January 2022, the last of 90 turbines was commissioned at Triton Knoll offshore of England's east coast. Once fully operational, the power output of Triton Knoll will be 857 megawatts, making it one of the world's largest offshore wind farms. (Photo courtesy RWE)