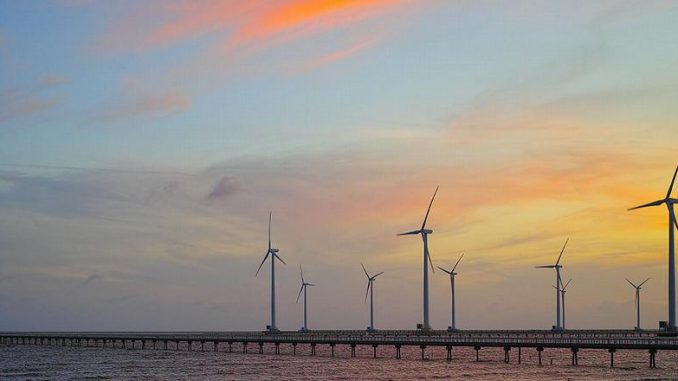 TOKYO, Japan, June 22, 2021 (ENS) – Japan's Mitsubishi Corporation has just boosted development of what will be Southeast Asia's largest onshore wind farm in southern Laos, by announcing a major investment in the project. Power from the wind farm will be sold to Vietnam Electricity, the state-owned electric power company under a 25 year agreement.
The 600-megawatt capacity wind farm project, to be located near the Sekong River in Laos' Sekong and Attapeu provinces, will be developed through an intermediate holding company, Diamond Generating Asia, Ltd., Mitsubishi's wholly owned subsidiary in Hong Kong, together with Impact Electrons Siam Co Ltd. in Thailand. The amount of Mitsubishi's investment was not made public.
"At the moment this is only about Laos and Vietnam," a Mitsubishi Corp spokesman told the "Khmer Times" newspaper last week, "but attention in the Kingdom is focusing more on renewables as oil and gas producers face problems tapping the country's fossil fuel reserves."
"Like the Laos wind farm, we may be interested in Cambodia or any other projects in Asian countries in future if Cambodia has the potential power to generate renewable energy," the Mitsubishi spokesman said.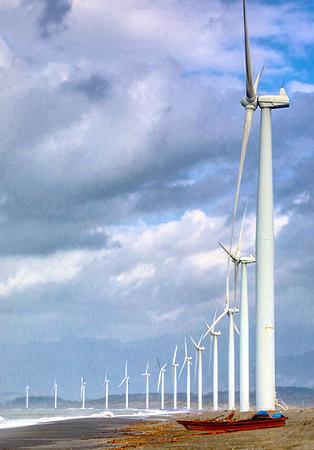 Vietnam is considered to have the best wind resources in Southeast Asia, especially in the offshore, nearshore and onshore coastal regions in the south of the country. In these areas yearly average wind speeds are measured at nine to 10 meters per second, the equivalent of 22 miles per hour. Wind speeds decline further inland.
Vietnam is vulnerable to extreme weather events like storms and typhoons in July, August, September and October, and in the dry season it is crucial to secure an additional power source because the operating rate of one of Vietnam's main power sources, hydropower, is limited.
The onshore wind farm in Laos is expected to operate at a high rate during the dry season, when hydropower generation is limited, and is expected to contribute to the stabilization of Vietnam's power system while making the country's energy mix greener.
Vietnam needs more power to support its growing economy. The wind farm is being developed as part of a memorandum of understanding on power interchange signed between the Vietnamese and Lao governments in October 2016.
If electricity exports from this project are realized, it is expected to be the first cross-border electricity interchange from wind power generation in Southeast Asia.
Mitsubishi said, "We will continue to contribute to the realization of a decarbonized society by striving to achieve both a stable supply of electricity in Vietnam and addressing the environmental challenges for the stable society."
Vietnam Has Few Wind Farms, More in the Works
Currently, the largest operating wind farm in Vietnam is the Bac Lieu Phase II project, with a capacity of 83.2 MW, which began generating power in 2015. The largest wind farm currently under construction is Bac Lieu Phase III, an offshore development with a capacity of 142 MW and 71 wind turbines.
The Bac Lieu projects are being developed by Vietnamese developer Cong Ly Construction-Trade-Tourism Company.
In 2019, the Vietnamese government approved the preparation of a feasibility study of the proposed Thang Long offshore wind farm project in an area off the cape of Kê Gà in Binh Thuan province, southern Vietnam. If the project is completed, it would then be the world's largest offshore wind farm with a capacity of 3,400 MW.
It is expected to cover an area of over 2,000 km2, with an average wind speed of 9.5 meters per second. The first turbines may be built with a capacity of about 9.5 MW, with larger capacity turbines planned for later stages.
United Kingdom renewable developer Enterprize Energy is leading the project, along with Vietnamese partners Petroleum Equipment Assembly & Metal Structure and Việt Nam-Russia Oil and Gas Joint Venture being engaged to undertake design, construction and installation of the offshore infrastructure, as well as connection to the transmission grid.
The first project to receive an offshore wind survey license in Vietnam, the Thang Long wind farm is located 50 kilometers from the coast of Binh Thuan, at a depth of 30 to 55 meters.
If the project proceeds, the first 600 MW is scheduled to come online in early 2023, with the remaining phases becoming operational in 2026. The developer has stated that total investment in this project is estimated at US$11.9 billion.
Enterprize Energy staff has organized consultation meetings in Binh Thuan with more than 400 fishermen to prepare for geophysical surveys, scheduled for later this year. Enterprize says it will use Vietnamese companies to provide equipment and services for the Project.
The goal is that the energy from this project will be provided at an affordable price for Vietnam. In addition to energy, Thang Long Wind is expected to stimulate economic growth in Vietnam because at least half of all construction and operational needs will be filled locally.
Asian Development Bank Funds Three Wind Projects
In addition, in May the Asian Development Bank, ADB, signed a US$116 million green loan with three Vietnamese companies owned by Power Construction Joint Stock Company No.1, PCC1, and RENOVA, Inc. to build and operate three 48-megawatt wind farms in Quang Tri Province.
The 144 megawatt project will increase Vietnam's wind power capacity by 30 percent, helping the country meet its rapidly growing demand for energy.
The loan forms part of a $173 million green loan project financing package arranged and syndicated by ADB, the bank's first financing of a wind power project in Vietnam.
"This is a milestone project which demonstrates how private financing can be effectively mobilized to develop wind power projects in Asia and the Pacific," said Jackie Surtani, ADB Private Sector Operations Department Infrastructure Finance Division director for East Asia, Southeast Asia, and the Pacific.
"This transaction is our first wind power project and the first time that we engaged with a group of international finance institutions and commercial banks," said PCC1 Board of Directors Chair and General Director Trinh Van Tuan. "ADB's leadership in deal structuring, due diligence, and loan syndications is very crucial for the success of this transaction."
RENOVA Founding CEO Yosuke Kiminami said, "We very much appreciate ADB's participation and tremendous support to ensure that the project meets international environmental and social standards."
A gender action plan under the project will provide women from the local community with access to training on wind power operation and management.
The three wind farms under this project will generate an average of 422 gigawatt-hours of electricity and avoid an average of 162,430 tons of carbon dioxide (CO2) emissions annually.
Featured image: Vietnam's offshore Bạc Liêu wind farm (Photo by Tycho via Wikimedia)
© 2021, News Editor. All rights reserved.