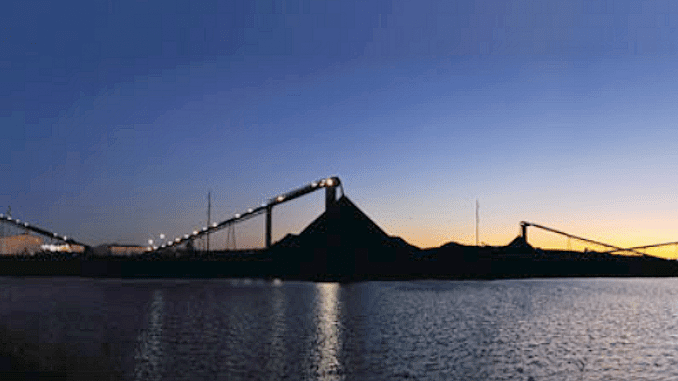 CHICAGO, Illinois, January 24, 2022 (ENS) – Illinois Attorney General Kwame Raoul has filed a lawsuit against Sugar Camp Energy, LLC alleging that the company violated the Illinois Environmental Protection Act by causing per- and polyfluoroalkyl substances, PFAS, to be discharged into waters near one of its coal mines. PFAS are also known as forever chemicals for their persistence in the environment.
The lawsuit alleges that the pollution is the result of Sugar Camp using firefighting foam containing PFAS in an attempt to extinguish an underground fire that erupted at its mine facility in August 2021.
Filed in Franklin County Circuit Court earlier this month, the lawsuit includes allegations of water pollution, creating a water pollution hazard, and discharges in violation of the limitations of the company's National Pollutant Discharge Elimination System, NPDES, permit.
"Sugar Camp jeopardized public safety and irresponsibly violated both state environmental statutes and the constraints of its permit by misusing dangerous forever chemicals," Raoul said. "Exposure to such chemicals can cause long-lasting damage to the environment and poses a serious risk to public health."
PFAS are human-made, synthetic chemicals that do not exist naturally in the environment. They have been used in nonstick cookware, water-repellent clothing, stain-resistant fabrics and carpets, cosmetics, firefighting foams, and products that resist grease, water, and oil.
PFAS are toxic to humans and animals, and they are resistant to degradation in the environment. PFAS contaminants may be linked to serious adverse health effects in humans and animals – increased serum cholesterol, immune dysregulation, pregnancy-induced hypertension, and kidney and testicular cancers.
Exposure to certain types of PFAS is also associated with low birth weight in humans, suppressed immune system response, dyslipidemia, impaired kidney function and delayed onset of menstruation.
Raoul's lawsuit seeks to require Sugar Camp to immediately take corrective action to stop the discharge of PFAS or firefighting foam containing PFAS, into nearby waters. The attorney general is seeking civil penalties of up to $50,000 for each violation, and additional civil penalties of $10,000 for each day the violation continues.
Sugar Camp owns and operates the Sugar Camp mine, a coal mining operation located near Macedonia, Illinois. In 2016, Sugar Camp was issued an NPDES permit that authorized the company to discharge wastewater from specified outfalls at its mining facility, but the permit does not authorize Sugar Camp to discharge PFAS.
The facility operates a network of pumps and pipelines that pump water from its two longwall mines in order to prevent underground flooding of the mines. This water is pumped to slurry impoundments at the facility, and is ultimately discharged into nearby waters, including the Middle Fork of the Big Muddy River.
According to court papers filed in the lawsuit, an underground fire broke out in one of the Sugar Camp Mine's two longwall mines on or around August 14, 2021. The fire continued to burn into October, when Raoul alleges that Sugar Camp used 46,000 gallons of firefighting foam firefighting foam containing PFAS to extinguish the troublesome fire.
The Illinois Environmental Protection Agency received a citizen complaint about firefighting foam in a farm field ditch and a tributary to Akin Creek, located near the facility. The IEPA inspection found evidence of the firefighting foam in the tributary and in other nearby areas. Lab analysis of water samples revealed the presence of PFAS. Later sampling done by Sugar Camp further revealed the presence of PFAS in the facility's impoundments and in permitted outfalls.
"Sugar Camp Energy, LLC's use of aqueous firefighting foam containing PFAS in the manner it did resulted in PFAS contaminated firefighting foam being discharged to the ground and impacting area water sources," IEPA Director John Kim said.
"Illinois EPA has serious concerns about the potential for environmental and health impacts related to PFAS and is taking a number of steps to address this emerging contaminant," he said. "This incident violated several provisions of the Illinois Environmental Protection Act, and the company must take action to address the environmental impacts."
Featured image: The Sugar Camp Coal Mine near Macedonia, Illinois (Photo courtesy Foresight)