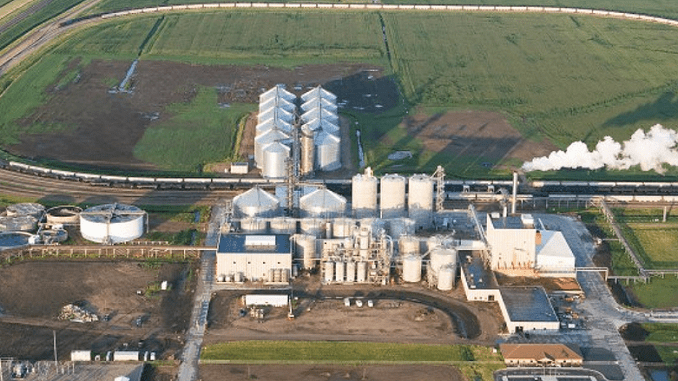 CASSELTON, North Dakota, March 4, 2022 (ENS) – North Dakota Governor Doug Burgum, a Republican, is convinced that carbon capture and storage is important to U.S. energy security. He supports a project that the company Summit Carbon Solutions of Ames, Iowa is developing – to construct a multi-billion dollar carbon capture and sequestration project in North Dakota that would serve five states.
Summit is behind the $4.5 billion Midwest Carbon Express project, with the goal of sending 12 million tons of the greenhouse gas carbon dioxide (CO2) annually to western North Dakota, where it can be stored underground. It would be the largest carbon capture project in the world.
This week, Summit announced that Continental Resources Inc., an American petroleum and natural gas exploration and production company based in Oklahoma City, will commit $250 million over the next two years to help fund the development and construction of the project's capture, transportation, and sequestration infrastructure, while leveraging its operational and geologic expertise to help ensure the safe and secure storage of carbon dioxide, CO2.
Summit intends to capture the greenhouse gas from ethanol plants and other industrial sources in Iowa, Nebraska, Minnesota, North Dakota and South Dakota.
In early 2021, Summit announced a partnership with dozens of ethanol plants across the Midwest. Summit will capture the CO2 before it is emitted into the atmosphere by the ethanol plants and send it via a 2,000-mile pipeline to North Dakota, where it will be sequestered in "extensively researched subsurface geologic formations."
Governor Burgum participated in Tuesday's funding announcement with Summit Agricultural Group CEO Bruce Rastetter and Continental Resources Chairman Harold Hamm and CEO Bill Berry. The press conference hosted by North Dakota entrepreneur Gary Tharaldson at the Tharaldson Ethanol Plant in Casselton, which is participating in the project.
"Combining the considerable resources and geologic expertise of one of North Dakota's most productive and pioneering oil and gas operators with this visionary model of carbon capture and storage is a win-win-win for our farmers and ethanol plants, environmental stewardship and U.S. energy security," Governor Burgum said.
"By capitalizing on our geologic jackpot of enormous underground storage capacity, we can safely store not only our own carbon dioxide but also our neighbors' CO2 while creating jobs, generating income for North Dakota landowners and strengthening our economy," the governor said.
"Continued investments in carbon capture and storage highlight the forward-thinking leadership throughout the biorefining industry," Nebraska Governor Pete Ricketts said. Nebraska is one of the five states involved in the Summit project. "This innovative approach shows the world that energy producers can pursue a reduced carbon footprint without sacrificing production vital to a secure economy that fuels America and beyond."
Ethanol produced from corn is currently the primary conventional renewable fuel used in transportation fuel, and its carbon footprint is shrinking.
A 2021 study https://iopscience.iop.org/article/10.1088/1748-9326/abde08 authored by a team led by Melissa Scully, staff scientist at Environmental Health & Engineering in Massachusetts, found that the carbon intensity for corn ethanol is now "46% lower than the average CI [carbon intensity] for neat gasoline," which is gas not mixed with other fuels.
Scully and her co-authors say the decrease is due to three factors: market-driven changes in corn production that lowered the intensity of fertilizer and fossil fuel use on farms; more efficient use of natural gas and recent electric generation mix data for energy consumed at ethanol refineries, and analyses based on models that account for land conversion, land productivity, and land intensification.
Even so, the U.S. corn ethanol industry has enemies. The effort to block ethanol has attracted ranchers, hog farmers, solar-power promoters, environmentalists and some scientists.
Yale University published a May 2016 article in Yale Environment 360, entitled, "The Case Against More Ethanol: It's Simply Bad for Environment."
The author, Professor C. Ford Runge, who teaches Applied Economics and Law at the University of Minnesota, concludes, "The truth is … that growing corn in the U.S. heartland still has a major environmental impact … Higher ethanol blends still produce significant levels of air pollution, reduce fuel efficiency, jack up corn and other food prices, and have been treated with skepticism by some car manufacturers for the damage they do to engines. Growing corn to run our cars was a bad idea 10 years ago. Increasing our reliance on corn ethanol in the coming decades is doubling down on a poor bet."
President of the Iowa Corn Promotion Board Kelly Nieuwenhuis disagrees with that assessment. He has been farming for 39 years in O'Brien County, Iowa – row crops, seeds and a large hog finishing facility. Now, Nieuwenhuis is heavily involved in the U.S. ethanol industry.
He is a member of the Board of Directors of Siouxland Energy Cooperative, a 65 million gallon ethanol plant in northwest Iowa, and he also serves on the state's Renewable Fuels Infrastructure Program Board. He is a member of the National Corn Growers Association Ethanol Action Team committee, and the U.S. Grains Council's Ethanol A-team, dedicated to expanding the global use and trade of U.S. ethanol.
In a February 26 letter to the editor of "Iowa Farmer Today," Nieuwenhuis wrote, "Ethanol, an industry responsible for consuming 53% of Iowa's corn crop, is an incredibly efficient, innovative fuel. While it already burns cleaner than traditional fossil fuels, new investments in carbon capture could make Iowa ethanol plants even more sustainable, competitive and successful in the future."
"Unfortunately, special interests bent on destroying the ethanol industry care little for the jobs, communities and people it supports. In their eyes, Iowa's foundational industry is an inconvenience," Nieuwenhuis wrote.
"Corn growers and ethanol producers have an ally. Summit Carbon Solutions is working to extend the life of 12 Iowa ethanol plants. These producers will not have to pay to retrofit their facilities, and the surrounding communities will benefit from new jobs, tax revenue, and stable corn markets," he wrote.
"Change is coming," Nieuwenhuis wrote. "With innovations like carbon capture, change will mean a bright future for Iowa."
Summit Carbon Solutions said the carbon capture and storage project is on track to be operational in the first half of 2024.
Featured image: The Tharaldson Ethanol Plant in Casselton, Iowa, undated, (Photo courtesy Heyer Engineering)