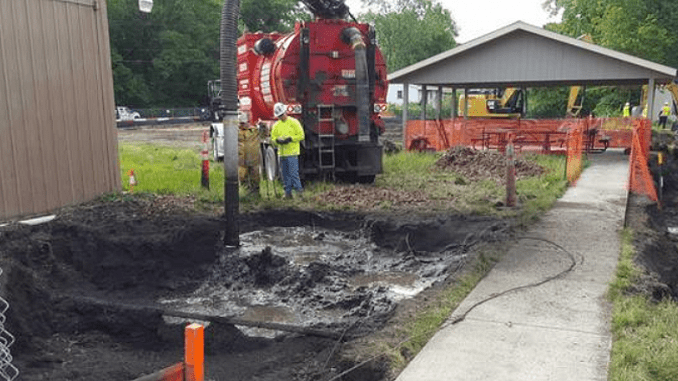 MICHIGAN CITY, Indiana, March 4, 2022 (ENS) – To resolve federal and state Superfund liability, Northern Indiana Public Service Company, NIPSCO, has agreed clean up soil contamination at individual residences within the Town of Pines Groundwater Plume Superfund site in Porter County, Indiana, at an estimated cost of $11.8 million.
The government's complaint alleges that the company is liable for the cleanup of coal ash from its power generation facility in Michigan City, Indiana that the company distributed as landscaping fill in the Town of Pines.
The soils are contaminated by coal ash containing hazardous substances, including arsenic, thallium and lead.
– Ingesting very high levels of arsenic can result in death. Exposure to lower levels can cause nausea and vomiting, decreased production of red and white blood cells, abnormal heart rhythm, damage to blood vessels, and a sensation of pins and needles in hands and feet, according to the U.S. Agency for Toxic Substances.
– When humans breathe thallium it can affect the nervous system, and if it is eaten it can cause death. "There are numerous case reports of human lethality following acute oral exposure to thallium," the U.S. Agency for Toxic Substances states. The agency also mentions cardiovascular problems and digestive tract issues following ingestion.
– Whether lead is eaten or inhaled the effects on humans are the same. "Lead can affect almost every organ and system in your body. The nervous system is the main target for lead poisoning in children and adults. Long-term exposure can result in decreased learning, memory, and attention, and weakness in fingers, wrists, or ankles. Lead exposure can cause low iron in the blood and damage to the kidneys. It can cause increases in blood pressure, particularly in middle-aged and older individuals. Exposure to high lead levels can severely damage the brain and kidneys and can cause death. In pregnant women, exposure to high levels of lead may cause a miscarriage. In men, it can cause damage to reproductive organs," the U.S. Agency for Toxic Substances states.
Coal ash contaminated with these substances is not what the residents of Town of Pines, a low-income community, need for their lawns and gardens. And the toxics have migrated to the groundwater under the town.
"This settlement requires NIPSCO to remove soil contaminated with coal ash from the utility's power generation facility, and to monitor groundwater in and around the Town of Pines, Indiana," said Acting Assistant Administrator Larry Starfield for EPA's Office of Enforcement and Compliance Assurance.
NIPSCO's Michigan City Generating Station is a coal and natural gas-fired power plant located on the shore of Lake Michigan in Michigan City, Indiana. At least two million tons of toxic coal ash are stored along Lake Michigan on the grounds of the NIPSCO facility.
"This cleanup work will help protect residents from exposure to arsenic and other hazardous substances," Starfield said.
The tiny Town of Pines is home to roughly 700 residents and covers 2.25 square miles. The Town of Pines Groundwater Plume Superfund site is located about four miles west of Michigan City and about one mile south of Lake Michigan.
EPA tested residential drinking water wells in the Town of Pines in May 2002, based on high levels of the metals boron and molybdenum found in drinking water wells by the Indiana Department of Environmental Management.
The metals appeared to come from coal combustion by-products, or CCBs, which result from burning coal to make electricity.
The landscaping fill was composed of fly ash that was disposed of in a nearby landfill. Other areas in the town were also identified as having CCB materials, including residential yards where fly ash was used as fill material and roads where bottom ash was used as bedding and surface material.
Northern Indiana Public Service Co., Brown, Inc., Ddalt Corp., and Bulk Transport are the companies determined to be responsible for the contamination.
"Today's settlement requires NIPSCO to address the contamination it contributed to the Town of Pines Superfund site," said Assistant Attorney General Todd Kim of the Justice Department's Environment and Natural Resources Division. "This settlement is a critical step toward the remediation of the site and will minimize risks to owners of contaminated property and to the environment."
"This settlement will help protect the environment and the health of people in northwest Indiana by cleaning up coal ash from residential properties," said Administrator Debra Shore of EPA Region 5. "Removing contaminated soil and monitoring groundwater at the Town of Pines site is a vital part of this settlement with NIPSCO."
The consent decree requires NIPSCO to identify residential soil contamination above clean up levels from its disposal of coal ash, excavate the contaminated soils, and transport excavated contaminated soil to a licensed waste disposal facility.
"By entering into this settlement with EPA and the state, NIPSCO will complete the process of cleaning up and restoring residential yards impacted by the disposal of coal ash in the Town of Pines and ensure the safety of the drinking water supply by monitoring both drinking water and groundwater wells for potential contamination caused by the disposal," said Commissioner Brian Rockensuess of the Indiana Department of Environmental Management.
NIPSCO is also required to restore excavated properties using clean backfill, implement restrictions at the excavated properties where necessary to prevent exposure to any remaining contamination that might be left at depth, and monitor residential drinking water wells, groundwater monitoring wells, surface water and sediments to ensure that the contamination has not migrated to those locations.
The company must reimburse EPA a large percentage of its past costs and pay all future costs incurred by EPA and the State of Indiana in overseeing the cleanup.
Indiana Attorney General Todd Rokita said, "Hoosiers stand to benefit from NIPSCO's commitment to reimburse taxpayers for public money spent during this lengthy process. They stand to benefit, as well, from the company's pledge to finish the cleanup in the Town of Pines made necessary by disposal of its coal ash in residential areas."
NIPSCO has until 2023 to close its Michigan City coal ash ponds. It's part of the company's plan to close all of its coal-fired power plants by 2028.
The consent decree, lodged in the U.S. District Court for the Northern District of Indiana, is subject to a 30-day public comment period and final court approval. To view the decree, click here.
Featured image: Vacuum truck excavates contaminated coal ash from the grounds around the pavilion used for outdoor recreation in Town of Pines, Indiana. (Photo courtesy U.S. EPA)