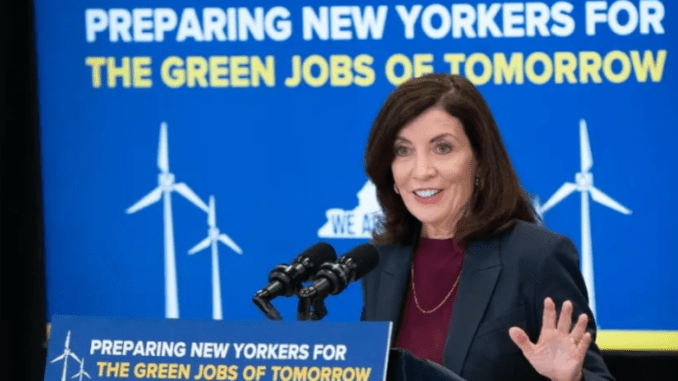 ALBANY, New York, November 14, 2022 (ENS) – A land transfer between New York State and Suffolk County late last month will bring a National Offshore Wind Training Center to the State of New York, Governor Kathy Hochul and Suffolk County Executive Steve Bellone have announced.
New York State is seeking to establish itself as the nation's primary hub for offshore wind. The planned National Offshore Wind Training Center supports the Climate Leadership and Community Protection Act, a State law with the goal of developing 9,000 megawatts of offshore wind by the year 2035.
"New York is leading the charge for the clean energy revolution," Governor Hochul said. "We are partnering with innovative, industry leading companies and spearheading billions in public and private investments to spur economic development and good-paying jobs for New Yorkers."
Governor Hochul, who rose from her post as lieutenant governor after Governor Andrew Cuomo resigned amid allegations of sexual harassment in 2021, won election to continue as governor on November 8, due in part to her strong support for job creation in the state.
"The national Offshore Wind Training Center will enhance our efforts to prepare our workforce for the green jobs of the future, support the physical infrastructure needed for these clean energy projects, and solidify New York's role as a global leader in this powerhouse industry," Hochul said.
The deal includes a 22-year license agreement between State and County for the NOWTC site. Suffolk County purchased the state-owned parcel located in the town of Brentwood in central Long Island for $1.46 million for the creation of a community-centered space that expands access to job opportunities and educational advancement for high school and college-age New Yorkers entering the workforce.
The newly established National Offshore Wind Training Center, NOWTC, will be funded by a $10 million investment by Sunrise Wind, which is a joint venture of the Danish multinational power company Ørsted A/S and New England's largest energy provider, Eversource Energy.
They have partnered with the Long Island Federation of Labor-AFLCIO, the Nassau and Suffolk Building and Construction Trades, Suffolk County Community College, International Brotherhood of Electric Workers, the Utility Workers Union of America, BlueGreen Alliance and Minority Millennials.
"Transitioning to renewable energy means transitioning our workforce to new job opportunities that serve the wind sector. This landmark facility, located in the heart of Long Island, will prepare our workforce for new career paths needed in manufacturing and technology to assist the renewable energy boom," Citizens Campaign for the Environment Executive Director Adrienne Esposito said.
"Providing communities with education, training programs and job placement fills an essential need for not only our island's workforce but also will uplift youth in disadvantaged communities. Providing exciting career opportunities that pay sustainable wages in a growth industry is a terrific way to engage our youth and put them on a path of success," Esposito said.
Training opportunities will be offered to underserved communities and priority populations, including veterans, people with disabilities, low-income individuals, homeless people, and single parents – in both the Capital Region and New York City.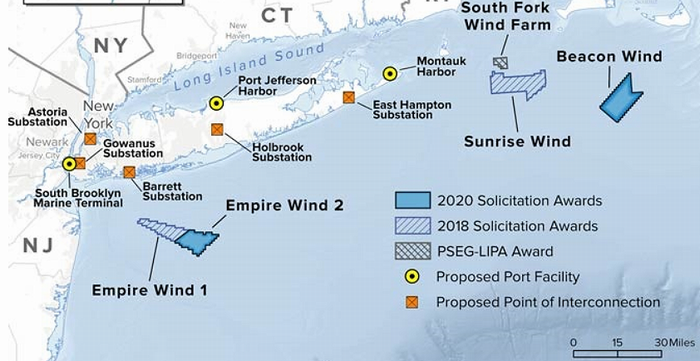 New York now has five offshore wind projects in active development – all south and east of Long Island. NYSERDA says it's the largest offshore wind pipeline in the nation, totaling more than 4,300 megawatts and representing nearly 50 percent of the capacity needed to meet New York State's nation-leading offshore wind goal of 9,000 megawatts by 2035.
Empire Wind 2 and Beacon Wind will bring tremendous economic benefit to New Yorkers. Together with Empire Wind 1 and Sunrise Wind, the awarded projects from NYSERDA's inaugural solicitation, the projects will:
– Power more than 2.4 million New York homes.
– Bring a combined economic impact of $12.1 billion to upstate, downstate, and Long Island.
– Invest $730 million in combined private and public funds in long-term port facilities and cutting-edge technologies. This investment includes the nation's first offshore wind tower manufacturing plant at the Port of Albany, New York.
– Support more than 6,800 jobs in project development, component manufacturing, installation, and operations and maintenance.
– Directly offer well-paying careers with salaries averaging $100,000 per year.
– Deliver economic benefits to disadvantaged communities and support the responsible retirement of aging fossil-fuel power plants near key environmental justice communities.
The National Offshore Wind Training Center is expected to train and certify thousands, of workers under Global Wind Organization training standards for offshore wind. The Center will offer curriculum and support services for ways of entering into pre-apprenticeship training for the construction industry as well as manufacturing certifications that will benefit regional employment.
Suffolk County Executive Bellone said, "Ensuring that every individual in every community in our region has the same opportunity for success is key to growing our economy. This community-centered hub is a place for education, government, industry and the community to come together to open doors to opportunity. The partnership with the National Offshore Wind Training Center will allow our residents to be at the center of the emerging offshore wind industry. I want to thank Governor Hochul for her commitment to workforce development and helping to usher in a new era of economic growth in our county."
The NOWTC will collaborate with the State's new Offshore Wind Training Institute, OWTI, to establish offshore wind and clean energy training and workforce development initiatives.
The State announced its $20 million investment in OWTI in early 2020, and the Institute began training workers the following year. The OWTI will train 2,500 New York workers beginning this year through 2027 to support both offshore and onshore renewable energy projects.
In late October, NYSERDA released the OWTI's second solicitation seeking proposals for new workforce development and training initiatives from technical/vocational high schools, community colleges, universities, unions, training and job placement intermediaries, community-based organizations and non-profit organizations. Nine million dollars in grant funding will be provided.
Selected training institutions will begin training workers shortly after the awards, which are expected starting in early 2023.
NYSERDA will prioritize projects that offer direct entry into the offshore wind workforce through partnerships with offshore wind original equipment manufacturers, distributors, vendors, suppliers, developers, labor unions, and trade associations.
NYSERDA President and CEO and Climate Action Council Co-Chair Doreen Harris said, "Under Governor Hochul's leadership, New York continues to cement its path to nine gigawatts of offshore wind while ensuring we establish a diverse, well-trained, locally based talent pool who through family-sustaining careers will develop, manufacture, construct, and operate our clean energy economy."
Basil Seggos, who serves as New York State Department of Environmental Conservation Commissioner and Climate Action Council Co-Chair, said, "With climate a priority of Governor Hochul's administration, our state is once again advancing efforts to support 9,000 megawatts of offshore wind by 2035 and achieve our ambitious Climate Act targets of 85 percent reduction of greenhouse gas emissions by 2050 and 100 percent zero-emission electricity by 2040 to protect our environment and combat climate change."
Featured image: New York Governor Kathy Hochul announced the National Offshore Wind Training Center will be coming to the future Brentwood Community Center. October 20, 2022 (Photo courtesy Office of Gov. Hochul)
© 2022, News Editor. All rights reserved.