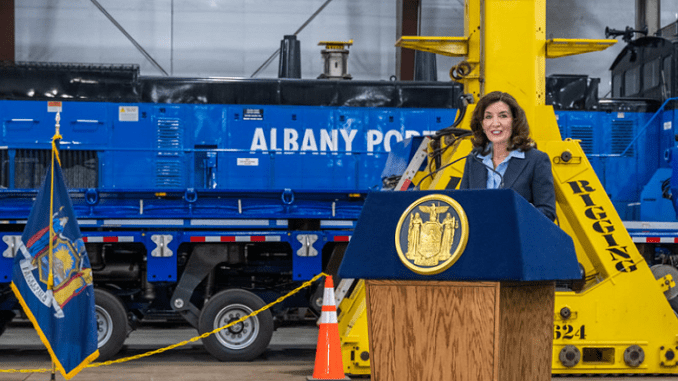 ALBANY, New York, January 17, 2022 (ENS) – New York Governor Kathy Hochul has announced a plan to make a nation-leading $500 million investment in offshore wind as part of her 2022 State of the State address. But a group of New Jersey residents is complicating matters with a lawsuit to prevent the construction of the wind turbines, claiming the giant machines will harm their ocean recreation experiences and their tourism business.
Governor Hochul says the plan will directly invest in offshore wind manufacturing and supply chain infrastructure, create thousands of good-paying green jobs, deliver billions in economic impact, and generate enough energy to power millions of homes.
"With this investment, New York will lead the nation on offshore wind production, creating green jobs for New Yorkers, and powering our clean energy future," Governor Hochul said. "I am proud to make New York a leader in offshore wind and renewable energy. We must harness the potential of offshore wind to fuel our economy forward and meet our ambitious climate goals."
But the New Jersey residents are suing the Bureau of Ocean Energy Management, BOEM, to seek the reversal of its March 2021 decision to pursue the development of an area of ocean 30 miles off the coast of New Jersey for wind turbines.
The community group Save Long Beach Island has accused BOEM in a Washington, DC federal court of failing to prepare an in-depth report on potential environmental impacts of selecting 800,000 acres of the New York Bight to lease to developers for offshore wind turbines.
The Save Long Beach Island group is led by Bob Stern, PhD, an engineering and math expert, and a Beach Haven resident who previously managed the U.S. Department of Energy office that oversaw environmental impact statements
and protection of the environment related to energy programs and projects across the United States.
This community group wants the site of the proposed wind turbines moved further offshore and out of sight to the Hudson South Call Area which is approximately 30 to 57 miles from the coastline.​ Stern and his group argue that Hudson South offers more potential for wind energy and will lessen the environmental impact of this project as compared to the current lease area which starts at just nine and 10 miles off the Long Beach Island coast. 
​​To that end, the group is urging BOEM to add Hudson South to the project's Environmental Impact Statement as an alternative to the current lease area. 
Regardless of the lawsuit, on January 12, Secretary of the Interior Deb Haaland announced that BOEM will hold a wind auction February 23 for more than 480,000 acres offshore New York and New Jersey, in the area known as the New York Bight.
For her announcement, Secretary Haaland was joined by New York Governor Hochul, New Jersey Governor Phil Murphy, and Liz Shuler, president of the American Federation of Labor and Congress of Industrial Organizations, AFL-CIO, to highlight what will be the first offshore wind lease sale under the Biden-Harris administration.
The auction will allow offshore wind developers to bid on six lease area, the most areas ever offered in a single auction, as described in BOEM's Final Sale Notice.
Leases offered in this sale could result in 5.6 to 7 gigawatts of offshore wind energy, enough to power nearly two million homes. As offshore wind technology continues to advance, these areas may have the potential to produce even more clean energy.
"The Biden-Harris administration has made tackling the climate crisis a centerpiece of our agenda, and offshore wind opportunities like the New York Bight present a once-in-a-generation opportunity to fight climate change and create good-paying, union jobs in the United States," said Secretary Haaland.
"We are at an inflection point for domestic offshore wind energy development. We must seize this moment – and we must do it together," Haaland said.
The Biden-Harris administration's goal to install 30 GW of offshore wind by 2030 is complemented by state offshore wind policies and actions throughout the Northeast and Mid-Atlantic. Collectively, New York and New Jersey have set the nation's largest regional offshore wind target of installing over 16 gigawatts of offshore wind by 2035.
"Offshore wind holds the tremendous promise for our future in terms of climate change, economic growth, strengthening our work force, and job creation," said Governor Murphy. "New Jersey is already committed to creating nearly one-quarter of the nation's offshore wind-generation market and these transformative projects are proof that climate action can drive investments in infrastructure and manufacturing, while creating good-paying, union jobs."
The New Jersey governor sees an opportunity to turn this vision of becoming a leader in the global offshore wind market into a reality.
"Here in New York, we are already living with the effects of climate change through extreme weather that pose a direct threat to our way of life," Governor Hochul said. "We must chart an ambitious path toward a cleaner energy economy now more than ever, and today's milestone further highlights New York's commitment to reaching it's offshore wind goals."
Featured image: New York Governor Kathy Hochul announces that the Port of Albany will be one of the locations where offshore wind turbines will be constructed. Albany, New York, January 14, 2022 (Photo by Darren McGee courtesy Office of Governor Hochul)