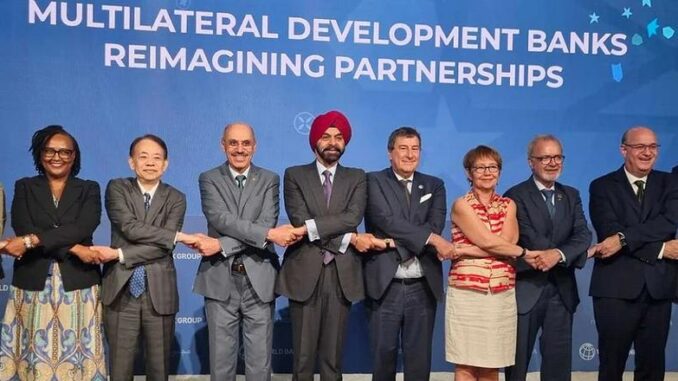 WASHINGTON, DC, October 30, 2023 (ENS) – The World Bank and the world's nine multilateral development banks are moving to strengthen their cooperation so they can fast-track solutions to problems in the lives of developing country residents.
The 2023 World Bank Group-International Monetary Fund Annual Meetings took place from October 9-15 in Marrakech, Morocco. There, the World Bank advanced its newly stated mission, "creating a world free of poverty on a livable planet."
Events and discussions in Morocco highlighted this new mission, focused on an expansion in financial capacity, stronger partnerships, deeper engagement with the private sector, and finding more efficient processes.
Stronger engagement with the other banks is a key element of the World Bank Group's new approach under its new president, Ajaypal Singh Banga, an Indian-born American business executive, who took over on June 2.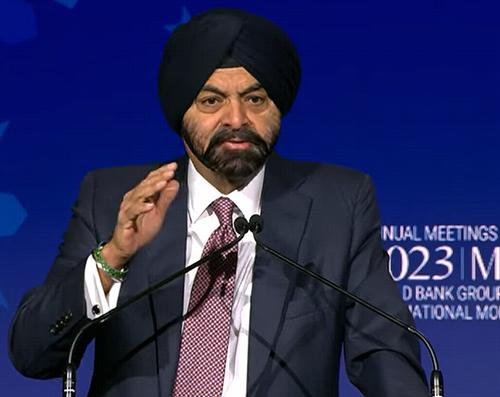 The African Development Bank, the Asian Development Bank, the Asian Infrastructure Investment Bank, the Council of Europe Development Bank, the European Bank for Reconstruction and Development, the European Investment Bank, the Inter-American Development Bank, the Islamic Development Bank, and the New Development Bank all joined the World Bank in the agreement sealed October 13.
"We must be the hand on the back – moving people forward. We must be an institution that exports optimism and impact. But we must change to make good on that promise and deliver on what is being demanded. … The World Bank is turning to face the wind," President Banga told the assembled multilateral bank executives.
"Working together for a common cause, we can bring more experience, expertise, knowledge, and, especially, more funding to the massive challenges facing the world today," Banga said. "Together, we are greater than the sum of our parts, and our impact can be multiplied exponentially."
In a statement, all 10 multilateral development banks announced their new relationship. "The world faces a global 'polycrisis' affecting human and economic development at an unprecedented scale. Progress towards the Sustainable Development Goals (SDGs) has been painfully slow. For many countries, that progress has stalled or reversed, while the climate emergency is felt in intensifying force around the globe, hitting the most vulnerable the hardest. A much scaled up global effort is thus required to eradicate poverty, accelerate inclusive socioeconomic development, and tackle transboundary challenges," the banks said.
"At a time of increasing debt levels and strained government budgets, when more development finance is urgently needed, we, Heads of Multilateral Development Banks (MDBs), recognize the collective role we need to play in response to the global challenges and the efforts that will put us on track towards achieving the SDGs. To this end, we are committed to strengthen our collaboration and individual actions for greater impact," the banks pledged. "We will also continue to explore ways to expand our lending capacity."
Measures already being implemented or under consideration by the banks could yield $300-400 billion of additional lending capacity over the next decade. The potential for impact from deeper partnership is enormous, helping improve lives as countries confront a perfect storm of intertwined crises – from climate shocks and conflicts to pandemics and surging debt.
On October 13, the heads of the multilateral development banks agreed to boost collaboration in five key areas:
Scaling up financing capacity through financial innovations, including portfolio guarantees and hybrid capital, while stepping up their joint approach to credit rating agencies.
Boosting collective efforts on climate as multilateral development banks implement their joint principles for assessment of Paris Agreement Alignment, and also providing for better tracking and reporting of climate outcomes beyond joint climate finance reporting.
Enhancing country-level collaboration to ensure that joint efforts deliver greater impact.
Strengthening co-financing by harmonizing and standardizing processes amongst all the 10 banks and seeking co-financing opportunities for greater speed and reach.
Catalyzing private sector engagement, including through joint innovative mechanisms that strengthen the mobilization of private capital.
In May, when the World Bank Board of Directors approved President Joe Biden's nomination of Banga as World Bank Group president, Biden said, "Ajay Banga will be a transformative leader, bringing expertise, experience, and innovation to the position of World Bank President. He will help steer the institution as it evolves and expands to address global challenges that directly affect its core mission of poverty reduction – including climate change."
The new agreement comes as the World Bank appears to be evolving, making a renewed push around partnership. As well as working closely with multilateral development banks, the World Bank is strengthening efforts to partner with the private sector, civil society, other multilateral institutions, and charitable organizations.
These partnerships share information and expertise on funding, enhance the exchange of knowledge and data, share lessons and best practices, and multiply networks of support and advocacy to drive success around shared priorities.
IMF Special Drawing Rights Rechanneled
The African Development Bank, AfDB, Inter-American Development Bank, IDB, the Rockefeller Foundation, and the Center for Global Development came together to co-host a high-level meeting on October 13 to discuss the rechanneling of Special Drawing Rights, SDRs, from contributing countries through multilateral development banks. The goal is to boost development and climate resilience lending to countries most in need.
The meeting took place on the sidelines of the International Monetary Fund and the World Bank Group annual meetings in Marrakech.
Participating ministers, senior government officials, and civil society representatives discussed the multiple crises facing developing countries as a result of the COVID-19 pandemic, the war in Ukraine, and the resulting food crisis.
The meeting also focused on the challenges countries face in accessing international capital markets in a high inflationary and high interest rate environment. They highlighted the urgent need for additional concessional resources to finance economic recovery, climate change and to give countries the fiscal space to manage debt burdens sustainably.
The two banks at the meeting outlined their proposed hybrid capital-based model for SDR rechannelling. The triple-A ratings and the strong financial track records of both the AfDB and the IDB in mobilizing resources at low cost from capital markets, would enable them to leverage SDRs allocated to them by a factor of three to four.
This means that $5 billion of SDRs rechannelled through the AfDB and the IDB can generate up to $20 billion of additional lending for development and climate resilience projects, including directly to the private sector.
IMF officials Kristalina Georgieva, managing direction; Bernard Lauwers, director of the Finance Department; and Ceyla Pazarbasioglu, assistant director Monetary and Capital Markets department, explained Special Drawing Rights in an October 13 article on the IMF blog.
In a nutshell, Special Drawing Rights are the IMF's unique international reserve assets that member countries hold as official reserves.
"Advanced economies with strong external positions obtain SDRs on top of already substantial reserves. Their portion of the SDR allocation, about $350 billion, in many countries in a sense sits 'dormant' because countries are already well protected. If they can be channeled from those economically stronger member countries to support their vulnerable low- and middle-income counterparts, they can provide real benefits to countries who need it most."
"Since 2021, that is exactly what has happened. The Group of Twenty and other economically stronger member countries have voluntarily pledged more than $100 billion of these reserves," the three IMF officials wrote.
"The bottom line is that SDR channeling is well underway and proving essential to meeting the demand for support," they blogged.
The meeting's conveners were joined by government and development partner representatives such as the IMF, Egypt, France, Kenya, Spain, Saudi Arabia, United Kingdom, United States, and the COP28 Presidency (UAE). The Bill and Melinda Gates Foundation, Development Reimagined, ONE Campaign, United Nations Economic Commission for Africa, UNICEF, the World Health Organisation, Asian Development Bank, the European Bank for Reconstruction and Development, IDB Invest, and the Islamic Development Bank also participated in these talks.
New Financing Tool Rewards Countries for Achieving Climate Goals
The Inter-American Development Bank, IDB, has become the first multilateral development bank to offer a financing tool that rewards countries for achieving nature and climate objectives.
The Biodiversity and Climate-Linked Mechanism for Ambition, called IDB CLIMA, currently in the pilot phase, will provide the borrower with a discount when nature and climate objectives of selected loan projects are met. The discount is provided in the form of a grant, in the amount of five percent of the loan's principal.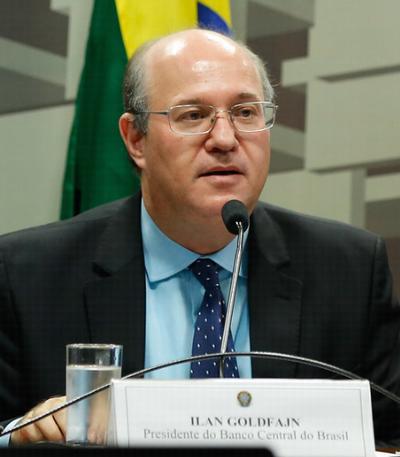 "We are excited to launch IDB CLIMA, a first among our peers. In aligning financial incentives with nature and climate action, this tool maximizes the impact of our development work by also rewarding efforts that will help countries mobilize capital," said IDB President Ilan Goldfajn.
To be eligible for the discount, the loan project must include financing to strengthen the capacity of national systems for environmental measurement, reporting and verification, MRV, and goals in this area also must be met to unlock the discount.
IDB research shows that higher levels of public and multilateral financing are needed for countries to meet climate targets. Under the Paris Agreement, countries pledged to begin strengthening their environmental measurement, reporting and verification systems by 2024.
A total of up to US$1 billion in loans from the IDB's Ordinary Capital will be provided for up to 10 projects chosen for the pilot phase of IDB CLIMA. Selected projects, which will involve national and subnational entities and financial intermediaries, also will receive non-reimbursable technical assistance and a dedicated support team.
The projects will be chosen based on geographical diversity, the state of the country's green-transition journey and the country's environmental challenges. They will also represent varying institutional capacities and levels readiness for market access, which will help test IDB CLIMA's ability to support the full range of IDB borrowers.
Islamic Development Bank and International Monetary Fund Draw Closer
At a meeting in Riyadh, Saudi Arabia on October 25, yhe Islamic Development Bank, IsDB, and International Monetary Fund, IMF, committed to enhancing their cooperation and joint work in the areas of Islamic finance and climate and green transition.
The meeting between the IsDB President and Group Chairman Dr. Muhammad Al Jasser, and IMF Managing Director Kristalina Georgieva on the sidelines of the Future Investment Initiative in Riyadh was based on past collaborations.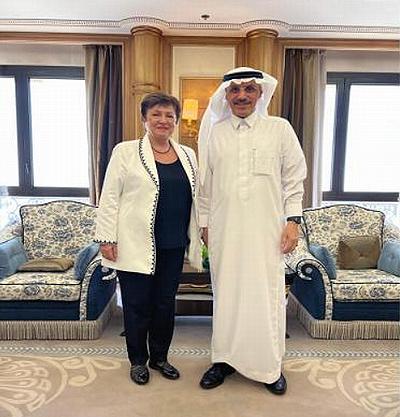 "IsDB was pleased to expand its partnership with the IMF in 2015 to support capacity development in Islamic finance," Dr. Al Jasser said.
"I reiterate IsDB's readiness to work with the IMF to bring it to fruition in order to draw attention to the slow pace of implementation," he said. "IsDB is ready to expand engagement with IMF on Financial Sector Assessment Program, FSAP, building on our experience with the Djibouti and Pakistan FSAPs."
For her part Georgieva expressed interest in deepening the partnership with IsDB beyond Islamic finance, especially on climate action, supported by the Resilience & Sustainability Trust, a US$50 billion trust fund established by IMF in 2022 to help low income countries and vulnerable middle-income countries build resilience to balance payment shocks and ensure a sustainable recovery.
Expressing the IsDB's gratitude to the IMF for the excellent cooperation and support extended to the IsDB statistics team, Dr. Al Jasser invited the IMF Managing Director to attend the IsDB 50th anniversary celebration event on April 2024 in Riyadh as a special guest.
Featured image: