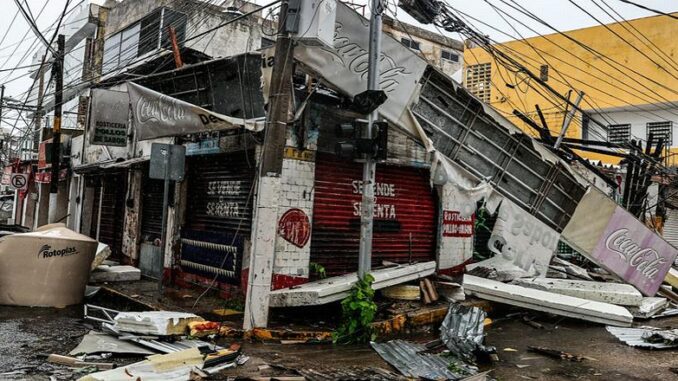 ACAPULCO, Mexico, October 27, 2023 (ENS) – Hurricane Otis slammed into the beach resort city of Acapulco as a Category 5 storm early Wednesday, claiming the lives of at least 27 people and leaving four others still missing, numbers that have remained unchanged for the past 24 hours, Mexican Defense Secretary Luis Cresencio Sandoval said in a news conference today.
One of the most powerful storms ever to strike the country, and the first Category 5 storm to reach Mexico's Pacific coast, Otis blasted across this city of about 825,000 residents at 165 miles an hour, flooding streets, blowing roofs off homes and hotels and destroying communications, road and air access.
Its rapid intensification from tropical storm to major hurricane in under 24 hours left little time to prepare. While authorities are still conducting official assessments, the Guerrero state governor, too, reports 27 dead and four missing, while 29 municipalities are still under red alert.
At the time that Otis made landfall, Acapulco's hotels were 50 percent occupied, but not any more. Miguel Angel Fong, president of the Mexican Hotel Association, told the Associated Press that 80 percent of the city's hotels had been damaged in the storm.
President Andres Manuel Lopez Obrador traveled the nearly 400 miles to Acapulco to view the damage. Arriving by road, he found knee-deep mud, and beachside high rises stripped of entire outer walls.
Obrador said the government is working to re-establish power and clean up the devastation. "What Acapulco suffered was really disastrous," he told a news conference.
Although Otis dissipated quickly over southwestern Mexico's mountainous terrain, the Acapulco area received up to 25 cm (nearly 10 inches) of rain, causing flash floods and landslides that persisted through Thursday. Acapulco is at the foot of steep mountains, and mountain communities still face landslide risks.
To help with the cleanup, close to 8,400 members of Mexico's military services were deployed in and near Acapulco, the defense ministry said.
As cellphone service returned to some parts of the city, residents used online messaging platforms to seek information on loved ones. Late Thursday, Guerrero state Governor Evelyn Salgado, too, began using online services, urging people to send messages to government WhatsApp accounts about the missing.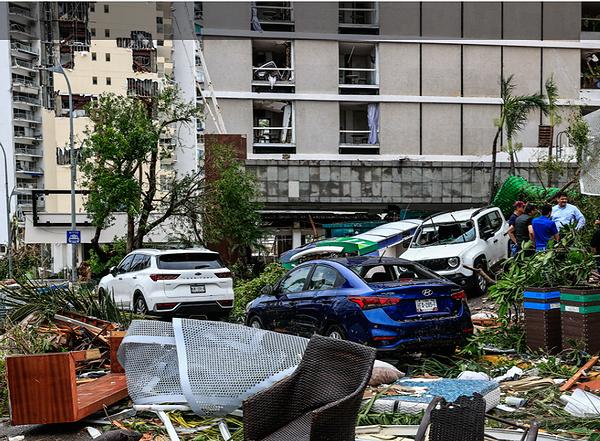 The main highway connecting Mexico City to Acapulco is severely damaged and so are other roads, rendering several communities inaccessible.
Authorities explained that it took 24 hours to partially reopen the main road connecting Acapulco to Chilpancingo, the state capital of Guerrero, and Mexico City. The damaged road is now allowing intermittent access for emergency vehicles and personnel, according to the UN Office for the Coordination of Humanitarian Affairs.
Electricity and telecommunication services were disrupted in the hurricane's impact zone, primarily in Acapulco's port.
Restoring power is a priority, as over 500,000 homes and businesses in Guerrero lost electricity, according to the Federal Electricity Commission, CFE. The agency reported that power has been restored to at least 40 percent of affected homes, meaning thousands remain without electricity.
The Acapulco municipal water system has not been operating due to power outages, and this has affected the city's hospitals and other basic services. Over 500 official shelters are operational, but figures on the sheltered or those displaced by the storm are not yet available.
Acapulco's airport remains non-operational, with runways available for emergency aid only.
Guerrero, home to numerous vulnerable communities at high disaster risk, previously experienced the impact of a major hurricane in October 1997 when Hurricane Paulina, a Category 4 storm, left more than 300 people dead.
Meteorologists have expressed concern over Otis's rapid intensification, noting it aligns with a trend of faster hurricane intensifications in this part of the world becoming more frequent in recent decades due to ocean warming linked to climate change.
Rapid intensification means a wind speed increase of at least 56 km/h (34.7 mph) in 24 hours or less, a level Otis blew past several times.
Intensification requires ocean warming, an issue of concern this year as the warming trend called El Niño has been growing in the Pacific in 2023, elevating climate-warmed ocean water temperatures even further.
Featured image: Hurricane Otis crashed into Acapulco with Category 5 winds of 270 kilometers (165 miles) per hour. (Photo by David Guzman/EPA)