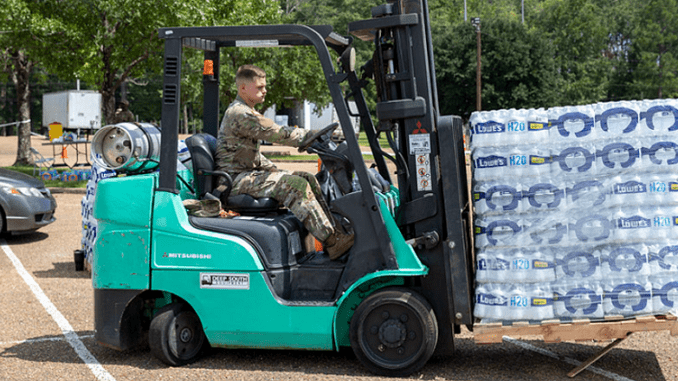 JACKSON, Mississippi, September 2, 2022 (ENS) – For many Americans, Labor Day weekend is about having some carefree fun before the responsibilities of autumn close in, but the residents of the Mississippi state capital city, Jackson, won't be having much fun this Labor day. They're going to be busy getting water.
At great trouble and cost, water is now being made available after Governor Tate Reeves declared a state of emergency August 30 following failures at the O.B. Curtis Water Treatment Plant, which supplies the majority of Jackson's water.
Now, water distribution supersites throughout the crisis area are being opened by the City of Jackson, with the support of the Mississippi Emergency Management Agency, MEMA, the Mississippi National Guard, and several other state and county agencies.
"Getting these water distribution sites up and running quickly was a top priority," said Governor Tate Reeves. "Local, state, and federal officials are working together in tandem to ensure that everyone in Jackson has the supplies they need to weather this crisis."
Currently, Jackson is over a month into one of the longest citywide boil-water notices in recent history. following persistent failure of key water pumps at the O.B. Curtis treatment plant and flooding from the Pearl River's over 35-foot crest, the city has now entered a severe water shortage.
"The city cannot produce enough water to fight fires, to flush toilets and to meet other critical needs," Governor Reeves warned.
The state's intervention comes in the absence of a fully implemented crisis plan on the part of the city, the "Mississippi Free Press" reported. The article quoted officials who discovered that despite a severe staffing shortage at the water treatment plant, the city has made no effort to recruit employees.
"As the state works to repair Jackson's water system, we'll ensure these sites are well stocked and able to meet the needs of the people," the governor said.
"Seven state distribution sites will offer bottled water, bulk non-potable water, and hand sanitizer to those impacted by the recent water crisis," says MEMA Executive Director Stephen McCraney. "Water is a basic human need, and life safety remains our priority," McCraney said.
The seven water distribution sites are: Metro Center Mall, State Fairgrounds, Smith Wills Stadium, Thomas Cardozo Middle School, Northwest Jackson Middle School, Hinds Community College Jackson, and Davis Road Park. Each site will be open for water pick-up daily from 9:00 a.m. to 6:30 pm from now on until further notice.
One of the seven points of distribution sites is the Mississippi State Fairgrounds, operated by Commissioner of Agriculture and Commerce Andy Gipson.
"We are proud to be able to assist the people of Jackson during this time of crisis, and we appreciate the efforts of Governor Reeves, MEMA, the National Guard, and so many other agencies who are all pulling the same direction to help get water to those in need. For decades, the Mississippi State Fairgrounds has served as an emergency response center. We are ready to continue our efforts as we support the State's emergency response team," Gipson said
The Mississippi Emergency Management Agency's Call Center is open for residents affected by the Jackson Water Crisis to get information on resources available. Call: 1-833-591-6362
Now the federal government is stepping up to help Jackson through the water crisis.
FEMA has announced that federal emergency aid has been made available to the state of Mississippi to supplement state response efforts due to emergency conditions resulting from a water crisis beginning on August 30, 2022 and continuing.
President Joe Biden has authorized FEMA to coordinate all disaster relief efforts which have the purpose of alleviating the hardship and suffering caused by the emergency on the local population and to provide appropriate assistance for required emergency measures to save lives and to protect property and public health and safety and to lessen or avert the threat of a catastrophe in Hinds County.
FEMA is authorized to identify, mobilize and provide at its discretion, equipment and resources necessary to alleviate the impacts of the emergency.
Emergency protective measures, including direct federal assistance, will be provided at 75 percent federal funding for a period of 90 days. FEMA's Allan Jarvis has been named the Federal Coordinating Officer for federal response operations in the affected area.
Featured image: A soldier with 66th Troop Command, Mississippi Army National Guard, moves a pallet of bottled water for distribution to the public at the Smith-Wills Stadium in Jackson, Mississippi, September 1, 2022. (Photo by Staff Sgt. Connie Jones, U.S. Army National Guard)