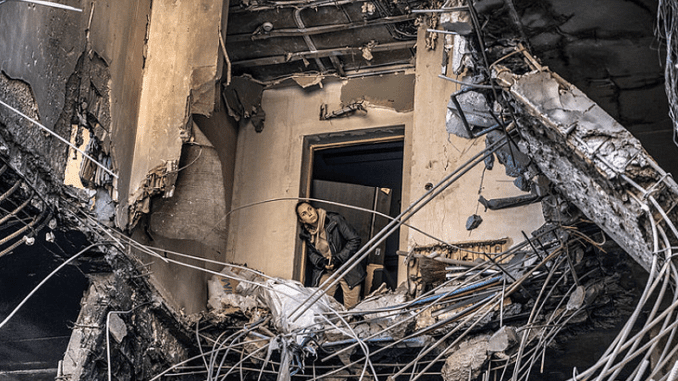 KYIV, Ukraine, November 3, 2022 (ENS) – Continuing attacks by Russian forces against Ukraine's essential civilian infrastructure are disrupting access to key services. Power and water supply systems have sustained heavy damage in recent weeks, causing intense civilian suffering, especially as temperatures begin to drop.
Across Ukraine, the United Nations estimates that 13 million people have been displaced by the war; one in every three people is food insecure, and 15.7 million people are in need of humanitarian assistance.
On Monday, October 31, Russia launched a mass attack on Ukraine's energy system during Monday rush hour for the third time in the past month. Russia's aim – which its leadership publicly admits – is to hinder civilians' access to electricity and heat, potentially inflicting humanitarian catastrophe in Ukraine, the "Kyiv Independent" newspaper reports .
Kyiv Mayor Vitali Klitschko said Russian forces hit energy infrastructure sites, causing power and water outages across the capital. Mayor Klitschko said Russian forces had damaged an energy facility that supplies power to about 350,000 apartments.
Explosions were also reported in Kharkiv, Ukraine's second largest city. According to Kharkiv Oblast Governor Oleh Syniehubov, the region was hit with missiles from Belgorod, Russia's city bordering Ukraine near Kharkiv.
Zaporizhzhia in southeastern Ukraine was hit too. The city is currently without electricity, according to Zaporizhzhia Acting Mayor Anatolii Kurtiev. Some districts are facing power outages, and some districts of the city have restored the electricity supply.
The International Committee of the Red Cross, ICRC, has been taking urgent action in coordination with local authorities in areas affected by the fighting to repair damaged infrastructure and provide materials for people to make essential home repairs. But the needs are overwhelming.
"As winter closes in, people are going to struggle to meet their basic needs like having clean drinking water and staying warm. Targeting civilian infrastructure puts civilian lives in peril and is prohibited by international humanitarian law," said Guislain Defurne, ICRC's head of operations in Ukraine. "Our teams will continue to support affected communities and local authorities with whom we've been working closely for years."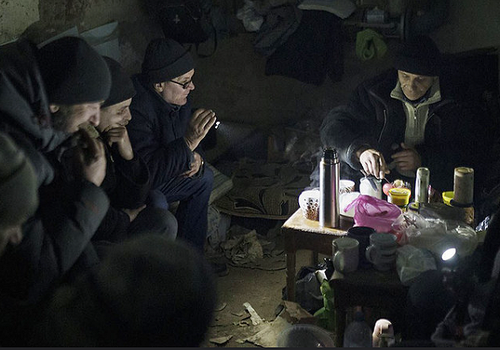 People living in those areas are sharing major concerns as power cuts and frigid temperatures become the norm, a particularly perilous situation for the elderly, the injured, children and people with disabilities.
"I am very worried about those who have been left homeless," said Tetiana, a resident of Shevchenkove, a small town in the Kharkiv region in the north of Ukraine. "A friend's house was heavily damaged. Doors and windows were smashed, as were the roof and the ceiling. Winter is around the corner and there is no gas, no light, no water. You can imagine what it's like."
Rehabilitation of essential infrastructure and support to civilians are key components of ICRC's work.
The ICRC has been working on electricity and water rehabilitation projects since 2014. The organization has scaled up its activities for the people affected by the armed conflict over the past eight months, including support to 27 water boards in cities such as Kyiv, Chernihiv, Zaporizhzhia, Donetsk and Luhansk.
In addition to its work to repair key infrastructure, the ICRC – in partnership with the Ukrainian Red Cross Society and in coordination with the authorities – has provided more than 63 million Swiss francs (US$62.9 million) in financial support to over 330,000 particularly vulnerable people living in areas directly affected by hostilities to meet the needs of their households.
Since February, when Russia invaded Ukraine, the ICRC has:
– Supported heating systems impacting Borodyinka, Chernihiv, Irpin, Mykolaiv, Kharkiv which helps nearly 1.1 million people stay warm as temperatures drop.
– Gave seven generators to the Sumy water board, two generators to Kharkiv heating company and three generators to Mykolaiv heating company to help keep these systems working. Additionally, 10 power transformers were provided to Mykolaiv power supply company.
– Distributed emergency water in Donetsk to educational facilities and more than 23 health facilities, and supported Voda Donbasa to sustainably reestablish water provision for the wider population through the donation of equipment and vehicles.
– Delivered construction materials to support rehabilitation of up to 1,000 houses in the areas of Kharkiv oblast such as Izyum, Kupiansk, Malinivka and others.
– Provided financial support to replace 14 kilometers of pipes in less than three weeks in Irpin, benefiting 210,000 people.
– Supported the rehabilitation of damaged homes and civilian infrastructure, with construction materials donated to Mykolaiv and Odesa, and building materials provided to families in Tsyrkuny.
– Distributed emergency construction materials to 5,500 households for temporary rehabilitation of roofs damaged by shelling in the Donetsk region.
– Provided drinking water in Mykolaiv with the Ukrainian Red Cross.
In connection with the spread of fake information that the Red Cross has allegedly suspended its activities on the territory of Ukraine, the Ukrainian Red Cross said on October 10, "In connection with today's rocket attacks on the cities of Ukraine, the Ukrainian Red Cross Society is working in an intensified mode, providing assistance to the victims. Partners of the international movement of the Red Cross also continue to work on the territory of Ukraine to help as many people as possible with joint efforts."
And the ICRC is not alone in its efforts to help Ukrainians. The United Nations' World Food Program, WFP, has been feeding hundreds of thousands of hungry people.
"Many houses have been destroyed or damaged and are without electricity, water, gas supply, and telephone/internet connectivity is poor," the World Food Program said in a report this week.
Since the start of WFP operations in Ukraine in February 2022, over 110,000 metric tonnes (mt) of food has been delivered for war-affected people in need. In October, 7,762 mt were delivered, while a further 46,775 mt of food commodities is in the pipeline.
This week, an internal Food Safety and Quality unit was set up, and the first dedicated focal point joined the country office in Kyiv. The FSQ team will coordinate closely with supply chain and procurement teams from both the country office and the HQ, in an effort to monitor food quality from suppliers and manage associated risks.
In total, 272 trucks were in transit to Ukraine by road over the past two weeks, including 57 trucks from Romania, 30 from Poland, 30 from Italy, and 68 trucks from Turkey, carrying 10,200 mt of canned meat, salt, rice, cereals, and pasta to Ukrainian warehouses. Additional 260 trucks arrived directly from Ukrainian suppliers, most filled with vegetable oil and wheat four.
In addition, Jose Andres' World Central Kitchen began to build a network of restaurants in Ukraine within days of the Russian invasion on February 24. Even before their Relief Team was able to enter Ukraine, restaurant partners were cooking meals for people fleeing the conflict or sheltering in the face of attacks.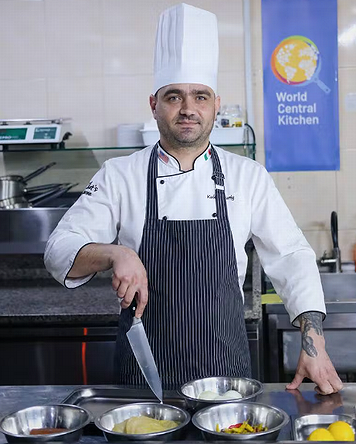 Initially, WCK identified restaurant partners in five cities. However, as attacks increased in Kharkiv, Kyiv, and more regions across the country, WCK onboarded more restaurant partners to serve as many people as possible. Now, as their work has transitioned to more support with food kits, allowing people to cook for themselves,
"We put love in every meal we make and hope that we will again live in peace and goodness as before and develop Ukrainian gastronomy," said Chef Oleksandr of the World Central Kitchen.
Chef Victor said, "To every recipe from my childhood, I would like to add a new ingredient: Peace!"
And finally, Chef Yuriy said, "The importance of Ukrainian cuisine lies in the national heritage of my people, my state, and the world as a whole. After all, everything will eventually converge to the fact that we are all one in this world and must take care of each other."
Featured image: A woman looks out from a bombed-out apartment in Ukraine's capital city Kyiv after an overnight Russian missile strike. April 29, 2022 (Photo by David Guttenfelder for The New York Times) Creative commons license