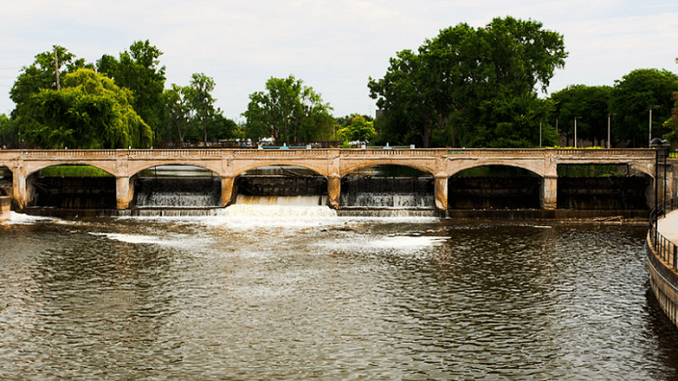 ANN ARBOR, Michigan, March 2, 2022 (ENS) – A federal civil trial related to the Flint drinking water crisis got underway in Ann Arbor on Monday, February 28. Four children from Flint are pursuing a civil lawsuit against two sets of companies who were hired by the City of Flint for their water expertise before or during the Flint water crisis, which began in April 2014.
The defendants are the engineering firm of Lockwood, Andrews and Newnam, LAN, and its parent company, Leo A. Daly Co., and a second company, Veolia Water North America Operating Services.
The child plaintiffs claim that the two companies should be held responsible for professional negligence for their roles in the lead poisoning of Flint's drinking water supply, their attorney Corey Stern told a federal jury Monday.
Officials at both companies knew the water was not safe to drink but they either said nothing or falsely told city residents the water was safe, Stern said.
Lawyers for the defendant companies told jurors that they were not responsible for the lead poisoning and blamed politicians and bureaucrats instead.
"As early as 2011 LAN advised that water from the Flint River needed to be chemically treated before it could be used as a water source, including the use of full softening and the possible need for phosphate additives for corrosion control. LAN continued to assert that position as decisions were made to upgrade the Flint Water Treatment Facility to accept Flint River water," Lockwood, Andrews and Newnam says in a statement on its website.
LAN argues that the firm was initially retained to provide a broad scope of services as part of this upgrade, but in an effort to minimize costs, the City eventually amended and narrowed LAN's work to include only specific tasks regarding the repair and upgrade of specific components of the Flint Water Treatment Facility, FWTP. Although LAN's amended contract with its narrowed scope of work did not include evaluation of water quality and treatment, LAN says the company made several recommendations to the City of Flint about the need for corrosion control.
Decisions not to provide appropriate corrosion control, which may have resulted in a decline in water quality, were made by the City and the Michigan Department of Environmental Quality, not by LAN, the engineering company argues. It cites the finding of the Flint Water Advisory Task Force that this tragedy was "a story of government failure" at all levels.
"The Flint water crisis is a story of massive government failure, plain and simple," said New York City attorney Daniel Stein, representing Veolia.
Veolia's position is that the company was hired for a limited, one-month, one-time study – 160 hours in total – and asked to only assist with an analysis of disinfection byproducts, and taste and odor issues in Flint. "Veolia was given rigid parameters around what we were and were not allowed to do and we followed those directions. We made a series of recommendations and they were ignored," the company said.
"In fact, when Veolia raised potential lead and copper issues, city officials and representatives told us to exclude it from our scope of work because the city and the EPA were just beginning to conduct lead and copper testing," Veolia said.
The "Detroit Free Press" calls the trial before U.S. District Judge Judith Levy a "bellwether trial" because its outcome could affect how the claims of other plaintiffs against the companies will be resolved.
The criminal cases pending against former Governor Rick Snyder and members of his administration are moving very slowly through the courts, and the Associated Press reported in January 2021 that they might not come to trial until 2024.
Snyder is facing two counts of willful neglect of duty. If convicted he could face up to a year in prison and a $1,000 fine.
Flint's water crisis began in 2014 when a state-appointed emergency manager switched the city's drinking water supply from Lake Huron water treated in Detroit to Flint River water treated at the Flint Water Treatment Plant. Intended as a temporary, cost-saving measure, it was a disastrous mistake.
The Michigan Department of Environmental Quality has admitted that it failed to require needed corrosion-control chemicals as part of the water treatment process, resulting in toxic lead leaching into the water from pipes, joints and fixtures. Ingesting lead can be especially harmful to the brain development of young children.
Now, pipes at more than 9,700 Flint homes have been replaced and water quality has improved. But prosecutors said it's not too late to pursue those responsible for one of the worst human-caused environmental disasters in U.S. history.
In November 2021, Judge Levy approved a $626.25-million partial settlement for claims against the State of Michigan, the City of Flint, McLaren Hospitals, and Rowe Professional Services Co.
Lockwood, Andrews and Newnam and Veolia were not part of that settlement.
Featured image: The Hamilton Dam Bridge over the Flint River, Flint, Michigan, August 16, 2014. (Photo by George Thomas)