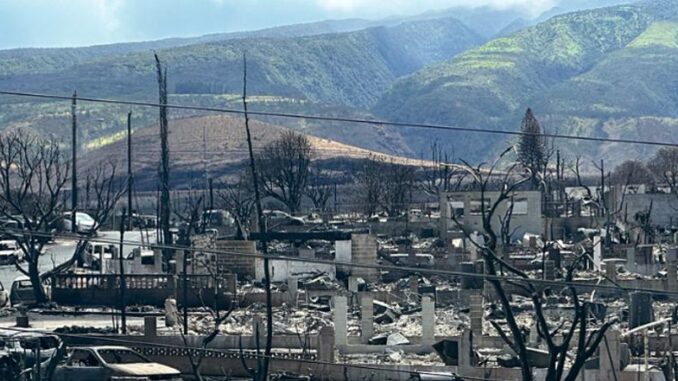 LAHAINA, Maui, Hawaii, August 16, 2023 (ENS) – At least 106 people have died in the flames that consumed the historic town of Lahaina and other parts of Maui, and hundreds of people are still missing a week after the wildfires broke out, the Maui Police Department reported Tuesday.
Only five of the dead have been identified so far, Maui County officials say. The county named two victims, Lahaina residents Robert Dyckman, 74, and Buddy Jantoc, 79, adding in a statement that three more victims have been identified and promised to release those names once their next of kin have been notified.
For family members seeking information about missing loved ones who may be affected by the wildfires, a Family Assistance Center is open at Kahului Community Center at 275 Uhu St. from 10 a.m. to 8 p.m. There, family members can provide DNA samples that could help in identifying the dead, and the Maui Emergency Management Agency will pass out forms that can help in locating unaccounted for family members.
People trying to locate loved ones also can call the American Red Cross hotline at 1-800-733-2767. Anyone in the country can call this number for information.
In an emotional update Tuesday, Hawaii Governor Josh Green, M.D. confirmed that many children are among those who lost their lives in the Lahaina wildfire, the deadliest wildfire in the United States in more than 100 years.
In one case, the bodies of a family of four were found in a burned-out vehicle. Elsewhere, seven people died in a single home. "Some of the sights are too much to share just from a human perspective," Green said.
"For those people who have walked into Lahaina because they really wanted to see, know that they're very likely walking on iwi," he said at a news conference on Maui, choosing the Hawaiian word for "bones."
After the flames released poisonous fumes, officials warned that toxics may still linger even in areas where the fire is no longer burning, including in drinking water.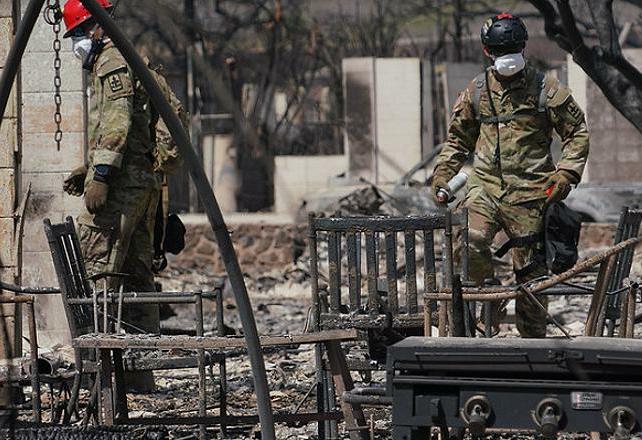 There are still many dangers, but the governor says shelter is the main concern at this point. "I think what people are most interested in is housing, how we're going to house our people," Governor Green said. "We put together a Temporary Housing Task Force to work with our federal partners. We've already secured 1,000 rooms. Five hundred rooms will go to families that have been displaced because of the terrible fire, the other 500 rooms will go to support, initially … All of that is going to be covered, some by the state, some it's going to be given charitably and finally, FEMA will cover a great deal of the cost," he said.
President Joe Biden and First Lady Jill Biden will visit Hawaii on Monday, August 21, to observe the impact of the Maui fires and join the state in mourning the devastating loss of life and land that has occurred across the island, as well as to discuss the recovery efforts. While on the ground, the President, First Lady, and Governor Green will meet with first responders, survivors, and federal, state, and local officials.
Governor Green extended an invitation to the President and First Lady after being advised that the search and recovery efforts will have reached a point that a visit can be done safely and in a way that will support the recovery efforts.
"The suffering experienced as a result of the fires on Maui is a tragic blow to our state and the people of Hawaiʻi," said Governor Green. "However, we have been uplifted by the outpouring of support we have received from across our communities, across the nation, and throughout the world."
"We are especially grateful to President Biden for his strong support and partnership. From the first hours of the tragedy, he has enabled us to respond with the full force of the resources we need. We've been in constant contact with the President and his team. Just six hours after submitting our official request, President Biden signed our major disaster declaration, allowing us to expeditiously mobilize with the full support of the federal government to aid our community. To date, we have received massive help from the FEMA, the U.S Small Business Administration, and virtually every other key federal partner.
The Lahaina fires were 85 percent contained as of Tuesday night at a total of 2,170 acres that include the entire downtown area. Multiple fire crews are assigned to monitor and address any flareups. Officials say there are no active threats at this time. The fires in Maui's Upcountry/Kula area are now 75 percent contained at 678 acres. "Hot spots in gulches, forests and other hard to reach places, along with land divisions and fences, make establishment of complete control lines difficult," fire officials said.
Today, for the first time since the wildfires, Hawaiian officials have reopened the road to Lahaina. The road will be open to all motorists daily from 6 a.m. to 10 p.m.
Late-night access from 10 p.m. to 6 a.m. will be limited to West Maui residents, first responders and West Maui employees. State officials are urging the public to access West Maui only if necessary to live, work, or volunteer. The Lahaina impact zone remains off-limits due to active search and recovery efforts.
Governor Josh Green asks that the public exercise caution when returning to West Maui. "We are prioritizing the reopening of this passage to ensure access for first responders, medical professionals, residents of West Maui, and the public," he said.
"With the opening of the Honoapiʻilani Highway, please consider allowing time for those who have the highest need for access, such as those seeking medical assistance, returning residents of West Maui, first responders, and essential workers," he said.
"We ask for a lot of understanding about traveling into the zone where the fire occurred," said Governor Green. "The reason is the health consequences, the heavy metals … the recommendations are to avoid the structures because they could still fall on people and we've lost too much life already."
The road will be open until further notice. Motorists should expect delays because some areas still contain debris and the highway will be restricted to one lane at certain areas. Some areas of Maui are still without power. "Please access the area only if necessary and above all, drive with aloha and compassion," the governor said.
Hawaiian Electric Stock Price Falls Even as Utility Restores Power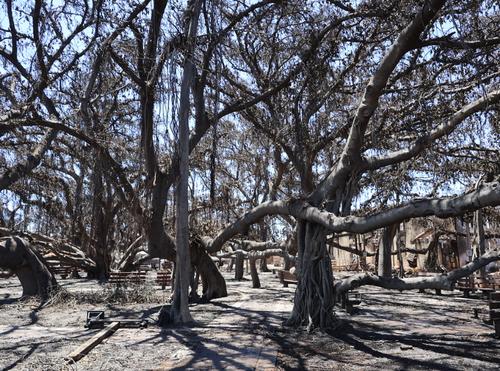 Hawaiian Electric Co. reported on Monday that power was restored to all but 2,000 of the 12,400 customers who lost power in West Maui. The total does not include about 2,000 homes and businesses that were destroyed in the fire. Power was restored to the Lahaina Civic Center and nearby areas. HECO has 400 employees from across the state working on power restoration and shipped 26 specialized vehicles and equipment to Maui from Oahu.
"Hawaiian Electric is committed to being here for our Maui ohana [family] and for all of the community, no matter how long it takes," said Hawaiian Electric President and CEO Shelee Kimura. "We're working closely with state and county emergency management teams who prioritized critical circuits for restoration, including those serving stores, pharmacies, gas stations, county water, wastewater and public safety facilities."
In West Maui, crews are repairing two of the three main transmission lines serving the area and are making progress on restoring service to more customers today. Yesterday, crews restored power to schools and county facilities on the mountain side of the Lahaina Bypass Road, and the Lahaina Civic Center area.
All six emergency shelters now have internet connection, Hawaiian Electric reports.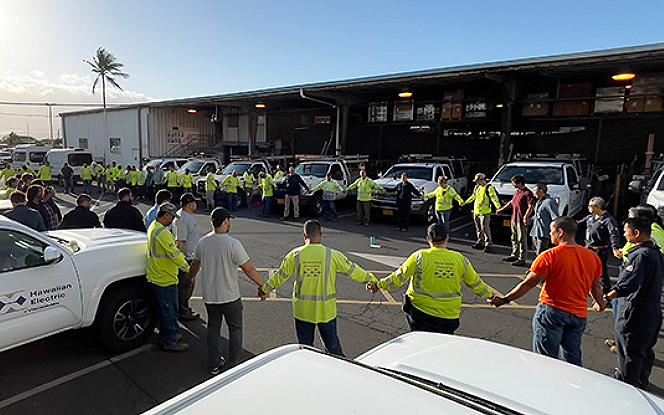 But Hawaiian Electric, the state's largest electric utility, is taking blame for the deadly fires on Maui. Shares of Hawaiian Electric fell more than 40 percent on Monday over concerns that its power lines may be linked to the deadly fires. The utility is being accused on failing to turn off power in spite of warnings that a combination of drought and strong winds from Hurricane Dora could cause a fire.
Although officials have not yet determined what caused the fires on the Island of Maui, three lawsuits have already been filed.
Attorneys from firms in California and Hawaii filed a complaint August 12 with the Oahu District Court alleging that Hawaiian Electric equipment "foreseeably ignited the fastmoving, deadly, and destructive Lahaina Fire."
The utility should have de-energized power lines after the National Weather Service issued a red flag warning and "knew that their electrical infrastructure was inadequate, aging, and/or vulnerable to foreseeable and known weather conditions," the complaint alleges.
News of the lawsuits and the S&P downgrading Hawaiian Electric's credit rating sent the company's shares into free fall this week. Hawaiian Electric owns Maui Electric Company Ltd., which serves about 70,000 customers on the islands of Maui, Lanai and Molokai.
Hawaiian Electric Industries Inc. shares plunged 42 percent during August 14 trading after the lawsuits were filed in the wake of wildfires that ravaged Maui, killing at least 106 people across the island and damaging 2,207 structures in Lahaina alone.
Fire litigation firm Singleton Schreiber, with offices in Wailuku, Maui and across the western United States, filed the first lawsuit on behalf of an individual against Hawaiian Electric Industries, Hawai'i Electric Light Company, and Maui Electric Company.
The complaint alleges multiple instances of negligence, trespass, and nuisance as contributing factors of the Lahaina Fire in West Maui. The fire burned through homes, businesses, places of worship, historic sites, and more, devastating the island. It has been deemed the worst fire in the United States in more than 100 years due to the lives lost. The Maui Emergency Management Agency estimates that it will cost $5.52 billion to rebuild.
"The island of Maui is sacred land to the people who live there, their families, and their ancestors," said Singleton Schreiber Managing Partner Gerald Singleton. "Our goal is higher than filing a lawsuit; we want to make sure these people have their homes, their land, and their ancestry protected. For our attorneys, justice is helping each survivor rebuild their lives after this terrible tragedy. This is not a class action. We represent each client individually, as each of our clients' damages are unique."
But the utility had an answer to the legal action. According to Hawaiian Electric management, "property and liability insurance coverages … will protect the company against wildfire-related damages to its properties as well as wildfire-related claims made against it by third parties," the global independent investment banking advisory firm Evercore ISI told clients August 11.
Still, Hawaiian Electric stock is down 54 percent so far this week amid increasing scrutiny over whether the utility company's equipment might have played any role in the deadly wildfires. It lost roughly $730 million in value on Tuesday, as the stock price hit its lowest level since 2009.
Featured image: The burned-out town of Lahaina, Maui was, until last week, home to about 13,000 people and hosted numerous visitors. August 16, 2023 (Photo courtesy State Farm Insurance)
© 2023, News Editor. All rights reserved.