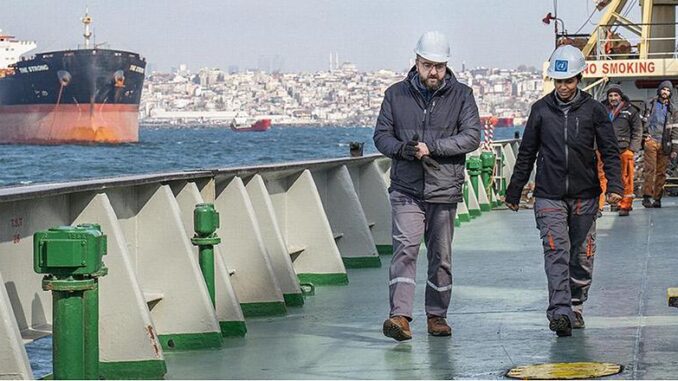 ISTANBUL, Turkiye, July 23, 2023 (ENS) – Intensifying the food insecurity across much of Africa, the Russian government is weaponizing food in its war on Ukraine. Moscow pulled out of the Black Sea Grain deal last week and is now warning that any ships traveling to Ukraine's Black Sea ports will be seen as potentially carrying military cargoes. Today, Russia's Defense Ministry said that "the flag countries of such ships will be considered parties to the Ukrainian conflict."
The new hostility comes after Ukraine said it would set up a temporary safe shipping route to try and continue its grain exports in the face of suspension of the Black Sea Grain deal that had established a maritime humanitarian corridor for the grain shipments that lasted nearly a year.
Last year Ukrainian grain reached millions of hungry people across Africa and parts of Asia despite the Russian invasion due to the Black Sea maritime humanitarian corridor.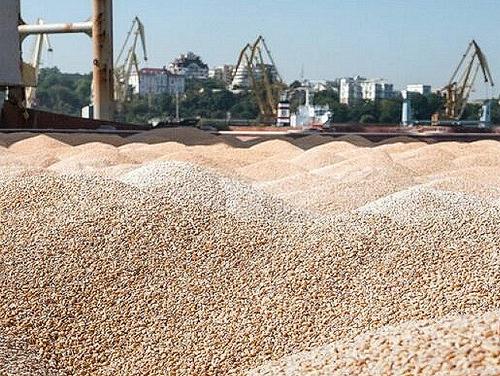 But on July 17, Russia quit the grain deal, brokered by the United Nations and Turkiye, that has allowed the safe passage of Black Sea exports of Ukrainian grain for the past year.
The Black Sea Initiative's initial duration was for 120 days starting on July 22, 2022. It was renewed by all parties on November 18, 2022 for another 120 days.
On March 17 of this year, all parties agreed to its renewal, but Russia only agreed to a 60-day extension pending review. On May 18, Russia confirmed its participation in the deal for another 60 days. As a result, the agreement was set for renewal on July 17, but Russia canceled its participation on that date.
Under the Black Sea Grain Initiative, over 1,000 ships full of grain and other foodstuffs left Ukraine from three Ukrainian ports: Chornomorsk, Odesa and Yuzhny/Pivdennyi, during the implementation of the initiative.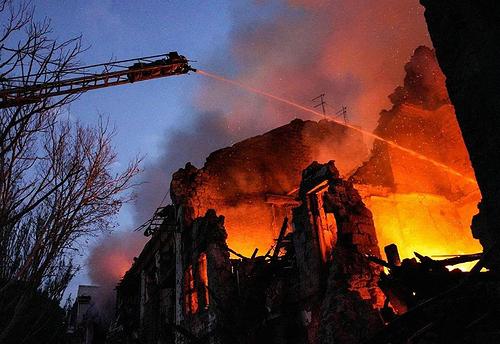 Today, the tables have turned. Russia today bombarded Odesa's historic center, demolishing cultural riches hundreds of years old, including a UNESCO-listed Orthodox cathedral, triggering a vow of retaliation from Ukraine's President Volodymyr Zelensky.
And Russian explosives hit farm storage buildings in Ukraine's Odesa region Friday, injuring two people and destroying 110 tons of peas and 22 tons of barley in an apparent effort to cripple Ukraine's food exports.
Ukrainian farmers sowed less acreage this year due to the Russian invasion, a forecast by the Ukrainian agriculture ministry showed in March. "The crop could include 16.6 million tonnes of wheat, 21.7 million tonnes of corn and 4.8 million tonnes of barley," the ministry projected then, a drop of roughly 20 percent from 2022.
"We're trying to work and continue to work in what is effectively a war zone," UN spokesman Stephane Dujarric said on Wednesday when asked about the Russian warning.
Since the beginning of the Russian invasion of Ukraine in February 2022, Ukrainian exports of grain have been severely disrupted. For over four months, Russian military vessels blocked Ukrainian ports in the Black Sea. And now the humanitarian safe corridor for grain and fertilizer ships appears to be history.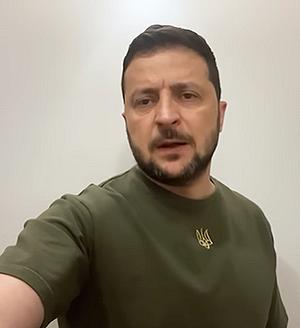 Moscow said that it may consider returning to the grain deal if the provisions of the deal allowing for exports of Russian agricultural products to world markets can be duly implemented.
During a meeting with government officials last Wednesday, Russian President Vladimir Putin said Russia is ready to return to the grain deal immediately if all previously agreed-upon conditions for its participation in the initiative are met and the arrangement's "original humanitarian essence" is restored.
Putin said Western countries set up the grain deal to yield profits for European companies and losses for Russian businesses. Putin claimed, "Because of a 30-40 percent discount on Russian grain on global markets, the losses of Russian farmers amounted to $1.2 billion," TASS reported.
Ambassador Linda Thomas-Greenfield, U.S. representative to the United Nations, told reporters in May, when Russia temporarily blocked the Black Sea Initiative, "Right now, ships are stalled because of Russia's obstruction. Russia is refusing to approve any incoming ships. Plain and simple, this is Russia once again weaponizing food. They're holding vulnerable and hungry people in Africa, the Middle East, and around the world hostage."
"Russia complains that its exports of food and fertilizers are hampered by sanctions. Let me be clear: Russia is exporting just fine. It is exporting grain and fertilizer at the same levels, if not higher, than before the full-scale invasion. Russia's threats are about money and power," Thomas-Greenfield said.
As of July 2023, almost 33 million tonnes of grain and other foodstuffs had been exported via the Black Sea Grain Initiative, according to the Council of the European Union.
Over 50 percent of the cargo was maize, also called corn, the grain most affected by blockages in Ukrainian granaries at the beginning of the war in February 2022. It had to be moved quickly to make space for wheat from the summer harvest.
Maize was exported almost equally to developed and developing countries, the Council explains, but when it comes to wheat, 65 percent of wheat exported through the year-long Black Sea Grain Initiative went to developing countries.
The United Nations World Food Programme, WFP, the world's largest humanitarian organization, also shipped wheat from Black Sea ports. As of July 2023, the WFP had bought 80 percent of its grain stock from Ukraine, up from 50 percent before the war. Over 725,000 tonnes of wheat left Ukrainian ports to Ethiopia, Yemen, Afghanistan, Sudan, Somalia, Kenya and Djibouti while the Black Sea Initiative was in effect.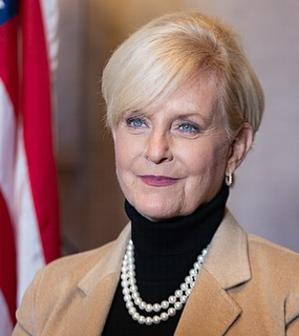 While Moscow has suspended participation in the Black Sea grain deal, the Russian state-owned news agency TASS reports that the government left the door "open to possible return."
Hunger remains at unprecedented levels in 2023 as conflict, economic shocks, climate extremes and rising fertilizer prices continue to disrupt food production globally, the new executive director of the World Food Programme Cindy McCain of the United States said as she took up the post in April.
"Hunger is soaring, resources are running dangerously low and ration cuts are coming if we don't have the money to get food to those who need it most. Without the funds, we simply cannot feed as many people," she said. "My priorities are clear: increase our resources, improve our effectiveness, and scale up partnerships and innovation to bring modern solutions to those most in need."
The World Food Programme estimates that more than 345 million people worldwide are facing crisis levels of hunger in 2023, an increase of almost 200 million since early 2020. Of these, 43 million are just one step away from famine.
"We need even closer collaboration with our partners to reverse this unparalleled crisis," McCain said. "Today we are asking new friends, especially from the private sector, to step up and join us. The world must not turn its back on the hungry."
Featured image: UN inspectors of the Joint Coordination Centre inspect a grain shipment aboard the merchant vessel LADY SPERANZA under the Black Sea Grain Initiative, Istanbul, Turkiye, February 17, 2023. (Photo © UN/Duncan Moore)
© 2023, News Editor. All rights reserved.