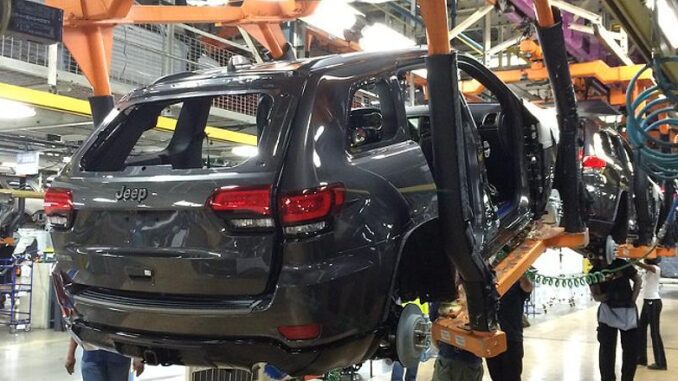 DETROIT, Michigan, July 21, 2023 (ENS) – It used to be Chrysler, one of America's big three automakers with Ford and General Motors. Now it's Stellantis North America, officially FCA US, LLC.
Based in Auburn Hills, Michigan, the company is the American subsidiary of the multinational automotive company Stellantis, formed in 2021 on a merger between the Italian-American conglomerate Fiat Chrysler Automobiles, FCA, and the French PSA Group, legally known as Peugeot S.A. The company is headquartered in Amsterdam.
Whatever the brand label, this company is in trouble with the U.S. federal government.
Emanuele Palma, 43, of FCA US, pleaded guilty Wednesday to a felony of conspiring to violate the Clean Air Act. As alleged in court documents, Palma and others conspired to withhold information from the U.S. Environmental Protection Agency regarding the design, calibration and function of the emissions control systems on more than 100,000 Model Year 2014, 2015 and 2016 Jeep Grand Cherokee and Ram 1500 diesel vehicles.
The co-conspirators misrepresented the vehicles' emissions of pollutants, fuel efficiency and compliance with U.S. emissions standards.
According to court documents, Palma pleaded guilty to Count 1 of a Superseding Indictment, originally filed in 2019, charging him with conspiring to violate the Clean Air Act. Sentencing is set for October 17 in front of U.S. District Judge Nancy Edmunds, sitting in Detroit, Michigan.
"Senior auto officials at FCA US, including Mr. Palma, conspired to circumvent pollution standards and obtain EPA certifications for hundreds of thousands of SUVs and pickup trucks under false pretenses," said Assistant Attorney General Todd Kim of the Justice Department's Environment and Natural Resources Division. "Today's actions reflect the Justice Department's continued and steadfast commitment to enforcing the Clean Air Act and holding individuals accountable for attempting to circumvent our nation's pollution standards."
The sentencing guidelines for Palma say zero to six months in prison, but in court the defense proposed a time-served sentence of one day and the government indicated it will not oppose that.
"Today's guilty plea demonstrates EPA's commitment to holding accountable those in management positions who intentionally withhold key information from regulators," said Acting Assistant Administrator Larry Starfield of EPA's Office of Enforcement and Compliance Assurance.
"Mr. Palma's guilty plea accompanies the earlier conviction of Fiat Chrysler for defrauding both the EPA and customers, as well as creating an unfair advantage over automakers who complied with the law," Starfield.
In 2020, FCA was convicted of violations in relation to diesel emission levels, particularly from the brand's 3.0-liter diesel engine found in the Jeep Grand Cherokee and Ram 1500. FCA agreed to pay around $300 million in criminal penalties related to its emissions that impacted over 100,000 vehicles back in June 2020.
"Mr. Palma and those he worked with concealed material information from the EPA about how certain of Fiat Chrysler's diesel engines operated. Our environmental laws depend on companies being honest and transparent with the EPA about the environmental impact of their products," said U.S. Attorney Dawn Ison for the Eastern District of Michigan. "The conduct in this case falls well short of that standard, and today's guilty plea provides a measure of accountability for this deceptive conduct."
According to Palma's admissions and court documents, beginning at least as early as 2010, FCA US developed a new 3.0-liter diesel engine for use in FCA US's Jeep Grand Cherokee and Ram 1500 vehicles (the Subject Vehicles) that would be sold in the United States.
Palma and others developed and calibrated the 3.0-liter diesel engine, including calibrating several software features in the vehicles' emissions control systems to meet emissions standards for nitrogen oxides (NOx), poisonous gases that are formed when diesel fuels are burned at high temperatures, while also achieving best-in-class fuel efficiency targets set by FCA US.
The government alleges that the emissions control systems on the subject vehicles were purposely calibrated to produce less NOx emissions on the federal test procedures, or driving "cycles," than when the subject vehicles were being driven by FCA US's customers in the real world.
One method that was used to effectuate this goal was called "T Eng," a software function that affects the rate of exhaust gas recirculation. According to court documents, Palma and his co-conspirators agreed not to disclose the existence of the T Eng function to the EPA. Palma knew that T Eng was properly the subject of regulation by the EPA, and in agreeing to withhold this information, he acknowledged concealing material information from that regulatory body.
As a result of this concealment, material information was omitted from FCA's applications for Certificates of Conformity from the EPA, which authorize the company to sell vehicles pursuant to the Clean Air Act.
This plea is related to the corporate plea and sentencing of FCA US, LLC, in August 2022, where FCA US LLC, was sentenced and ordered to pay a fine of over $96.1 million; to satisfy a forfeiture money judgment of over $203.5 million; and to serve a three-year term of organizational probation.
Featured image: In-progress build of a 2016 Jeep Grand Cherokee 75th Anniversary Edition. It's the 6,000,000th vehicle to be made at the FCA US Jefferson North Assembly Plant, Detroit, Michigan, since the plant started production in January 1992. The milestone vehicle rolled off the line approximately 8:20 p.m. ET May 25, 2016. (Photo courtesy Fiat Chrysler Automobiles)
© 2023, News Editor. All rights reserved.