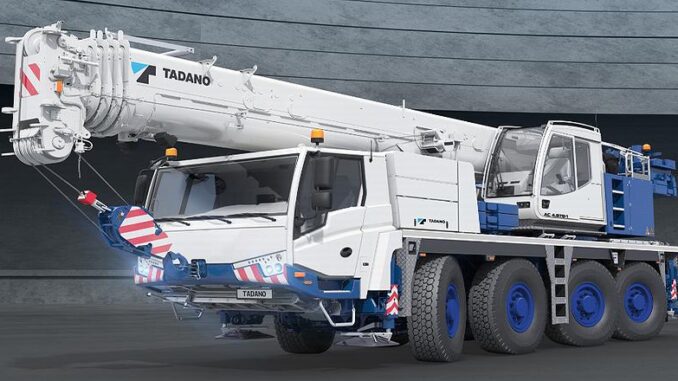 PORT ARTHUR, Texas, September 2, 2023 (ENS) – The Justice Department announced Thursday that Japan-based Tadano Ltd. and its subsidiaries, known as the Tadano Group, will pay a $40 million civil penalty to resolve allegations that it violated the Clean Air Act.
The settlement resolves allegations in a complaint filed by the federal government that Tadano Group imported and sold heavy, nonroad cranes with diesel engines not certified to Clean Air Act emission standards, and that Tadano Group violated related Clean Air Act and regulatory requirements.
The U.S. Justice Department worked with the Environmental Protection Agency to broker the settlement.
In addition to the $40 million fine, as part of the proposed consent decree Tadano Group will contribute $3.2 million towards a project to mitigate harm caused by excess nitrogen oxide (NOx) and particulate matter, PM, emissions from its noncompliant crane engines.
The project will retire a 1975 tugboat and christen a new, cleaner tugboat to service ships in the port of Port Arthur. The old tugboat has outdated diesel engines while the new tugboat will have up-to-date, Tier 4 engines, preventing the release of an estimated 2,075 tons of NOx emissions and more than 22 tons of PM emissions over 20 years.
The port of Port Arthur is near low-income communities with environmental justice concerns and near the Tadano America Corp. facility in Houston.
The complaint against Tadano Group alleges that between 2011 and 2017, it sold nonroad cranes with at least 269 diesel engines that violated the Clean Air Act, CAA, because the engines were not covered by current EPA-issued certificates of conformity nor did the engines qualify for a limited exemption under EPA's Transition Program for Equipment Manufacturers.
The Tadano Group also did not comply with CAA reporting, bonding and fuel inlet labeling requirements. The Tadano Group includes Germany-based Tadano Faun GmbH, Tennessee-based Tadano Mantis Corp. and Texas-based Tadano America Corp.
"Diesel exhaust is one of the dirtiest forms of pollution," said Assistant Administrator David Uhlmann of the EPA's Office of Enforcement and Compliance Assurance.
"Exposure to diesel exhaust is linked to serious health conditions, including asthma and respiratory illness, and those health risks are increased by engines that fail to meet emission standards," Uhlmann said. "This settlement should send a clear message that EPA will continue to vigorously enforce against companies that sell illegal diesel engines, including nonroad engines."
In a statement issued by the company on September 1, Tadano Ltd. says that the company "self-reported" the violations to the U.S. government in a statement dated January 19, 2018.
On September 1, Tadano Ltd. gave this explanation of its activities that led to the penalties. "Since the 2011 fiscal year, the Tadano Group increased the volume of sales in markets outside of Japan, including the U.S. market. Amid that growth, the Tadano Group continued to import and sell cranes in the United States, despite not fully confirming whether the TPEM requirements were met in full.
The EPA's Transition Program for Equipment Manufacturers, better known as TPEM or flexibility program, is a temporary exemption that allows diesel equipment manufacturers to delay installing Tier 4-compliant engines in their products for up to seven years.
The U.S. government has indicated that the Tadano Group sold cranes in excess of the TPEM allowances and failed to submit required annual reports, among other matters.
"The investigation regarding this matter found that three major structural and organizational issues were the fundamental source of the problems, rather than being the result of a single individual's specific decisions or actions," the company said in its September 1 statement.
The Tadano Group states that the company's "fundamental organizational failures" included these issues:
1. the company did not sufficiently gather and process regulatory information,

2. Tadano Group companies in Japan, the United States, and Germany made preparations independently of each other and did not clearly communicate information or work on alignment together, and

3. the company did not have an effective organizational structure for managing regulatory compliance related to the emissions rules, including the employment of personnel with relevant expertise.
"Tadano Group imported and sold giant cranes with engines that didn't carry valid EPA certificates of conformity, flouting federal law that protects the public from harmful emissions," said Assistant Attorney General Todd Kim of the Justice Department's Environment and Natural Resources Division.
"This settlement holds Tadano accountable for its violations and requires completion of a project that will improve the quality of life for those living in the Port Arthur, Texas, area," Kim said.
The Environment and Natural Resources Division's Environmental Enforcement Section filed the complaint and lodged the proposed consent decree in the U.S. District Court for the Southern District of Texas. The settlement is subject to a public comment period and final court approval. The consent decree will be available for viewing on the Justice Department's website at www.justice.gov/enrd/consent-decrees.
Earlier this year, Tadano unveiled a prototype of what it calls the world's first battery-electric rough-terrain crane. The GR-1000XLL Evolt can lift up to 100 tons (90.7 metric tons) and work for up to nine hours on a battery charge, the manufacturer says.
The crane can travel to work sites and take care of all lifting operations there exclusively with energy supplied by its batteries, making fully zero-emission operation possible, the company says.
The prototype was among six zero-emission machines Tadano debuted at the ConExpo-Con/Agg trade show in mid-March in Las Vegas, Nevada.
Tadano plans to launch a commercial version of the GR-1000XLL Evolt in the United States and Canada in 2024.
"This crane will make an invaluable contribution to achieving our goal of reducing the CO2 emissions from our products by 35% by 2030," says Tadano President and CEO Toshiaki Ujiie. The company has set a goal of reaching net zero in both its products and business operations by 2050.
Featured image: One of several models of diesel cranes manufactured by the Tadano Group. (Photo courtesy Tadano)
© 2023, News Editor. All rights reserved.