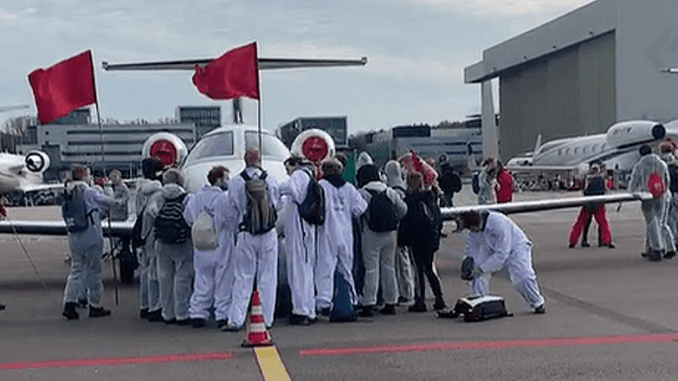 SHARM el-SHEIKH, Egypt, November 5, 2022 (ENS) – People who care about global warming are focusing in on the Red Sea resort town of Sharm el-Sheikh, where the United Nations' annual climate conference, COP27, opens Sunday, with speeches by world leaders set for Monday and Tuesday.
The Conference of Parties is organized by UN Climate Change, and its new director, Simon Stiell, has made an effort to include young people, tweeting today, "It was young people who moved #ClimateChange to the front of the global agenda. Yesterday, I thanked youth delegates gathered in Sharm el-Sheikh for their hard work and asked for their support as we start pushing climate promises off the page and into action."
"Tomorrow, during the opening of #COP27, Stiell tweeted, "I will send a clear signal to world leaders: The urgency of the #ClimateCrisis demands that we do things differently. Let us use COP27 to find common ground, so that we can reflect this urgency in our actions."
Organizers expect about 100 heads of state and government to travel to the Red Sea resort venue. U.S. President Joe Biden, French President Emmanuel Macron, German Chancellor Olaf Scholz, and Prime Minister of Barbados Mia Mottley are among those planning to attend.
On November 11, President Biden is scheduled to attend COP27, where the White House says he will "build on the significant work the United States has undertaken to advance the global climate fight and help the most vulnerable build resilience to climate impacts, and he will highlight the need for the world to act in this decisive decade."
As world leaders gather for COP27, environmental activists and civil society organizations are gathering too.
A few weeks ago, 400 youth climate leaders gathered in Tunisia, working together to strengthen the climate movement. Now, some of them are sailing on board the Greenpeace ship Rainbow Warrior in Egypt to highlight the need for climate justice for the Global South.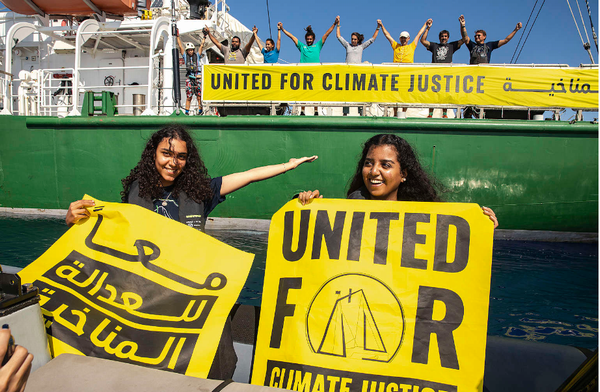 Watan Mohammad of Sudan said, "Climate justice, for me, means an inclusive climate movement where those who are affected the most, and those who are marginalized aren't forgotten."
"Being part of the Greenpeace ship tour is a life experience that I'm looking forward to. Meeting with youth from my region, from Africa and from the Middle East will be a great opportunity to reflect and share our nations' climate issues and discuss possible solutions," Mohammed said.
The young climate leaders taking part in this United for Climate Justice ship tour have one goal in mind: delivering a message of hope, solidarity and solutions ahead of COP27.
Ayisha Siddiqa of Pakistan, another young climate leader on board the Rainbow Warrior said, "The fight for climate justice is at its core a fight for love. It comes from a place of deep love for humanity. Without humanity, laughter ceases to exist. And how incredibly rare and beautiful it is that we even exist. And all of this is at risk."
Greenpeace's Rainbow Warrior is sailing Egyptian waters, but demonstrators are making their concerns heard across Europe, perhaps out of concern that they might not be able be admitted to the COP27 event in Sharm el-Sheikh.
NGO Global Witness, with offices in London, Brussels, Washington, DC, and California, warned that it was difficult for civil society groups to get into COP26 last year and, "As things stand, it looks like COP27 in Egypt may be even worse in terms of access."
"Freedom of the press and freedom of assembly are highly limited in Egypt," Global Witness warns. "Human rights defenders, civil society organisations, and the independent media have come under relentless assault in the form of unfounded criminal investigations, arbitrary detentions, travel bans, and other restrictive measures."
So, demonstrations are happening elsewhere.
Standoff at Schiphol
At Amsterdam's Schiphol Airport today, climate activists blocked private jets from taking off. Hundreds of activists walked or cycled to the platform for private jets at Schiphol. Greenpeace Netherlands said, "We sat under the parked jets and cycled along the taxi route, to prevent polluting private jets from leaving for as long as possible."
Demonstrators also protested in the airport's main hall, with signs that read "Restrict Aviation" and "More Trains," according to a Reuters report. Military police said in a statement that they had detained several "persons who were on airport property without being allowed."
Greenpeace warns that Schiphol Airport is the largest source of carbon dioxide emissions in the Netherlands, reportedly emitting more than 12 billion kilograms annually.
Greenpeace Netherlands said in a statement that the activists swarmed private jets at Schiphol because, "In the midst of a climate crisis, Schiphol continues to pollute enormously unhindered, at the expense of the climate and local residents. The government allows this to happen. That is why we took action on 5 November."
"We've been campaigning to stop Schiphol's large-scale pollution for years, and with good reason. The airport should be reducing its flight movements, but instead it's building a brand new terminal. The wealthy elite are using more private jets than ever, which is the most polluting way to fly," Dewi Zloch of Greenpeace Netherlands said in a statement.
"We protested in this place, because here the injustice of aviation is painfully obvious. Almost half of the Netherlands never flies. But it is the future of all of us that is at stake. Is that fair? No!" said Greenpeace Netherlands. "We want fewer flights, more trains and a ban on private jets and short flights, for example to Brussels or Paris."
In an open letter, Greenpeace asked Ruud Sondag, Schiphol's CEO, whether he is opting for a sustainable future.
Sondag said in a statement, "Interest groups are justified in pushing for a cleaner Netherlands and holding the CEO accountable for this. I've been committed to a sustainable Netherlands for more than 25 years, and that won't change, of course."
"Our objective is clear. We want emissions-free airports by 2030 and net climate-neutral aviation by 2050. And we have a duty to lead the way in that. When I look at this sector now, I see that, yes, this needs to happen faster," Sondag said. "I share that sense of urgency."
"As part of the aviation sector, we must do everything we can to become not only quieter but also cleaner. That's my view," the Schiphol CEO said. "The task is immense, but achievable. However, this is only possible if we all work together."
Glue-In in Madrid
Climate activists glued themselves to the frames of two world-famous paintings by Spanish master Francisco de Goya in Madrid's Prado museum on Saturday, the latest in a string of protests targeting artworks across Europe.
A man and a woman attached themselves to Goya's "La Maja Vestida" (The Clothed Maja) and his "La Maja Desnuda" (The Naked Maja), and painted "+1.5 C" on the wall between the two works, video footage showed.
Police said two people had been arrested.
Campaign group Futuro Vegetal said its members carried out the protest. The group identifies itself as, "a collective of civil disobedience and direct action that fights against the Climate Crisis by adopting a plant-based agri-food system."
"Last week the UN recognised the impossibility of keeping us below the limit of 1.5 Celsius (agreed at the 2016 Paris climate agreement). We need change now," Futuro Vegetal tweeted.
The group and its allies are demanding that governments, "End subsidies to livestock and use them to promote socially and ecologically responsible plant-based alternatives to address needed food system change."
"Cattle ranching is by far the largest user of land on the planet and the main driver of deforestation in the world." Their primary concern, "It is responsible for more greenhouse gas emissions than the entire global transportation sector combined."
In the weeks just past leading up to the COP27 climate change conference in Egypt, groups of climate activists have made their concerns known in Europe.
Protesters tried to glue themselves to the glass covering Vermeer's painting "Girl with a Pearl Earring" in The Hague. Others threw soup over Van Gogh's "The Sower" in Rome and one of his Sunflowers paintings in London.
The Prado said its paintings had not been damaged, but staff would have to repair the wall between the two works which were created at the turn of the 18th and 19th centuries. The gallery stated, "We condemn the use of the museum as a place to make a political protest of any kind."
Thunberg Shuns COP27
Teenage Swedish climate activist Greta Thunberg will skip COP27, which she called a "forum for greenwashing."
Thunberg was one of those who last week signed a petition by a human rights coalition calling on Egyptian authorities to open up civic space and release political prisoners, "The Guardian" newspaper reported.
The petition attracted almost 1,000 signatures, among them the Climate Action Network, representing 1,500 member groups.
Newly released, Thunberg's "The Climate Book" includes about 100 short essays from: geophysicists, oceanographers and meteorologists; engineers, economists and mathematicians; historians, philosophers and indigenous leaders. She shares her own stories of demonstrating and uncovering greenwashing around the world, revealing how much we have been kept in the dark."
Thunberg's book royalties will go to The Greta Thunberg Foundation, which will distribute them to charitable organizations working on environmental issues.
Featured image:
© 2022, News Editor. All rights reserved.